Brockerhoff House
Introduction
This beautiful building is one of Bellefonte's main landmarks, serving as a reminder to the city's growing prosperity in the 19th century and to the Victorian era. The building was constructed in 1866 by Henry Brockerhoff in the Italianate Revival style but was later renovated in the 1880s with Queen Anne style elements. It operated as a hotel before being converted into an assisted-living residence. Brockerhoff also owned a historic grist mill in Benner Township. Both buildings are listed on the National Register of Historic Places.
Images
The Brockerhoff House was built in 1866 and is one of the city's more attractive landmarks.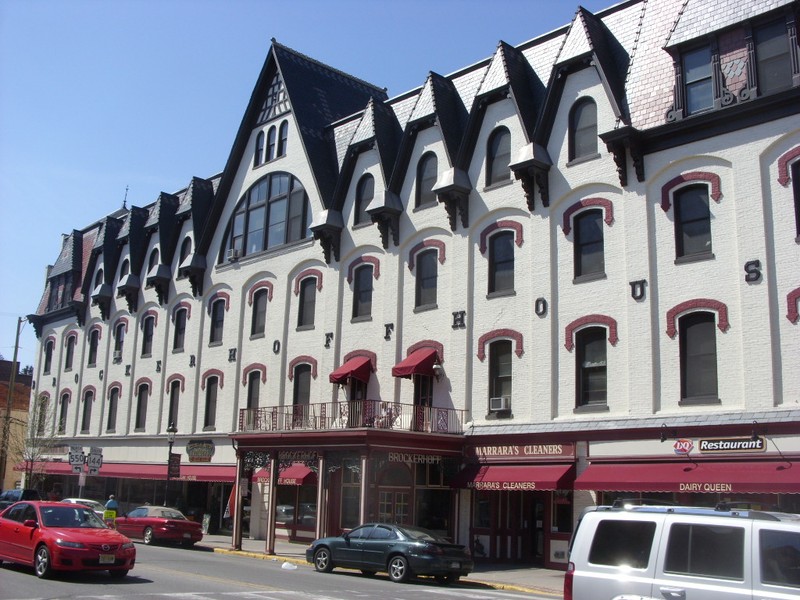 Backstory and Context
Henry Brockerhoff was born in Dusseldorf, Germany in 1794. His parents were wealthy, who were able to provide him a good education. He attended school in France then enrolled in the University of Leipsic. He left the university to serve in Napolean Bonaparte's army, where he rose in the ranks to become Napolean's undersecretary. After Napolean was exiled in 1815, Brockerhoff decided to go to Australia. On the way there, the ship was wrecked and he and the rest of its passengers were transferred to an American ship, which sailed to Philadelphia. From there, Brockeroff made his way to Bellefonte in 1825.

A successful businessman, he bought the Pennsylvania Hotel in 1840, which burned down in 1864. Undeterred, he decided to build the Brockerhoff Hotel, completing it in 1866. In addition to the hotel and the mill, which was believed to have been built in 1862, he was a stockholder and president of the Centre County Banking Company during the 1860s. The Brockerhoff family owned the building for well over a century. It is not clear when it was converted into an assisted living residence. The first floor features a few businesses.
Sources
"Brockerhoff Hotel." Bellefonte Historical & Cultural Association. Accessed November 2, 2018. http://www.bellefontearts.org/Virtual_walk/Brockherhoff.htm.

"Brockerhoff House." AssistedLiving.com. Accessed November 2, 2018. https://www.assistedliving.com/pennsylvania/bellefonte/brockerhoff-house.

Ramsey, Gregory. "The Brockerhoff Hotel." National Park Service - National Register of Historic Places Nomination Form. April 11, 1977.
http://www.dot7.state.pa.us/CRGIS_Attachments/SiteResource/H001658_01H.pdf.

Stockman, Peter. "Brockerhoff Mill." National Park Service - National Register of Historic Places Nomination Form. May 1, 1979.

Photo: Wikimedia Commons