Sergeant Floyd River Museum and Welcome Center
Introduction
Sergeant Floyd River Museum and Welcome Center offers a small museum and tourist information center aboard the historic M.V. Sergeant Floyd. The M.V. Sergeant Floyd, a decommissioned, inspection boat of the United States Army Corps of Engineers, was named in honor of Sergeant Charles Floyd, the only man to have died on the Lewis and Clark Expedition
Images
A visit to the Sgt. Floyd provides visitors with valuable local information as well as a lesson in Missouri River history.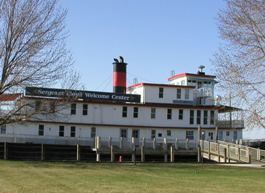 Backstory and Context
Charles Floyd was an engineer and soldier who accompanied Meriwether Lewis and William Clark on their epic 1804 expedition to the Pacific Northwest. The only fatality of that journey, Floyd is believed to have been the first American soldier to die in the then-newly purchased Louisiana Territory. Sgt. Floyd is buried in Sioux City and a stone obelisk called the Floyd Monument marks his grave, which is the nation's first nationally registered historical landmark.
The M.V. Sergeant Floyd was launched at the Howard Shipyards of Jeffersonville, Indiana on May 31, 1932. She was purchased by the U.S. Government for the Army Corps of Engineers. Her mission was light towing, survey and inspection work on the inland waterways under the jurisdiction of the Missouri River Division of the Corps of Engineers.
The Sergeant Floyd was originally powered by two 300 HP diesel engines which were replaced in 1962 by two 600 HP engines, each driving a single screw propeller. She has a steel hull and main deck superstructure and wooden upper decks, typical of diesel towboat architecture of that period. Approximate speed was said to be 11 knots in calm water. Construction cost was approximately $131,970.
Flying the flag of the Kansas City District, Corps of Engineers, the Floyd was a primary workhorse in Missouri River improvement work from 1933 until 1975, moving men, equipment and supplies, and setting navigation buoys along the river. In later years, as major navigation improvement projects were completed and newer, more economical equipment became available, her role diminished. She was on the verge of decommissioning when Congress authorized her conversion for a final historic task — a floating Bicentennial exhibit for the Army Corps of Engineers. For 18 months, the Sergeant Floyd toured the inland and Gulf Intracoastal Waterways, bringing to thousands of Americans the story of how the Army Corps of Engineers contributed to the development of our country.
After the Bicentennial she was decommissioned and moored in St. Louis where an attempt was made to employ her as a floating museum. In 1983, the Floyd was again offered for sale as surplus property by the Department of General Services. Aware of the vessel's historic significance to the Siouxland area, the City of Sioux City obtained the Sergeant Floyd and brought her to the community where, now permanently dry-docked, she serves as a combined state tourist welcome center and river museum.
Sources
This information about Sergeant Floyd and the vessel comes from: http://www.siouxcitymuseum.org/historical-data. Accessed September 12, 2014.
Additional Information