Khmer Refugee Monument - Remembering the Cambodian Genocide
Introduction
Khmer Refugee Monument was built in 2017 on the grounds of JFK Plaza in front of Lowell City Hall after months of preparation. It remembers and honors lives lost during the Cambodian Genocide from 1975 to 1979. Yary Livan, a Cambodian native, Lowell artist, and survivor of the Genocide, created this 7-foot, 6,000-pound monument using composite concrete with a reddish dye that cost an estimated $42,000. The monument is also dedicated to those who survived the genocide and came to the U.S. to start a new life. It is a historical monument that not only remembers the past but also celebrates the present and welcomes the future of Cambodian people in Lowell and around the world.
Images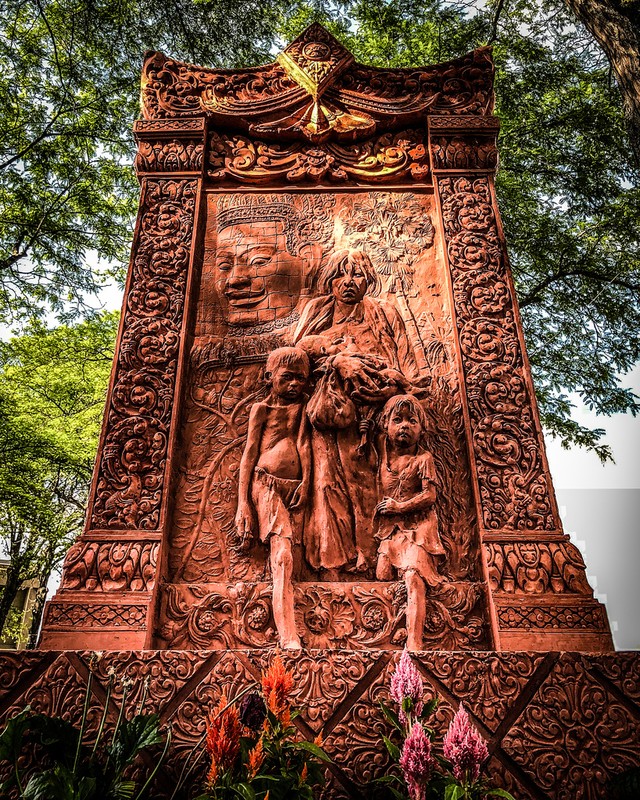 "A Buddhist Monk watches on left as Lowell City Councilor Rodney Elliott, along with other councilors and Mayor Ed Kennedy unveils the Khmer Monument in front of Lowell City Hall." THE SUN Photo by David H. Brow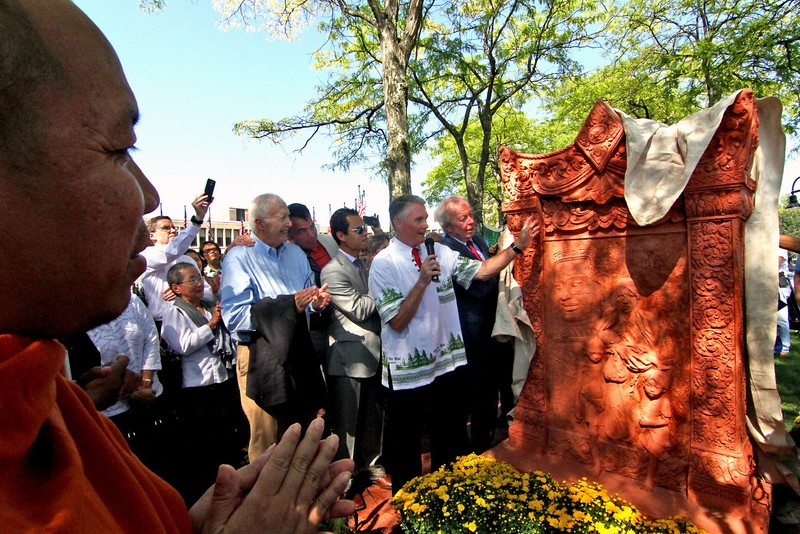 "Lowell City Councilor Rodney Elliott and Cambodian native and Lowell artist, Yary Livan raise arms in celebration after unveiling of the Khmer Monument that Livan designed." THE SUN Photo by David H. Brow
"Lowell City Councilor Rodney Elliott with Community of Khmer Buddhist Monks and monks from Glory Buddhist Temple after unveiling of Khmer Monument in front of Lowell City Hall." THE SUN Photo by David H. Brow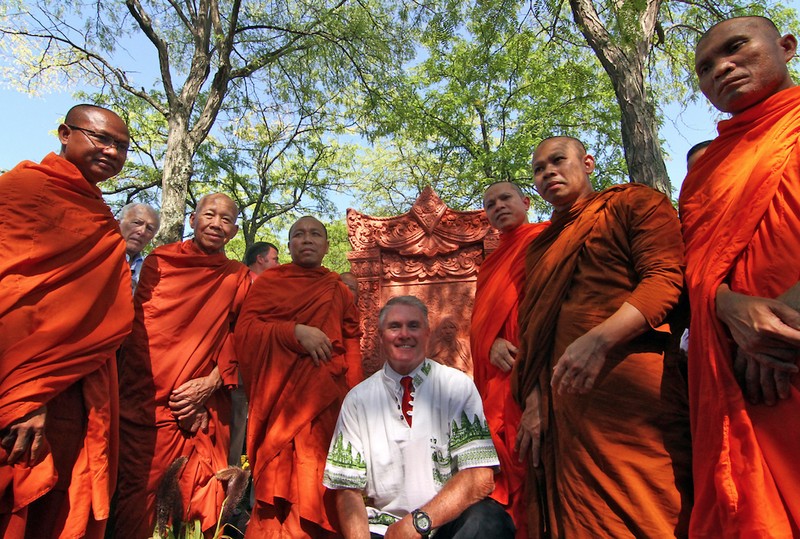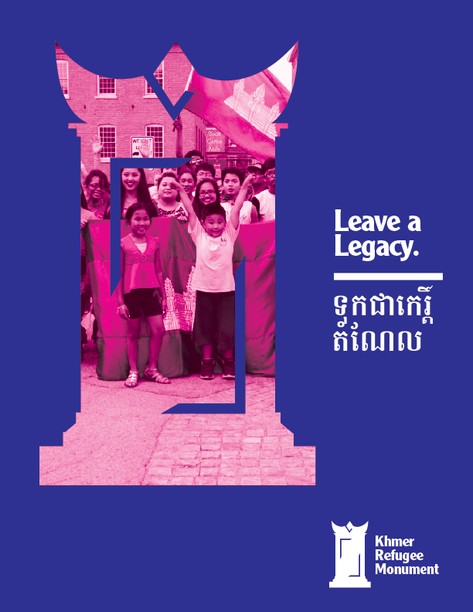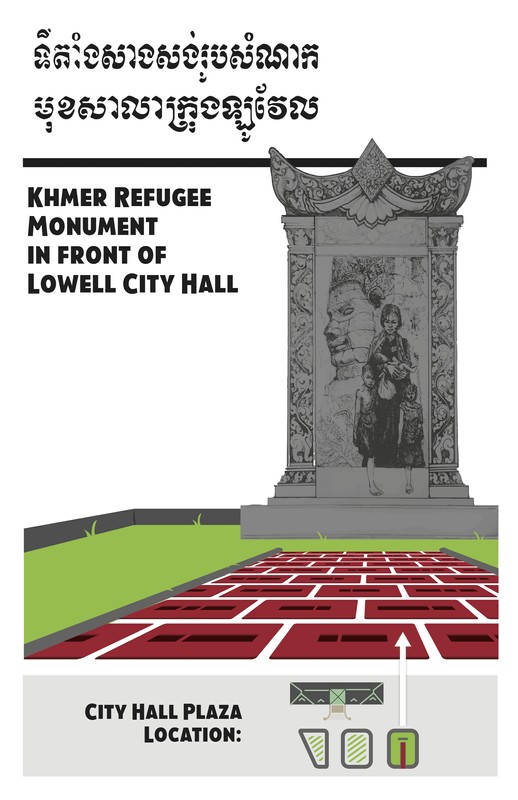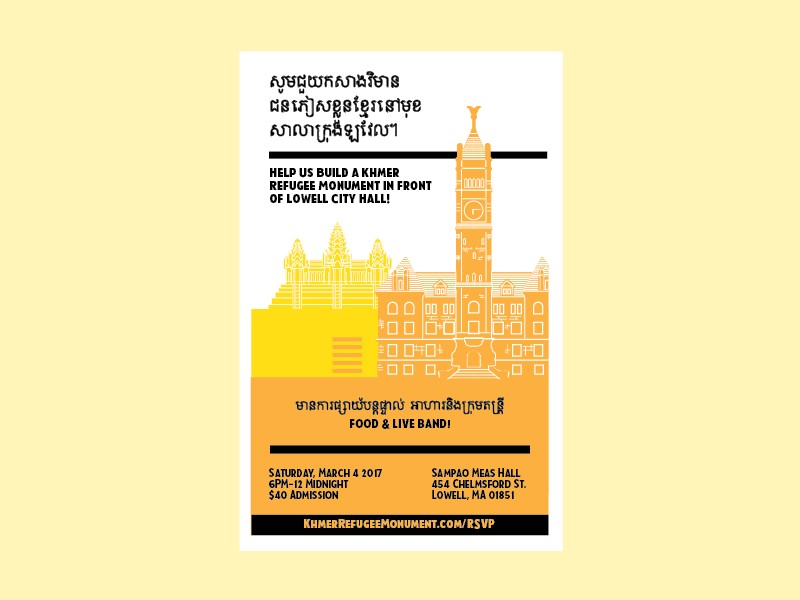 Backstory and Context
The Cambodian Genocide committed by the Democratic Kampuchea (also known as Khmer Rouge) dates back to the early communist movements in the 1940s against French colonization. The first group that emerged with the help of Vietnam against the French was Khmer Issarak, which included many nationalist students studying abroad, one of whom was Saloth Sar (Pol Pot). Pol Pot viewed peasants and poor workers as enslaved and oppressed by capitalism and foreign forces. Upon returning back to Cambodia, Pol Pot helped the Khmer People's Revolutionary Party (KPRP) spread communist ideals in urban areas. However, his party wasn't as powerful as Sangkum Reastr Niyum (the People's Socialist Communist Party), led by his communist opponent Prince Sihanouk. Born to the Khmer Royal Family, Norodom Sihanouk was the King of Cambodia from 1941 to 1955, who succeeded in securing Cambodian independence from France in 1953. Although they were both communists, Pol Pot and Prince Sihanouk didn't see eye to eye since Pol Pot believed Prince Sihanouk's political programs weren't enough to save the Cambodian people from capitalism. He thought a revolution was necessary. But when Sangkum won the 1955 elections, the communist cause weakened with many giving up their resistance and diverging from the original idea of a revolution. KPRP's power grew weaker when many KPRP members were arrested and killed by Prince Sihanouk's government. Yet Pol Pot and a few others managed to escape to remote areas across the country, forming the secret Communist Party of Kampuchea (CPK), also known as Khmer Rouge.
Until 1970, CPK kept itself under radar, slowly gaining support. In the meantime, the country went into turmoil when a successful coup attempt with the help of the American government overthrew Prince Sihanouk. American forces dropped half a million tons of bombs on Cambodia during the Vietnam War, which resulted in 300,000 deaths, causing outrage among the Cambodian people and thus strengthening Khmer Rouge's influence. And in April 17, 1975, Khmer Rouge marched into the capital, Phnom Penh and overthrew the government, starting a revolution. At first, Cambodians thought Khmer Rouge's victory would finally bring peace to their country but instead, Khmer Rouge forced everyone to evacuate the city and killed those who didn't want to evacuate. The Khmer Rouge forced about two million people out of the capital to do agricultural work in rural areas. This was intended to "abolish urban living" and "build a new Cambodia based on the expanded production rice."4 The new government called the Democratic Kampuchea aimed to transform Cambodia into an independent modern agricultural country, free from outside influences.
They forced men, women and children to work under poor living conditions, with no access to enough food to maintain their health. In addition, they abolished education altogether. After children were sent to rural areas to work as peasants, schools were transformed into prisons used to arrest, interrogate and murder intellectuals, monks, technicians, and artists. Anybody who contributed to anything other than the collective production of rice was regarded as a traitor that needed to be punished. Even people who wore glasses were imprisoned and killed because the Khmer Rouge regarded glasses as a sign of education: the real enemy of the Khmer Rouge Regime. The high-level S21 prison in Phnom Penh was a high school that was transformed into one of the highest security prisons across the country where many men and women were interrogated, tortured and executed. When there wasn't enough burial space near the prison, Khmer Rouge soldiers took thousands of prisoners out of the city, into the countryside to be shot or beaten to death with hoes and axes. They buried the dismembered bodies in mass graves that are now referred to as Killing Fields. The Documentation Center of Cambodia has identified 388 genocide sites with 19,733 mass graves, 196 prisons, and 81 genocide memorials that date back to Khmer Rouge Regime.
The Khmer Rouge stripped away Cambodians' most basic human right to live as free individuals.

The Khmer Refuge Monument aims to immortalize the tragic loss of human lives and humanity in order to remind the world that the crimes against the people of Cambodia will never be forgotten. Vanna Howard, a Cambodian native whose father, three siblings and maternal grandparents were killed during the Khmer Rouge Regime, said on behalf of the Cambodian Monument Committee: "We dedicate this monument to the over two million Cambodians that suffered and died during the Khmer Rouge regime and to all the survivors, myself included, who lived through that four years during the regime and lost many immediate family members, too."3

The front of the monument portrays a mother holding her baby and her two children by her side while the engraving on the back reads, "We honor all survivors of this genocide whose resiliency led them to find a new beginning in Lowell, strengthening through tradition, perseverance and love."3
Sources
1. "About CMAA." CMAA Lowell, www.cmaalowell.org/wp/?page_id=7.

2. Brow, David H. Khmer Monument Unveiled in Lowell, The Sun (Lowell), 24 Sept. 2017, photos.lowellsun.com/2017/09/24/khmer-monument-unveiled-in-lowell/#1.

3. Castillo, Amaris. "A Historic Moment for Lowell's Cambodian Community as Long-Awaited Monument Is Unveiled." Lowell Sun Online, 24 Sept. 2017, www.lowellsun.com/breakingnews/ci_31327522/historic-moment-lowells-cambodian-.

4. Dy, Khamboly. A History of Democratic Kampuchea (1975-1979). Documentation Center of Cambodia, 2007.

5. VDH, Mark. "Lowell Khmer Refugee Monument." Dribbble, 24 May 2017, dribbble.com/markvdh/projects/518710-Lowell-Khmer-Refugee-Monument.