Durand Union Station and Michigan Railroad History Museum
Introduction
This depot was the second major train hub after Detroit. It was a major passenger hub in Michigan and still serves as an Amtrak station as well as the home of the Michigan Railroad History Museum. It gets its union station name because two different railroads were served by the depot, the Grand Trunk Western (Canadian National) and the Ann Arbor Railroad. People, whether they are railfans or visitors, can see trains coming in at least four different directions.
Images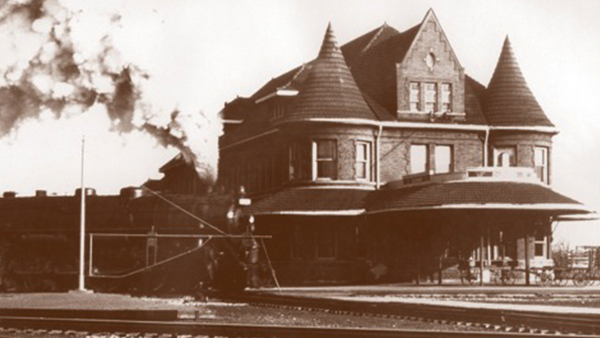 Backstory and Context
For a small town such as Durand, the Durand Union Station was massive in size. During its heyday in the early 1920s, it handled about 42 passenger trains, 22 mail trains, and 78 freight trains daily. Durand was the largest railroad hub in Michigan after Detroit. In 1960, the last regularly scheduled steam locomotive trip in the U.S. left Durand Union Station.

The depot was originally built in 1903, but a fire destroyed it about 18 months later. It was rebuilt by 1905. The original designers were Spier and Rohms, and the rebuilt version of the depot featured terrazzo floors, oak-trimmed windows, and a turn-of-the-century ticket cage.

This is one of the most photographed depots in the U.S. due to its Chateau Romanesque building architecture. Photo opportunities are also available because the depot still has approximately 30 freight trains passing by each day. And add to that the Amtrak trains that call on the depot twice daily. When Amtrak passengers stop and visit there, they are treated to a big part of Michigan Railroading history. On the other end of the depot there is the Michigan Railroad History Museum with many railroad artifacts, and a library and archives for research purposes, for railfans, and for genealogists. Also, that part of the building is the home of the Durand Union Station Model Railroad Engineers, who operate a large HO-scale layout and entertain visitors on Saturdays. Upstairs are the Ann Arbor and Grand Trunk museums, which feature exhibits on their railroad lines.
Sources
Durand Union Station. (2018). Accessed November 11, 2018. http://www.durandstation.org/.

History. Durand Railorad Station. (2018). Accessed November 11, 2018. http://www.durandstation.org/history/.

Rose, P. (2011). Day trip: Durand Celebrates the heyday of Rail. mLive - Kalamazoo Gazette. Accessed November 11, 2018. http://blog.mlive.com/kzgazette/2011/05/day_trip_durand_celebrates_the.html.
Additional Information