Alley Spring & Mill
Introduction
Alley Spring & Mill is one of the many historic sites in the Ozark National Scenic Riverway, the first national park established to protect a river system. Located near the town of Eminence and next to the Alley Spring, whose water flows south into the Jacks Fork River, the mill was built in 1893-1894 by George Washington McCaskill and replaced an earlier one constructed on the same spot in 1868. The mill is known for its striking red color but was originally unpainted, then painted white with green trim. The mill was fitted with a turbine, which made grinding much easier than using water a wheel because water flow could be regulated. Visitors are allowed inside and can see the basement and first and second floors.
Images
Alley Spring & Mill was built in 1893-1894 and has been well maintained. It is one of numerous historic sites in the Riverway.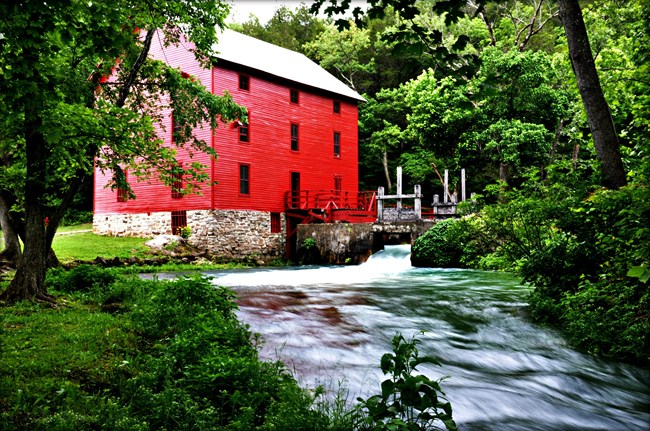 Backstory and Context
Mills were incredibly important to a community. They were where people could grind wheat (and other grains and corn) into flour, which of course makes bread. And since milling took a long time, people would stay a while and socialize with others. At Alley Mill, people enjoyed dances, baseball games, and roller skating in the winter. In 1902, the next owner, John Knotts, built a store and blacksmith shop.
Sources
Von Halle, Cindy. "Grand Setting...Alley Spring." Ozark National Scenic Riverway - National Park Service. Accessed November 25, 2018. https://www.nps.gov/ozar/learn/historyculture/alley-mill.htm.
Additional Information