Howard University Gallery of Art
Introduction
Established in 1928 and located in Childers Hall, Howard University's Gallery of Art offers a mixture of European, African, and American works in a permanent collection that includes such works as Henry O. Tanner's Return from the Crucifixion. Among the works displayed at the museum are those of Edmonia Lewis, the first professional African-American and Native-American sculptor.
Images
Edmonia Lewis portrait Photo Courtesy of the National Portrait Gallery, Smithsonian Institution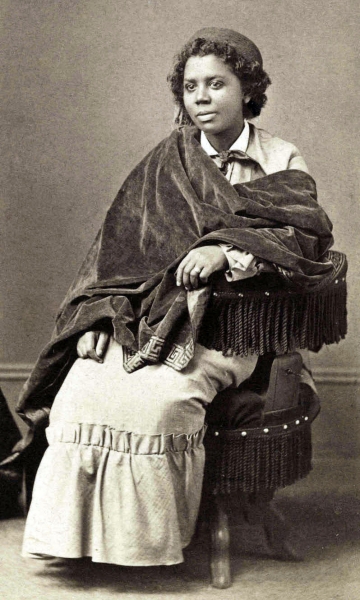 A sculpture titled "Forever Free" created by Lewis post the Civil War period illuminating the freedom of slaves.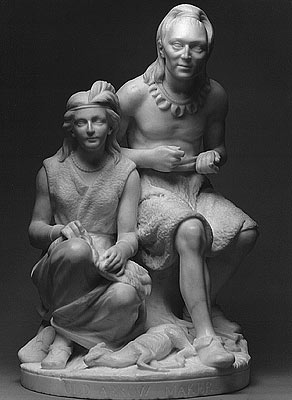 Backstory and Context
Hailed as the first professional African-American and Native-American sculptor, Mary Edmonia Lewis had little training but overcame numerous obstacles to become a respected artist. The daughter of a Black father and part-Ojibwa mother, she was orphaned at an early age and, as she later claimed, was raised by some of her mother's relatives.
With the support and encouragement of a successful older brother, Lewis attended Oberlin College in Ohio where she emerged as a talented artist. The abolitionist movement was active on the Oberlin campus and would greatly influence her later work. Lewis then went on to Boston, Massachusetts where she began pursuing her career as a sculptor. Her work was primarily inspired by the lives of abolitionists and heroes of the Civil War. 
In Boston, Lewis befriended abolitionist William Lloyd Garrison and sculptor Edward A. Brackett. It was Brackett who taught Lewis sculpture and helped propel her to set up her own studio. By the early 1860s, her clay and plaster medallions of Garrison, John Brown and other abolitionist leaders gave her a small measure of commercial success.
One of her most prized works was "Forever Free" (1867), a sculpture depicting a Black man and woman emerging from the bonds of slavery. Another piece, "The Arrow Maker" (1866), draws on her Native-American roots and shows a father teaching his young daughter how to make an arrow. 
In recent decades, however, Lewis's life and art have received posthumous acclaim. Her pieces are now part of the permanent collections of the Howard University Gallery of Art and the Smithsonian American Art Museum. Edmonia Lewis was a hero of female artists of the times as she was not only a female in a male-dominant field but also of African-American and Native-American ethnicities that excelled with such thought-provoking and stunning pieces. 
Additional Information