Hunt Phelan House
Introduction
Listed on the National Register of Historic Places, this 16-room mansion was designed in the Federal style and completed in 1832 for a man named George H. Whyett (the second owner, William Hunt, expanded the house in 1855). It is the last of the grand houses built in the city before the Civil War. As such, it stands as a reminder of the prosperity the South enjoyed in the antebellum period. It is also significant for its strong ties to the war. Confederate General Leonidas Polk and Union General Ulysses S. Grant both used the house as their headquarters. Grant was here for a couple of weeks beginning on June 27, 1862, planning the Vicksburg campaign, and Polk was here while he prepared for the battle of Corinth, Mississippi. Five presidents, including Andrew Jackson and Andrew Johnson, visited the house in the 19th century. Today, the house serves as a wedding and event venue.
Images
The Hunt Phelan House was originally built in 1832 and later expanded in 1855. Generals Polk and Grant used the house as their respective headquarters during the Civil War.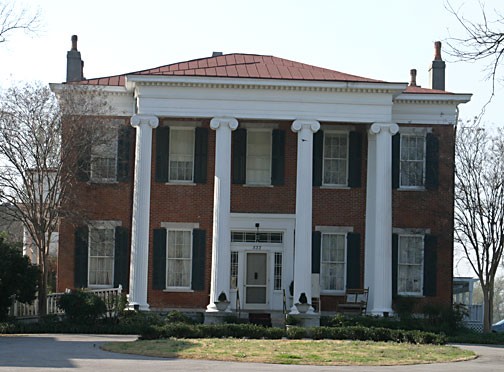 Backstory and Context
After the Union seized control of Memphis, the federal government used the house as soldier's home. It also was the location where teachers of the Freedmen's Bureau resided. The Bureau built one of the first schools for freed slaves on the property after the war. William Hunt regained ownership after the war. Later in the 20th century, Standard Oil geologist Stephen Rice Phelan bought the house. Although he wrote a history of the house he failed to maintain it and the property. It eventually became an eyesore for the community. Thankfully, it was not torn down and Phelan's nephew, Bill Day, inherited it in the 1990s. He led the restoration project that revived the house. It is not clear when it was converted into an event venue.
Sources
"About Hunt Phelan." Hunt Phelan Weddings & Events. Accessed December 19, 2017. http://huntphelan.com/events/about-us.

Harper, Herbert. "Hunt-Phelan House." National Park Service - National Register of Historic Places Nomination Form. February 11, 1971. https://npgallery.nps.gov/GetAsset/0f608072-8bcf-45d4-9897-e1166d826e89.

Lester, Dee G. "Hunt-Phelan House." Tennessee Encyclopedia of History and Culture. December 25, 2009 (Last Updated January 01, 2010). http://tennesseeencyclopedia.net/entry.php?rec=673.
Additional Information