Asa Talcott House
Introduction
Asa Talcott is believed to have been born towards the beginning of the 19th century around Glastonbury, Connecticut. After a short period of time living in Jacksonville, Asa and his wife Maria moved to Sciota, Oregon in 1869 which is where Asa passed away on September 13, 1880. In early May of 1833, Asa and Maria moved to Jacksonville, Illinois and during the 36 years of but located in Jacksonville they accomplished many things.
Images
Asa Talcott House shown from a side angle, showing where it was built onto; the house was built in three separate sections.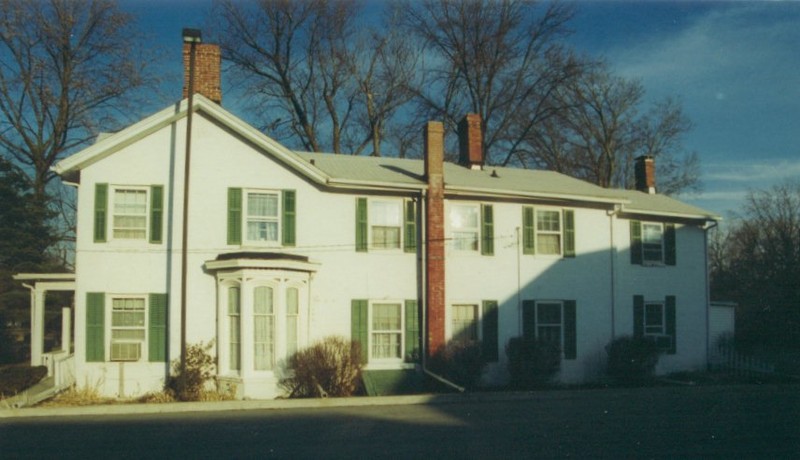 Backstory and Context
On December 15, 1833 after a few months of being in Jacksonville, the Talcott's founded the Congregational Church and were openly known for being anti-slavery. Asa Talcott acted as a man living two very different lives, one but day and one at night. During the day Asa was known to the community as a hard working brick lawyer and plasterer, but at night was known for successfully helping slaves flee on the Underground Railroad. While Asa Talcott it is not known how many slaves Asa helped while living in Jacksonville, he was successful with every slave that he helped. In fact, a free man named Benjamin Henderson, openly noted that whenever he needed supplies for his fugitives he was helping, Asa was always someone to count on.

Around this time, many Illinois College students felt passionate about helping slaves reach the freedom they deserved, and an unconfirmed story took place in February of 1844 these students crossed paths with Asa Talcott. One February evening a slave who had been hiding out in the Black community in Jacksonville called Africa was located. In response to that a few Illinois College students took the slave to Asa Talcott's barn to hide in the stacks of hay.

859 Grove Street which has historically been named as the Asa Talcott house wasn't just owned by Asa and his wife. Prior to them moving to Jacksonville, Joseph Duncan owned it, and in May 1833 sold the five acres of land and the first section of the house built to Asa Talcott for $200. On the house a few bricks were discovered with etching on them showing that in 1844 and 1861 the house was built onto. The two additions to the home were both done with Asa and Maria lived in Jacksonville. According to Philip Decker in A Window on the Past: Residences of Jacksonville, Illinois: Their History and Design, 1833-1925, "Since Talcott was a brick mason, he may well have burned his own bricks from Jacksonville clay which he dug on the premises" (Decker 16). Then in 1860, the Talcotts' sold the home to William G. Gallaher and moved to Oregon. To this day, the Talcott home still presents many original features from when Asa owned it.
Sources
"Asa Talcott Home." Jacksonville's Historic Underground Railroad.

http://bendorfm.com/ugrr/talcott.html. 3 Oct 2018.

Decker, Philip H. "A Window on the Past: Residences of Jacksonville, Illinois: Their History and

Design, 1833-1925." Morgan County Historical Society, 2012. 3 Oct 2018.