Holland Coffee Trading Post
Introduction
Holland Coffee and his partner, Silas Colville, established Holland, Colville, and Company Trading Post in 1829 along the Red River. In 1837, Holland moved to present-day Pottsboro and established the Holland Coffee Trading Post. Here he became a savvy businessman, trading with the Plains Indians and negotiating the release of white captives. Due to his success, Holland was named an Indian agent by Sam Houston. After his death in 1846, the site of Coffee's trading post became a historical landmark in present day Grayson County.
Images
The historical marker for Coffee Trading Post and the gravesite of Holland Coffee.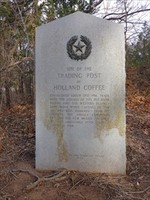 Coffee trading post with two men, Jim Caddell and Charles P. Newman, standing out front.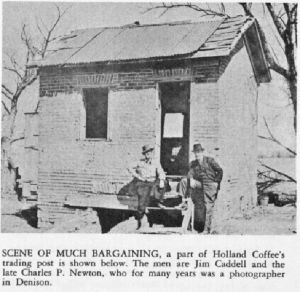 The site of Coffee Trading Post today and the cemetery sign for Preston, and where Holland is buried.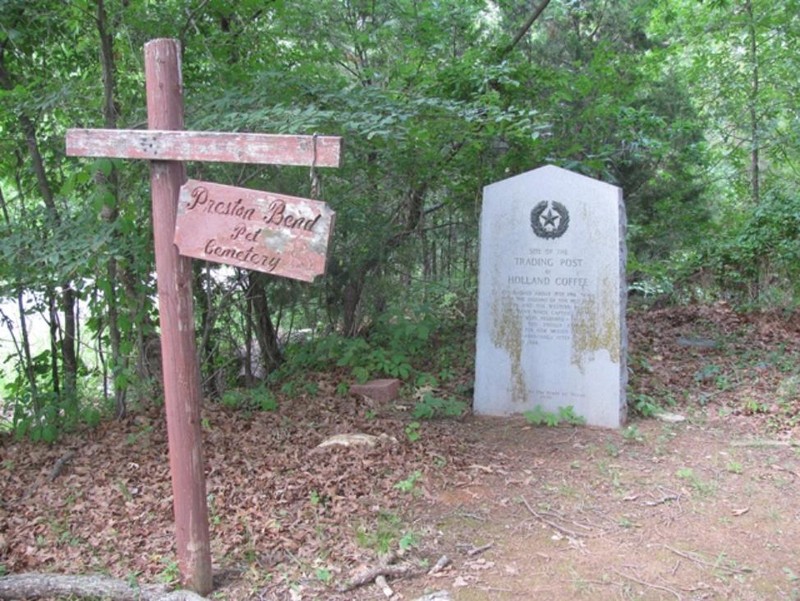 Second Column, Third Joint Resolution: Telegraph and Texas Register, page 1: This is the account which granted Holland money and the ability to negotiate the return of white prisoners from the Indians.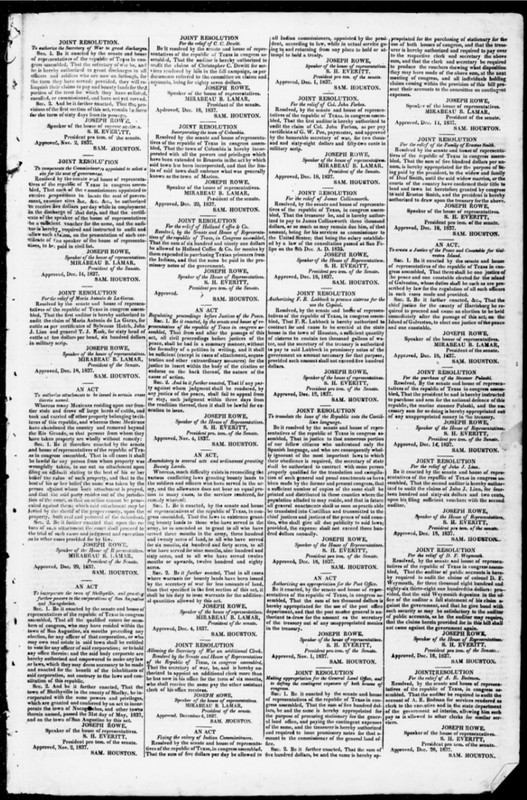 Backstory and Context
Holland Coffee was a politician and trader. He was a man of many talents and "dabbled in pretty much everything and anything."1 Before starting a trading post, he served in the Texas House of Representatives, where he became good friends with the soon to be President of Texas, Sam Houston. Then "he set up several trading posts along the Red River in order to exchange goods with the Comanches, Kiowas, and Wichitas who called the river home."1 When establishing his most successful post, Coffee partnered with Silas Colville to establish Coffee, Colville, and Company in Texas, in 1829, which eventually turned into Coffee's own trading post, Holland Coffee Trading Post, in 1834 and operated until his death 1846.
The trading post was originally located in Oklahoma, but when Holland realized he was not in Texas borders, as he had thought, he crossed the Red River into Texas, and he set up the new trading post in 1837. The trading post was located in Preston, a small settlement that Holland invested in located near modern-day Pottsboro, Texas. His post functioned as a trading site that sold and exchanged goods and supplies to those passing by. It also operated as the Republic of Texas' post office, which was called Coffee's Station. It was a crucial post for those traveling along the Red River.
Holland Coffee Trading Post was also significant as a place of major negotiations between Coffee and the Plains Indians. Having learned all the native languages of the surrounding tribes made Coffee a very successful trader and helped ease negotiations for the release of white men that had been taken captive. His relationship and trades with the local groups were viewed as wrong by many who wanted to condemn and investigate Coffee based on accusations that he had been "selling liquor and guns to Indians who were engaged in stealing livestock and raiding settlers."3 However, Coffee was able to satisfy the accusations. Because he was a crucial part in many treaties with the Indians, his ally, President Sam Houston, appointed Coffee as an official Indian agent in November 1837 and granted him six hundred and ninety-one dollars to purchase Texian prisoners from the Indians, and Coffee's name was cleared.
While running his post in Texas, Coffee met and married Sophia Suttenfield Aughinbaugh on January 19, 1839, after she was abandoned by her drug-abusing husband, Jesse Augustine Aughinbaugh. Coffee died on October 1, 1846, in a fight defending his wife Sophia, who had apparently been insulted by a passing tradesman, Charles Ashton Galloway. Sophia was known for having a reputation as a prostitute that followed the Republic of Texas army. After Coffee's sudden death, no one was left to run the trading post. Almost 100 years later, in the 1940s, the post was inundated by Lake Texoma as a historical landmark in Grayson County.
Sources
1 Jett, Robin C. Preston: Drowned Town That a Store Built. Red River Historian- Where the South Meets the West. November 19, 2018. www.redriverhistorian.com/preston.html.
2 Britton, Morris L. COFFEE'S STATION - The Handbook of Texas Online - Texas State Historian Association (TSHA). Texas State Historical Association - The Authority on Texas History. November 19, 2018. tshaonline.org/handbook/online/articles/dfc01.

3 O'Dell, Larry. Coffee's Post - The Encyclopedia of Oklahoma History and Culture. Oklahoma Historical Society. November 19, 2018. www.okhistory.org/publications/enc/entry.php?entry=CO015.

4 A Guide to the Holland Coffee Papers, 1836-1886, 1941. University of Texas Libraries. November 19, 2018. legacy.lib.utexas.edu/taro/utcah/02057/cah-02057.html.

5 Telegraph and Texas Register, February 24, 1838.