Kidd-Key College Historical Marker
Introduction
This historical marker shares the story of Kid-Key College, which operated in Sherman until the Great Depression. The college began in 1875 as North Texas Female College. By 1886, the college suffered from debt. Lucy Ann Kidd-Key's presidency at the college began in 1888 and ended in 1916. When Kidd-Key assumed the presidency, her primary focus was on fine arts, especially music. The college was renamed after Kidd-Key in 1919, three years after her death and operated until the 1930s.
Images
Completed Building for Classrooms, Music Studios, and Art Studios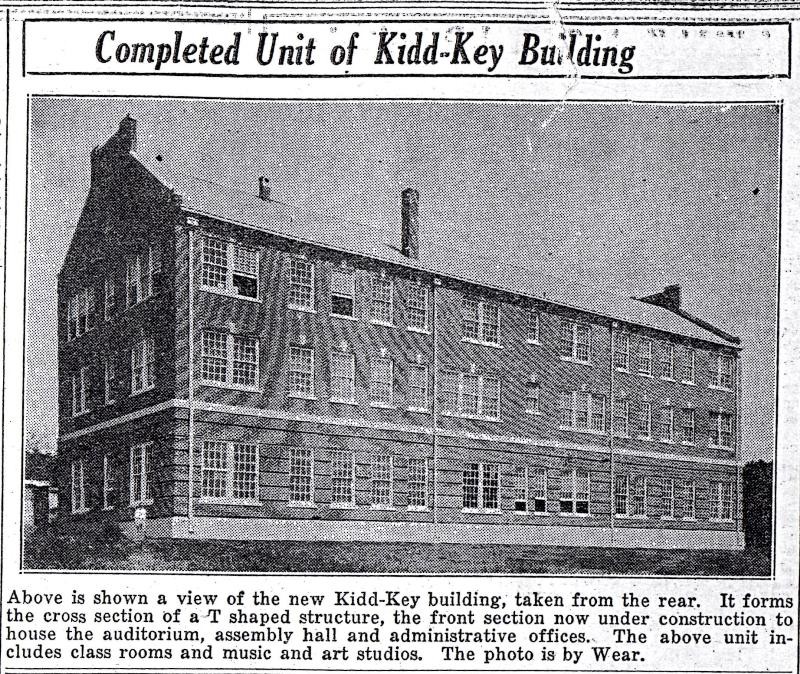 Kidd-Key College Historical Marker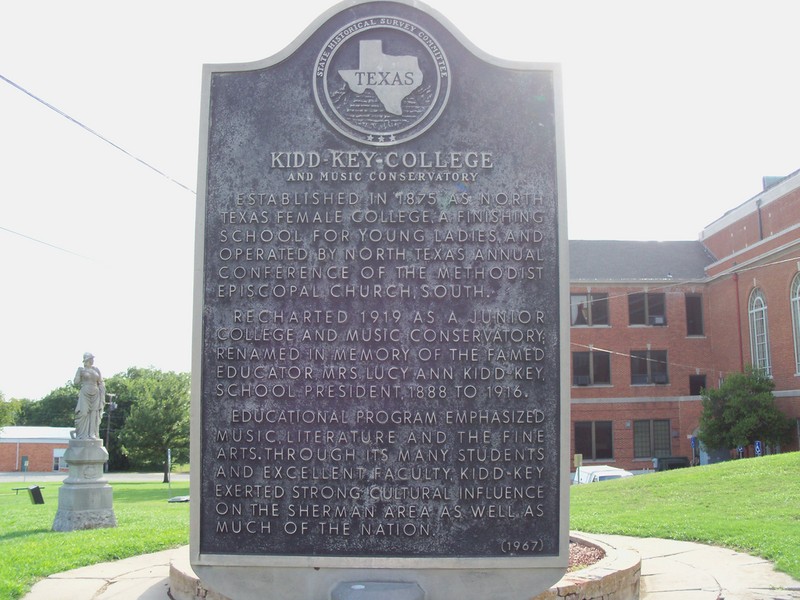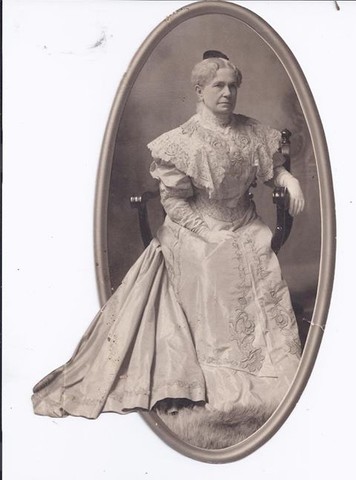 Kidd-Key College's Conservatory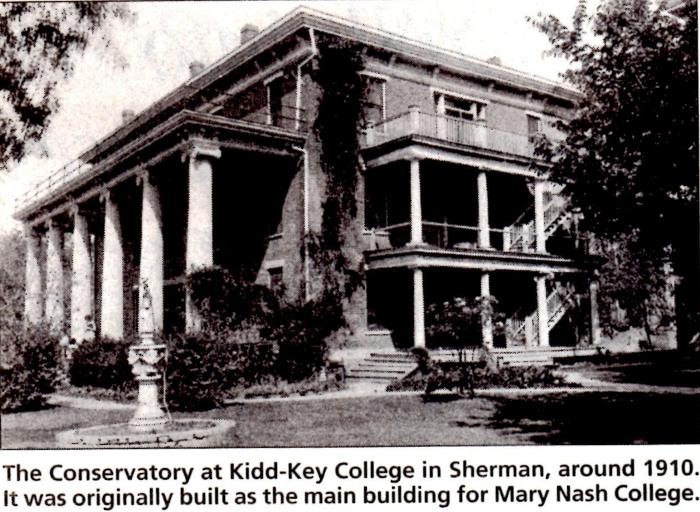 Kidd-Key College Students in Uniform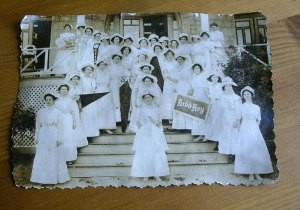 Backstory and Context
The college was originally founded in 1870 as the Sherman Male and Female Academy. The Academy was founded by Rev. R. Petty and was supported by the North Texas Methodist Conference. In 1873, trustees of the academy gave the deed to the Academy to the Trinity Conference of the Southern Methodist Church. After this, the name was changed to the North Texas Female College. The men from the academy withdrew to attend Le Tellier, an all-male school.
After the administrative issues with stability and debt, Bishop G.D. Galloway convinced Kidd-Key, a professor at Whitworth College in Mississippi, to lead the school. Kidd-Key became president in 1888. Though it had been closed for two years, the revitalized college's enrollment was around 100 women, with a curriculum that emphasized fine arts. In 1892 the same year Kidd-Key got married, the college was renamed as the North Texas Female College and Conservatory of Music.
Under Kidd-Key's leadership, the college grew to include seven brick buildings, several cottages, and a gymnasium. Located across the street from the college was another all-female institute named, "Mary Nash College." When Kidd-Key first arrived, Mary Nash College was thriving. In 1905, Kidd-Key bought the Mary Nash College property. The property included four buildings, a gymnasium, conservatory, and two halls. The number of students grew from 100 to over 500 students.
By the time of the war, however, the college faced declining enrollment. There were a few reasons for this. Kidd-Key had very strict policies that were not favored by students and parents. Southern Methodist University opened in 1915, and as a consequence, there was less support available from Methodists to smaller schools. Hard economic times during this period were also a factor, particularly with the onset of the Great Depression.
In 1930, Austin College began sharing facilities and coordinated programs with Kidd-Key College. This action prolonged the life of Kidd-Key College for only a few years. In September of 1933, support for the College by the Methodists was withdrawn. Without that funding, the college could no longer afford to operate closed in 1935. The site was sold to the city of Sherman to become municipal grounds. None of the college's buildings are standing today.
Sources
1 Bay, Elaine Nall. Kidd Key College. . Accessed November 26, 2018. http://usgenwebsites.org/TXGrayson/GatheredTogether/SCHOOL/SCHOOLS/KiddKey/GirlsSchools.html.
2 History of Sherman. . Accessed November 26, 2018. https://www.ci.sherman.tx.us/314/History-of-Sherman.
3 West, Carolyn Effie. The Portal to Texas History. November 01, 2012. Accessed November 26, 2018. https://texashistory.unt.edu/ark:/67531/metapth256822/?q=kidd%20key%20college#coverage-map.
4 Wolz, Larry. Kidd-Key College. . Accessed November 26, 2018. https://tshaonline.org/handbook/online/articles/kbk02.
5 Henderson, Nicolas. July 04, 2010. Accessed December 05, 2018. https://www.flickr.com/photos/texasmarkers/4768191173.
6 Mcilvain, Myrah. Lucy Kidd-Key, Tough Victorian Lady. . Accessed December 05, 2018. https://myrahmcilvain.com/2013/05/24/lucy-kidd-key-tough-victorian-lady-2/.
7 Bay, Elaine Nall. . Accessed December 05, 2018. http://usgenwebsites.org/TXGrayson/GatheredTogether/SCHOOL/SCHOOLS/KiddKey/KiddKey.html.