Hotel Washington
Introduction
Hotel Washington was constructed in 1885 and spent most of the 20th century as an economy apartment complex that included a variety of diners, bars, and nightclubs on the street level. The building was home to two different gay bars during the 70s through the 90s. the structure was destroyed by fire in 1996 and was not rebuilt. The site is now home to Kelley's Market
Images
Picture of the Hotel Washington during the fire, taken by Michael Murnan Smith on 18 February 1996. This photo was later used by the band The Waterdogs as the album art of their CD "Thermal." Photo accessed from Wisconsin State Journal Online.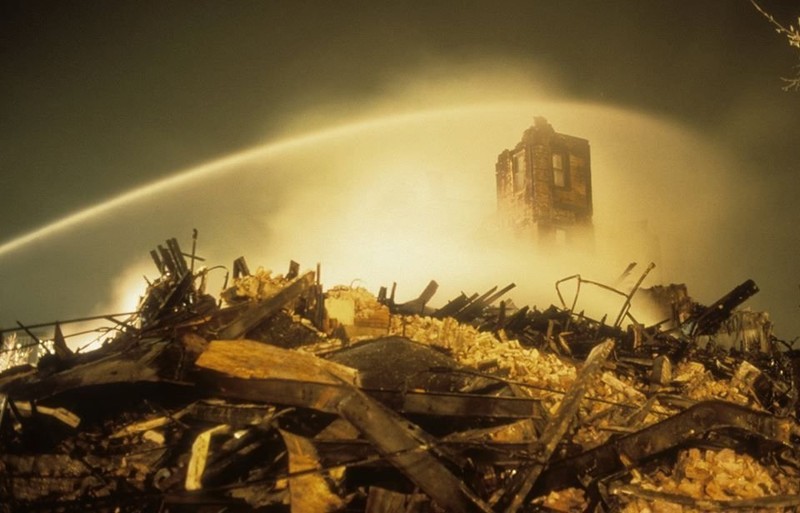 Backstory and Context
The former hotel contained a bar that was once a speakeasy during Prohibition, called the Barber's Closet. This is not to be confused with the Barber's Closet Salon, a hair salon that contained a secret entrance to the Barber's Closet, hidden behind a cabinet within the Salon. Other establishments within the Hotel included Club de Wash and Café Palms.
The former hotel was home to Rod's, a gay bar established by Rodney Scheel, a local gay man who died in the AIDS crisis. Rodney Scheel had previously opened the first gay bar within Madison, the Back Door. After the Back Door was closed in June 1979, Rod's was opened in July 1979. Upon Rodney's death, his brother Greg took over the running of Rod's.

Rod's was a focal point for the gay and queer nightlife in Madison during its operation, allowing a wide variety of activities, ranging from vanilla to kink. There was a sense of community within Rod's that is not easily replicated. The fact that there were several bars, some straight, some gay, within the same building was seen as a haven for members of the LGBTQIA+ community who were still in the closet, as they were able to go to one of the straight bars, sneak out the back door, and into one of the gay bars. It is not entirely certain how the Hotel Washington burnt down, but most believe it was due to an improperly extinguished and disposed of cigarette.
Sources
Derby, Samara Kalk. "Around Town: Hotel Washington Memories Can't Be Destroyed." Wisconsin State Journal, February 22, 2016. Accessed October 31, 2018. https://madison.com/wsj/news/local/around-town-hotel-washington-memories-can-t-be-destroyed/article_0f0152e8-1bc8-58e6-8144-08caec3a9aee.html

Driscoll, John H. "Ruins of the Barber's Closet and Hotel Washington | Photograph." Wisconsin Historical Society. December 01, 2003. Accessed November 01, 2018. https://www.wisconsinhistory.org/Records/Image/IM112723.
Handler, Selena, and Riley Vetterkind. "Madison's Rainbow History: Hotel Washington Allowed Diverse LGBTQ Community to Unite." The Badger Herald, October 14, 2015. Accessed October 31, 2018. https://badgerherald.com/features/2015/10/14/madisons-rainbow-history-hotel-washington-allowed-diverse-lgbtq-community-to-unite/.
Schwamb, Don. "Rodney Scheel." The History of Gay & Lesbian Life, Wisconsin. February 2016. Accessed November 01, 2018. http://www.mkelgbthist.org/people/peo-s/scheel_rodney.htm.
Additional Information