Judge C.C. Binkley
Introduction
Born in 1827, Christopher Columbus Binkley spent his life establishing himself as a judge, lawyer, and businessman in Sherman, Texas. From humble beginnings in Robertson County, Tennessee, to his impressive life in Sherman as a district judge, bank president, and proficient member of the building committee, Binkley was highly respected in all fields by his peers. With his good standing in the eyes of his communities, Binkley set in motion the creation of the town of Denison and the establishment of Austin College in Sherman. Following his death in 1886, Binkley was recognized as Sherman's leading citizen.
Images
Grave site of C.C. Binkley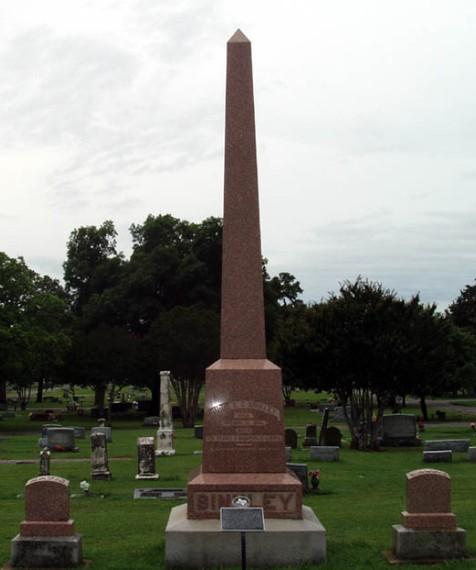 Texas Historical Commission Marker for C.C. Binkley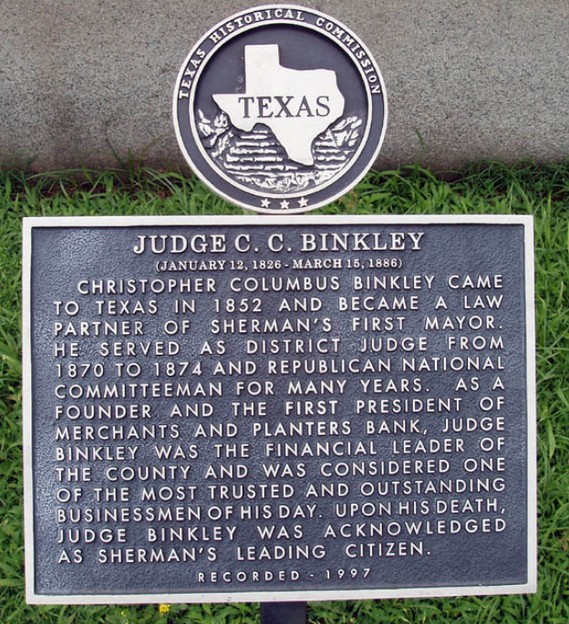 Backstory and Context
Christopher Columbus Binkley was born on January 12, 1827, in Robertson County, Tennessee. He was one of five children born to David Binkley and Rebecca Adams. Binkley married twice, first to Sarah Agnes Goode in 1857 and, following Goode's death in 1870, to Katie Wilson in 1873. In Texas, Binkley lived on N. Travis Street, between Houston Street and Pecan Street. He died on March 15, 1886, from an illness of several months and was buried in West Hill Cemetery in Sherman, a 120-acre historic cemetery established in the 19th century that is still open to the public today.
C.C. Binkley grew up on his father's farm where he learned habits of industry and punctuality. In 1848, at the age of 21, Binkley became a salesman in the dry goods establishment of E.M. Reynolds. Over the year Binkley worked for Reynolds, he became a proficient and popular salesman, acquiring social skills he would utilize for the rest of his life. During his one year of work with Reynolds, Binkley rose to a management position and sold the establishment for Reynolds. From there, Binkley went on to study law under the instruction of his cousin, Henry A. Berry, an already prominent lawyer in Purdy, Tennessee. Under Berry's instruction, Binkley obtained a license to practice law in the courts of Tennessee in about a year. However, upon receiving his license to practice in Tennessee, Binkley soon found that the field of law was sufficiently occupied in Tennessee and sought out a new area to practice, settling in Grayson County, Texas, in 1853. Once in Texas, Binkley spent a few months learning the specific practices of Texan law before forming a partnership with Burrell P. Smith. Smith was soon elected to district attorney, leaving the entirety of the civil business of the firm to fall on Binkley. Binkley managed everything exceedingly well, earning himself a great reputation among his clients and the community alike. About three years after the formation of the partnership between Binkley and Smith, Smith retired, dissolving the partnership and leaving Binkley to continue the practice alone.
In 1870, Binkley was nominated by Governor Edmund J. Davis for appointment as district judge. Binkley accepted the position and served for three years. As district judge, Binkley was exceptionally well-liked and praised for his impartiality in his decisions. As summed up by the Sherman Courier:
"The same high sense of honor, the same patient investigation of law and facts, the same stern resolve to secure justice that had brought into requisition on the bench, and his term of office was eminently satisfactory. His decisions were marked by clearness and intelligence, and his whole course as an officer showed him to be an honest man and an upright judge."1
While still serving as district judge, Binkley also established the Merchants and Planters Bank of Sherman, which had large investments in railroads among other things. Once the bank was established, Binkley was named president. However, Binkley's position was largely inactive until the Panic of 1873. After the crash, stockholders were adamant for a full-time president to ensure the safety of their assets, so Binkley resigned as district judge to focus on his work at the bank.
Among his many unstated accolades, Binkley served as a member of the local committee to bring Austin College to Sherman and "did much to carry this educational enterprise to a successful conclusion."1 Binkley also helped to establish the town of Denison, Texas, during his time as district judge. Binkley strongly recommended the creation of a new railroad town close to Sherman and, using his influence with Governor E.J. Davis, the process for the official creation of Denison was set in motion. Binkley also proposed the creation of the "finest hotel building in northern or middle Texas,"2 the Binkley Hotel, which became a first-class hotel building in Sherman. Upon his death in 1886, Binkley was acknowledged as Sherman's leading citizen and was viewed as "one of the most trusted and outstanding businessmen of his day."3
Sources
1 The Encyclopedia of the New West. . 11/26/2018. https://books.google.fr/books?id=JjlEy4Bq3dMC&pg=PA204&lpg=PA204&dq=judge+cc+binkley+biography&source=bl&ots=3tZjmfPB8u&sig=wezNlYCMx0eTOc6V7ib5dHbJgL4&hl=en&sa=X&ved=2ahUKEwiwsJHSke3eAhUGDq0KHUq6D1wQ6AEwC3oECAMQAQ#v=onepage&q=judge%20cc%20binkley%20biography&f=false

2 Denison Daily News. (Denison, Tex.), Vol. 4, No. 86, Ed. 1 Thursday, June 1, 1876.

3 Erwin, Chad. Christopher Columbus Binkley. August 19, 2006. 11/26/2018. https://www.findagrave.com/memorial/15418667/christopher-columbus-binkley

4 Bridges, Jennifer. "The Katy's Ladies: Prostitution in Early Denison, Texas, 1872-1880." March 10, 2015. https://scholarworks.sfasu.edu/cgi/viewcontent.cgi?article=1003&context=ethj

5 Grayson County, Texas Obituaries and Death Notices. . 11/26/2018. http://genealogytrails.com/tex/prairieslakes/grayson/graysoncountyobituaries.html

6 Texas Historical Commission Marker: Binkley Hotel. . 11/26/2018. https://texashistory.unt.edu/ark:/67531/metapth256687/#description-content-main

7 C.C. Binkley. 11/26/2018. http://artemis.austincollege.edu/archives/move/binkley.htm