Hendrix Cemetery
Introduction
Once home to the Black-land prairie, Grayson County attracted numerous settlers due to its rich soil and geographical proximity to the Red River. Many of these early settlers not only laid their social and economic footprint in the region for years to come, but settled for generations. The Hendrix Cemetery is one example of early Grayson County settlers establishing their roots in the region.
Images
Hendrix Cemetery is one of the earliest traces of American civilization in Grayson County. The cemetery is formally marked by the Texas Historical Commission.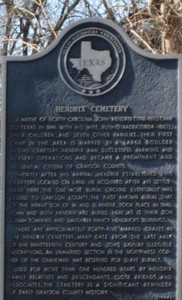 Backstory and Context
The cemetery is rooted in the migration of the Hendrix family from the Eastern United States to modern-day Grayson County in the mid-nineteenth century. According to the Texas Historical Commission, "John Hendrix (1798-1893) came to Texas in 1846 with his wife, Rush (Stradef) (1804-1882), their children, and seven other families." The arrival of the Hendrix family is correlated with the incorporation of Grayson County that same year, and the allocation of Sherman to the county seat. The family was among the first in the city. By 1852, 400 people lived in Sherman, which "consisted of a row of clapboard business buildings along the east side of the public square.". The cemetery has no specific date of origin. However, the first known burial there occurred in 1848 following the death of the infant son of D. and M. Perdue.
As most of the town of Sherman centered itself around a central square, it is worth noting that the Cemetery location is a few miles away from the actual town. This is significant as the Hendrix family ran a farming industry, and the fact that their burial ground was so far from the actual town might yield insight into the possibility that the family farmed and operated in the same geographical scope of the their cemetery.
According to the Texas Historical Commission, the cemetery also has "an unmarked section in the Northwest corner of the graveyard that was reserved for slave burials." This would be reflective of the overall racial attitude to slavery in the Hendrix years, as Brian Hart writes that, "the community was not immune to the sectional passions that flared during the 1850s…the county had established an armed detachment of men to patrol the county in search of runaway slaves and abolitionist threats to law and order."

Sources
1. Effie, Carolyn. "[Texas Historical Commission Marker: Hendrix Cemetery]." The Portal to Texas History, The Express Publishing Company, 1 Nov. 2012, texashistory.unt.edu/ark:/67531/metapth256794/.

2. Hart, and Brian. "SHERMAN, TX." The Handbook of Texas Online| Texas State Historical Association (TSHA), 15 June 2010, tshaonline.org/handbook/online/articles/hds03.

3. Sherman, Texas. 1891, 1891. Lithograph, 22 x 35 in. Published by T. M. Fowler & James B. Moyer, Morrisville, Pa. Texas State Library and Archives Commission, Austin.