Henry Montague House
Introduction
The historic Henry Montague House is a brick home that was built 1861 in the Greek Revival style with Italianate stylings. The house was the property of Henry Montague, a local pioneer, abolitionist, and mental health advocate who moved to Kalamazoo in the 1830s from Massachusetts. Montague helped establish the Underground Railroad in Kalamazoo and assisted many formerly enslaved persons who were fugitives at that time until they arrived in Canada where they were safe from slave catchers and the Fugitive Slave Law. Montague retired in 1909 and the house stayed in the family until 1917. In the past century, the home has served as a home for leaders of the nearby state hospital.
Images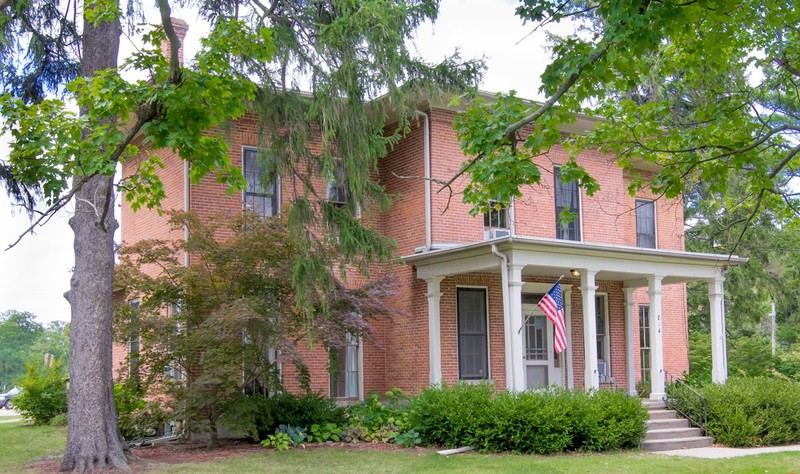 Backstory and Context
Henry Montague, a local pioneer, abolitionist, and mental health advocate, moved to Kalamazoo in the 1830s from Massachusetts at the age of twenty-two. Within a few years, he engaged actively in guiding fugitive slaves to freedom via the underground railroad. The historic house, known now as the Henry Montague House, is a brick home built in 1861 in the Greek Revival style with Italianate stylings.
Montague first settled in nearby Washtenaw County where he married his wife Abigail in 1836. The following year, Henry and Abigail moved to Kalamazoo, a small, pioneer town at that time. For the next twenty-one years, he farmed and actively participated in politics and social change; he passionately supported the Republican Party, abolitionism, and temperance reforms. In fact, he traveled to Jackson for the founding of the Republican Party, to Ann Arbor for the first abolition meeting in Michigan, and helped organize the temperance platform in the state.
As an abolitionist, he aggressively helped runaway slaves maintain their freedom, both via the underground railroad and harboring fugitive slaves. As the Kalamazoo Library states, "As far as can be known, the first fugitives from slavery came to Kalamazoo County in 1837. They were a man and wife who had escaped in Alabama and worked their way north. Henry Montague provided them with a warm meal, then hitched up a team and drove them to Galesburg. There they were turned over to Hugh M. Shafter. That was the beginning of the Underground Railroad in Kalamazoo County."
Though statistics related to underground railroads and harboring fugitives can be challenging to obtain, it is estimated that Montague and other Kalamazoo abolitionists guided 1,000 to 1,500 runaway slaves through Kalamazoo via the underground railroad between 1840 and 1860.
In the fall of 1854, Montague was elected to the State Legislature for a term where he aggressively sought funding for the construction of a State Hospital in Kalamazoo. Not only was he successful, but he also went on to become Superintendent of the building committee, and by 1859 he took the position of Asylum Steward, a position he held for more than thirty years. He bought property adjoining the hospital and in 1861 began constructing this home which is where his family resided until 1917.
The position of leadership of the hospital did not deter from Montague's social and political activism. He remained an active public speaker, laid the cornerstone at the Kalamazoo College Building, served as Village Trustee and aided in the establishment of the County Pioneer Society.
His son, Calvin, followed in the footsteps of his father as a supporter of freedom for African Americans. Calvin entered the Civil War as a Fourth Sergeant of the local "Blair Guards," but later served as Captain of Company K, 102nd U.S. Colored after Lincoln allowed African Americans to enlist. By war's end, he left the army with the rank of Lieutenant Colonel.
Before Henry died in 1909 at the age of ninety-six, Calvin took a job as a clerk in Washington D.C. However, Calvin's sister, Helen, stayed in the house until 1917. After she departed, the house transitioned into a residence for State Hospital officials, which remains its principal function today.
Sources
"Henry Montague House." Kalamzoo Public Library. kpl.gov. Accessed Dec 11, 2018. http://www.kpl.gov/local-history/houses-buildings/814-oakland.aspx

"Nomination Form: Henry Montague House." National Register of Historic Places. archive.org. Accessed December 11, 2018. https://catalog.archives.gov/id/25338207


Peppel, Fred. "Underground Railroad in Kalamazoo." Kalamazoo Public Library.
kpl.gov.
February, 2006. http://www.kpl.gov/local-history/Black-history/underground-railroad.aspx.
Mack, Julie. "End of Divisive Era for Southwest Michigan Marked by Emancipation Proclamation 150 Years Ago." Michigan Live.
mlive.com.
January 20, 2013. https://www.mlive.com/news/kalamazoo/index.ssf/2013/01/150th_anniversary_of_emancipat.html
Photo Source

Henry Montague House: By rossograph - Own work, CC BY-SA 4.0, https://commons.wikimedia.org/w/index.php?curid=35569218
Additional Information