Lou Mitchell's Restaurant
Introduction
Operating since 1923 in the same location (and since 1949 in the now-historic building), Lou Mitchell's catered to people arriving to Chicago via Union Station, working or visiting downtown Chicago, and most famously to those heading out on Route 66 -- the diner earned the nickname "The first stop on the Mother Road." Now a local institution, politicians frequently dine there on whistle stop tours, but it stands as a monument to a time when Americans (with means) fully embraced automobile culture and highway travel.
Images
Lou Mitchell's Restaurant in Chicago, built in 1949.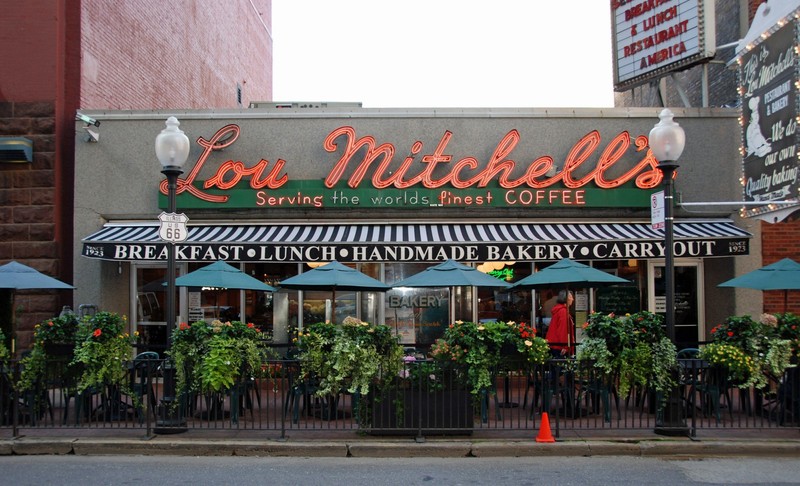 Backstory and Context
Lou Mitchell's Restaurant (1949), enjoys the nickname, "The first stop on the Mother Road," because of its location at the start of Route 66, once the nation's most popular, highly-traveled highways that connected Chicago to California. Lou Mitchell's, located in Chicago's downtown, is also located near Chicago's Union Station. Hence, its link to Chicago's transportation, economic and cultural history allows the building to serve as a window into the broader urban and national history.
In 1923, William Mitchell opened a diner named after his son, Lou. The entire family (at one time or another) worked at the diner, helping it attain success, which resulted in the family constructing a new place across the street in 1949, where the restaurant remains in operation, today. The current, historical building stands as a reminder of the type of commercial enterprises that arose along Route 66. Indeed, the place looks much the same today as it did when it opened.
Just as Chicago had established itself as a railroad hub for several decades dating back to the nineteenth century, Chicago served as the eastern terminus of Route 6, which followed a path once part of the Pontiac Trail -- the main road created in 1915 that linked Chicago to St. Louis and named after the famous Ottawa Indian Chief.
The growing network of roads and need for a significant highway signified a shift in American culture that had transitioned from horses and water navigation to railways to the automobile, which coincided with a transition from wood and coal power to fossil fuels (oil, petroleum, etc.). Lastly, as a result of enhanced transportation, more Americans moved or traveled west to places like California. Americans, notably white middle-class citizens, grew into a driving culture, which included "seeing the country," and Route 66 demonstrated that with the abundance of restaurants, motels and gas stations found along the road. (However, African Americans were barred from a large percentage of the businesses that lined up along Route 66.)
In the period between World War I and the Great Depression, a healthy U.S. economy allowed those with means an opportunity to spend money on leisure activities such as buying cars, eating at restaurants and traveling. Indeed, Between 1910 and 1927, the number of restaurants in the country rose forty percent, and car production also increased. Americans seemed to enjoy getting in the car and going out to eat. Though the Great Depression and World War II dampened that trend, the post-war culture again embraced restaurant dining and automobile travel -- and Lou Mitchell's served many of those Americans seeking to travel by car.
Louis W. Mitchell took the reigns in the 1950s, and became famous in Chicago for handing Milk Duds to his women customers and doughnut holes to all who waited for a table. Even with the dawn of the Interstate Highway system that rendered Route 66 somewhat obsolete, its location near Chicago's Union Station and in the West Loop of downtown allowed it to prosper. In fact, the restaurant grew into an institution so that Lou Mitchell's has become a must-visit location for aspiring politicians, be it local alderman to presidential candidates, including such presidents as Reagan, Clinton, and Obama.
Sources
Douglass, Teresa and Philip Thomason. "Nomination Form: Lou Mitchell's Restaurant." National Register of Historic Places. archive.org. July 28, 2005. https://ia601608.us.archive.org/10/items/NationalRegisterNominationsForChicago/LouMitchellsRestaurantNrNom.pdf

Liebs, Chester H. Main Street To Miracle Mile, American Roadside Architecture. Boston: Little, Brown and
Company. 1985.

"History: State Highway 4 and the Pontiac Trail." TheRoute-66.com. Accessed January 07, 2019. https://www.theroute-66.com/pontiac.html#pontiac-trail.

Struzzi, Diane. "Restaurateur Louis Mitchell, 90."
Chicago Tribune
(Chicago). March 30, 1999.
Photo Source

Lou Mitchell's: Photo located at https://davekosrow.wordpress.com/lou-mitchells-restaurant/
Additional Information