Nacogdoches University-Old University Building and Museum
Introduction
The Republic of Texas chartered Nacogdoches University in 1845. As a result, Nacogdoches University was probably the first non-sectarian institution of higher learning in Texas. The institution purchased the Temperance Hall in 1852 and shortly thereafter Washington Square. In 1858 it erected this large Greek Revival building with a two-story end portico and cupola.Today the building is used as a museum and as a place to hold special events. Nacogdoches Federation of Women's Club operates the building and gives free tours of the building, including the upper level which holds a museum that shows the building's history from holding a university to serving as a Confederate hospital. The museum also has displays that depict a typical classroom in the l9th century.
Images
The Old University Building, often referred to as the "mother of education in Texas," is a Texas State Historical Landmark and one of the local structures listed in the National Register of Historic Places.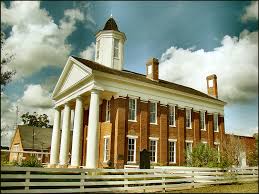 Backstory and Context
Except for brief periods the university remained in operation until 1895. During the Civil War the buildings were used for a hospital and quarters for Confederate soldiers, and during Reconstruction the buildings served as headquarters for a federal regiment. When the original charter expired in 1870, the Catholic Church took over the management of the university until the charter was renewed on February 11, 1873. In 1875 Milam Lodge Number 2 assumed control. In 1887 the property was leased to Keachi College. In 1889 the name Keachi College was dropped and that of Nacogdoches University was resumed.
When the second charter of the university expired in 1895, it was apparent that instruction could no longer be maintained on the university level. In 1904 the property was deeded to the Nacogdoches Independent School District. The main building was used by the Nacogdoches public schools until the 1930s. After years of disrepair, it was restored in the 1960s and converted into a museum featuring early Texas furniture, vintage clothing, manuscripts, deeds, silver, and other relics. In 1962 the structure became a Registered Texas Historical Landmark; in 1971 it was added to the National Register of Historic Places.
The institution's charter, dated February 3, 1845, provided that "no religious, sectarian tenets or doctrines shall be inculcated in the course of instruction," and that "the institution shall be equally open to the education of the children of persons of all classes, without regard to their religious belief." The school began its career with an endowment of 29,712 acres of land and $2,700 in personal property. The "Red House," former officers' quarters of the Twelfth Permanent Battalion, was its first home.
Sources
Bell, Wayne & Hume, Gary. "Old Nacogdoches University Building." National Park Service - National Register of Historic Places Nomination Form. June 21, 1971. https://atlas.thc.state.tx.us/NR/pdfs/71000956/71000956.pdf.

Blake, Robert Bruce. "Nacogdoches University." Handbook of Texas Online. Accessed October 3, 2014. http://www.tshaonline.org/handbook/online/articles/kbn01.

Additional Information