Washington County Courthouse
Introduction
The Washington County Courthouse was designed by Frederick J. Osterling and completed in 1900, and it immediately became a magnificent building of its day. It was built for the cost of a million dollars with a massive dome topped by a statue of George Washington. The outside of the building was very beautiful, so the commissioners wanted the inside to be as well. This made the project double in cost. Some of the changes included Italian marble instead of wooden floors, a grand central stairway, and a marvelous stain glass ceiling. While the building was beautiful, it was also built to last. Sandstone, granite, iron, steel, cement, and brick were all used in the construction. The original statue of George Washington was, however, damaged by lightning so a new six-ton statue replaced it in 1927.
Images
The exterior of the courthouse shows its Italian Renaissance design inspired by the architect who traveled to Europe instead of getting formal schooling.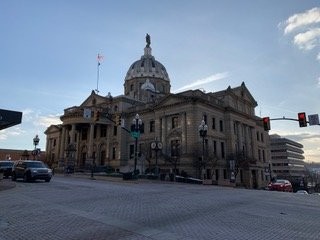 This is the Stain Glass Ceiling, 40 feet in diameter and 30 feet tall, that hovers over the grand central stairway. Some of the glass is up to three inches thick.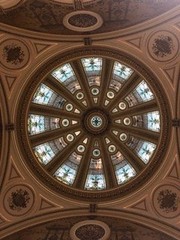 This is a postcard of the Courthouse from 1925.