Early Settlers
Introduction
Sculpted by local artist Bill Nebeker, this monument honors early white settlers of Prescott, Arizona. It features four iconic figures: a cowboy, a mule skinner, a gold miner, and a pioneer woman.
Images
Photo by Cynthia Prescott.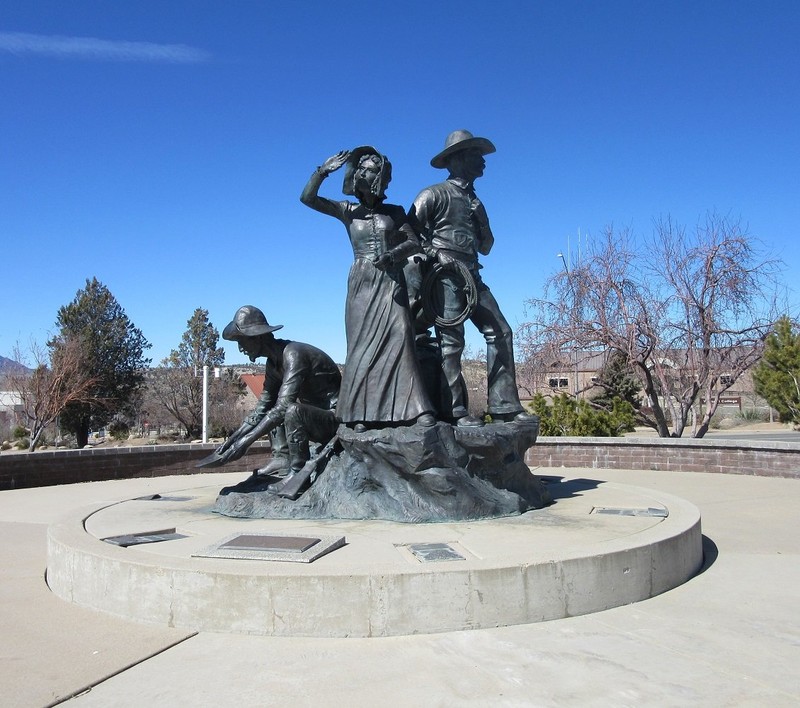 Photo by Cynthia Prescott.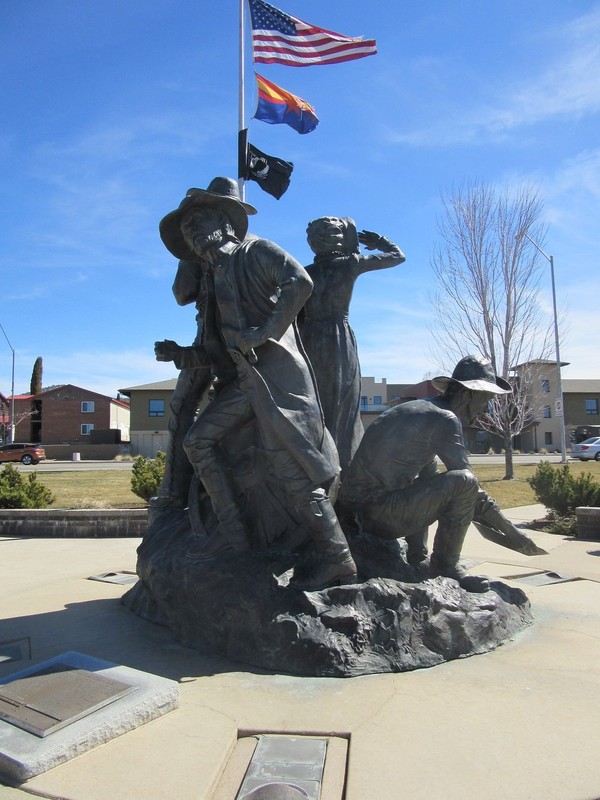 Photo by Cynthia Prescott.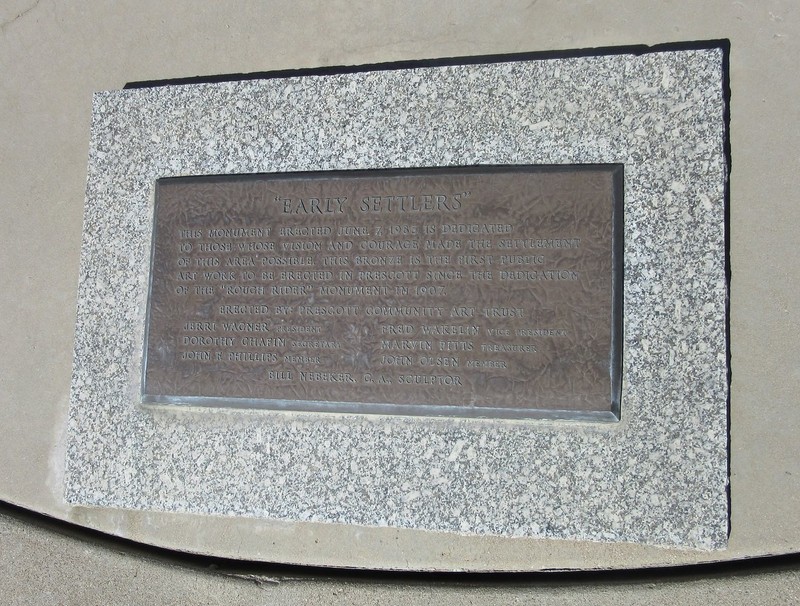 Backstory and Context
This 1985 larger-than-life bronze grouping in Prescott, Arizona, depicts early white settlers to the region. It includes four iconic figures of the mythic Old West: a cowboy, a mule skinner (or freight wagon driver), a gold miner, and a sunbonneted woman.
The central figure is a cowboy clad in a cowboy hat, fringed trousers, cowboy boots and spurs. He carries a rope for roping cattle. This cowboy evokes both western ranching culture and Prescott's premier public event, the "World's Oldest Rodeo." Its sponsor, Prescott Frontier Days, Inc., says that Prescott's professional rodeo has occurred annually since 1888.
According to Marguerite Madison Aronowitz, author of Art Treasures and Museums In and Around Prescott, Arizona, the sculptor originally planned to include a Fort Whipple soldier as the fourth figure, but his wife and father persuaded him instead to honor the women who settled the Southwest. Like the famous Pioneer Woman in Ponca City, Oklahoma, and a number of other monuments to pioneer women erected throughout the United States since the 1920s, the female settler wears a sunbonnet and holds a Bible. That Bible symbolizes her role carrying supposedly more civilized white American culture to the West. Rather than striding westward, however, this Prescott pioneer woman stands in her adopted home, shading her eyes against the bright Arizona sun.
Early Settlers was sculpted by Bill Nebeker, a longtime Prescott resident and member of the prestigious Cowboy Artists of America. Nebeker, whose father once worked as a cowboy in the Prescott area, has dedicated his artistic career to "keeping the story of the West alive."1 Since the 1960s, he has sculpted cowboys and ranch life, Native Americans, outlaws and lawmen, military heroes, and western wildlife.
Prescott, Arizona, has been a center of cowboy and western art for decades. But an interpretive plaque accompanying the statue declares that it was the first public art work erected in Prescott since the dedication of the city's Rough Rider monument in 1907.
Sources
1. Shea Stanfield. "Bill Nebeker Sculpting Stories of the West."
The Daily Courier
, accessed January 25, 2019, https://www.dcourier.com/news/2016/may/19/bill-nebeker-sculpting-stories-west/.

Aronowitz, Marguerite Madison. "New Book Tells the Story behind Prescott's Bronze Statues. Sharlot Hall Museum. Accessed January 28, 2019. https://joomla.sharlot.org/2001/november/564-new-book-tells-the-story-behind-prescott-s-bronze-statues.

Mussari, Mark. "Bill Nebeker: Western Wonders." Southwest Art Magazine. Southwest Art MagazineJanuary 01, 1970.


Prescott, Cynthia Culver.
Pioneer Mother Monuments: Constructing Cultural Memory
. Norman, OK. University of Oklahoma Press, 2019.
Rozum, Fred A.. "BUCKBOARDS AND STAGECOACHES: Establishing Public Transportation on the Black Canyon Route."
The Journal of Arizona History
, vol. 30, no. 2, 165-180. Published Summer, 1989.
Sharlot Hall Museum Vertical Files, Sharlot Hall Museum, Prescott, AZ.
Stanfield, Shea. "Bill Nebeker sculpting stories of the West."
Daily Courier
(Prescott, AZ), May 19, 2016.
World's Oldest Rodeo. Prescott Frontier Days, Inc.. . Accessed January 29, 2019. http://www.worldsoldestrodeo.com/about-us/our-history.
Additional Information