Ella Albers Memorial Fountian, Old Gray Cemetery
Introduction
This fountain in Old Gray Cemetery was dedicated by A. J. Albers in 1890 in memory of his late wife Ella. The two-tiered cast iron and zinc fountain was surrounded by three statues of grieving women dressed in Grecian gowns. Though the fountain served as a landmark in the cemetery for many years, it was eventually removed. In 2018, a recreation of the Ella Albers Memorial Fountain was added to the cemetery.
Images
The original fountain. At the time of its addition to the cemetery, it was simply known as the "Gray Cemetery," named for poet Thomas Gray, who wrote "Elegy Written in a Country Churchyard." Photo from the Calvin M. McClung Historical Collection.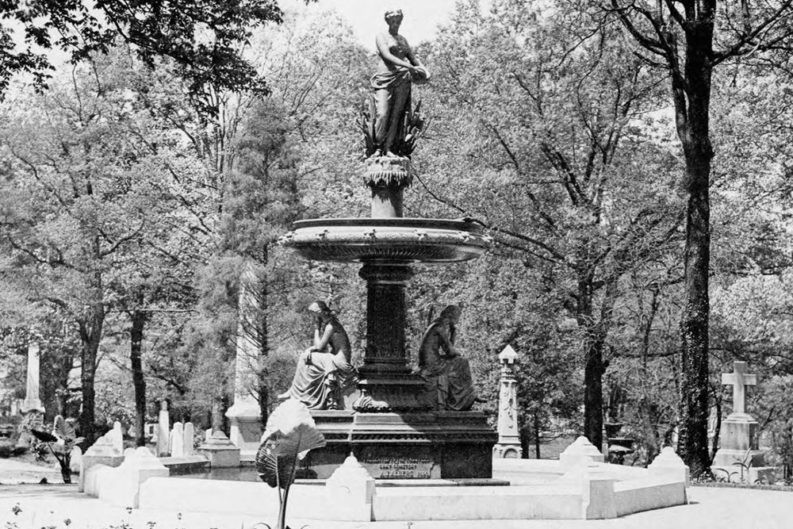 The original marker for the fountain, which reads, "Ella Albers Memorial Fountain Presented to the Trustees of Gray Cemetery - A. J. Albers 1890." Photo by Brian Stansberry.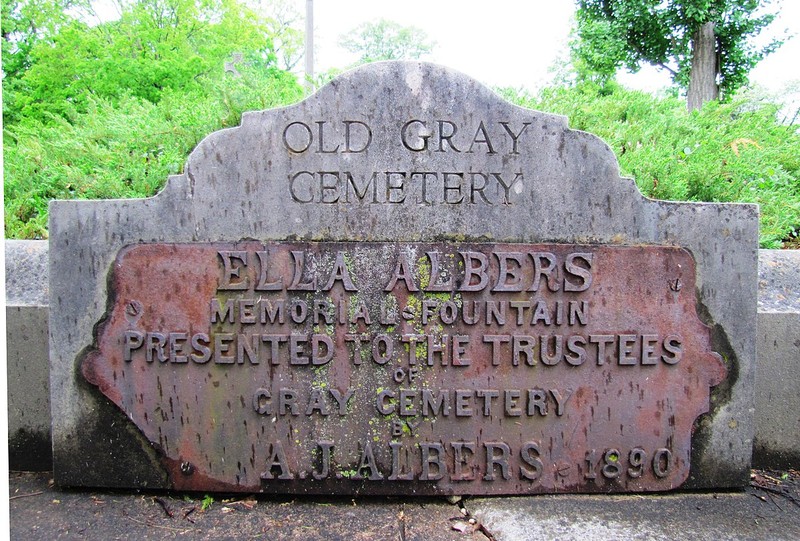 Backstory and Context
Ella King Albers died of heart disease at the age of thirty-seven on April 10, 1889. She left behind her three surviving children and her husband A. J. Albers. Ella was buried near two of her deceased children: Willie, who died at age two in 1878, and Annie, who was less than a month old when she died that same year. A. J. Albers then ordered the construction of this fountain in her memory. Though he later remarried, when A. J. died in 1910, he was buried next to Ella.
For years, many believed that the fountain had been donated in a World War II scrap drive. However, a 1949 photo from Knoxville Journal shows that the fountain was still standing. Though no one knows exactly how or when the fountain disappeared from the cemetery, most accounts agree that it was gone by 1960. All that was left was the circular marble base.
During Old Gray Cemetery's "Trees, Trails, and Tradition" revitalization campaign of 2018, $223,000 were set aside to replace the fountain. After looking at pictures of the fountain and surviving pieces kept by the Albers' descendants, Robinson Iron Works began the process of recreating the fountain. After ten weeks of work, Robinson and his team had completed a seventeen feet-tall cast iron fountain and surrounding aluminum statues. The original fountain, which Robinson believes was likely made in New York, allowed water to flow from the upper basin into a ground pool. The modern fountain only lets water into its upper basin, leaving the bottom level for landscaping.
Sources
A Walk Through Old Gray Cemetery's Fascinating History. Knoxville Mercury. March 19, 2017. Accessed February 06, 2019. https://www.knoxmercury.com/2017/03/09/walk-old-gray-cemeterys-fascinating-history/. Information and photo source.

McRary, Amy. A love story and memorial, Victorian fountain stands again in historic Old Gray Cemetery. Knox News Sentinel. September 14, 2018. Accessed February 06, 2019. https://www.knoxnews.com/story/life/2018/09/14/old-gray-cemetery-knoxville-victorian-fountain-albers/1254613002/.

History. Old Gray Cemetery. Accessed February 06, 2019. https://oldgraycemetery.org/history-1.

Stansberry, Brian. Albers-fountain-marker-old-gray-tn1. Wikipedia Commons. April 24, 2010. Accessed February 06, 2019. https://commons.wikimedia.org/wiki/File:Albers-fountain-marker-old-gray-tn1.jpg. Photo source.


Additional Information