The Mill at Anselma
Introduction
Built sometime around 1747 along Pickering Creek, the Mill at Anselma has been milling grain, on and off, for over 270 years. Built by Samuel Lightfoot, it was once known as the Lightfoot Mill and passed through numerous owners over the years. The Mill at Anselma Preservation and Educational Trust, which owns and operates the mill, chose to restore and display most of the mill's technological improvements rather than restore it to any specific time period. The mill is open for tours and demonstrations from early April through early December. It has been listed on the National Register of Historic Places since 1973 and was designated a National Historic Landmark in 2005.
Images
The banked Mill at Anselma is still a fully operational, water-powered grist mill.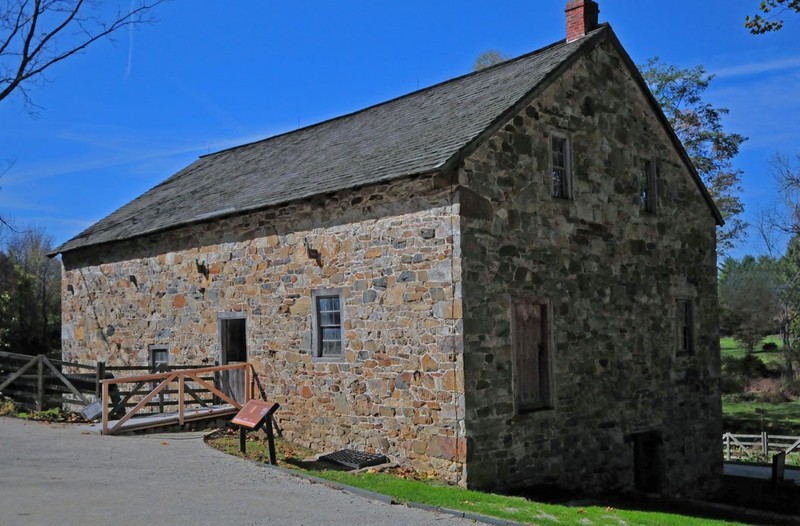 The 22-acre site also includes out buildings and walking trails that are open year round.

Period actors pose near the mill during one of their educational programs.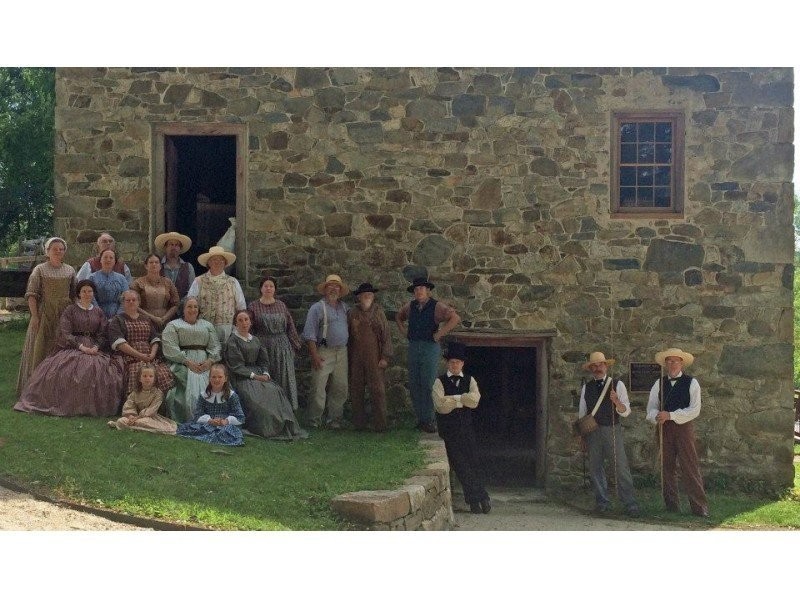 The wooden inner-working of the mill.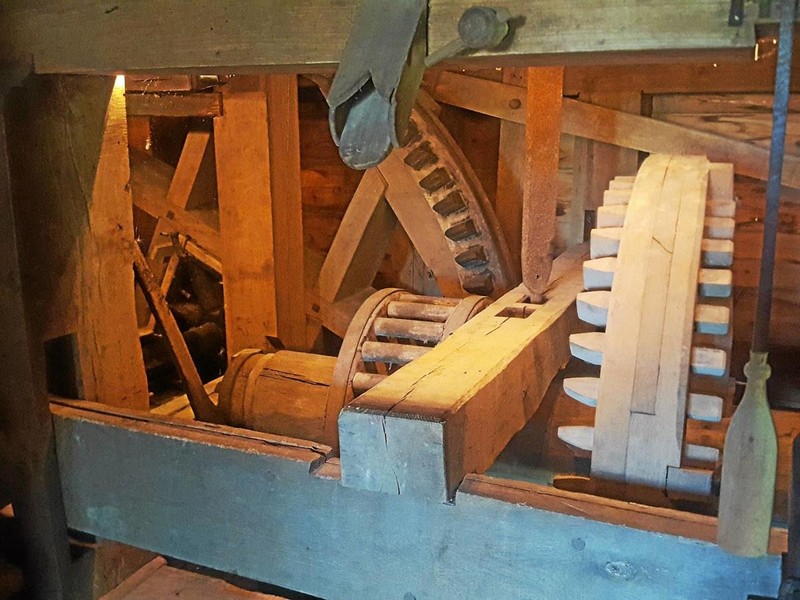 And the water wheel that drives those wooden inner-workings.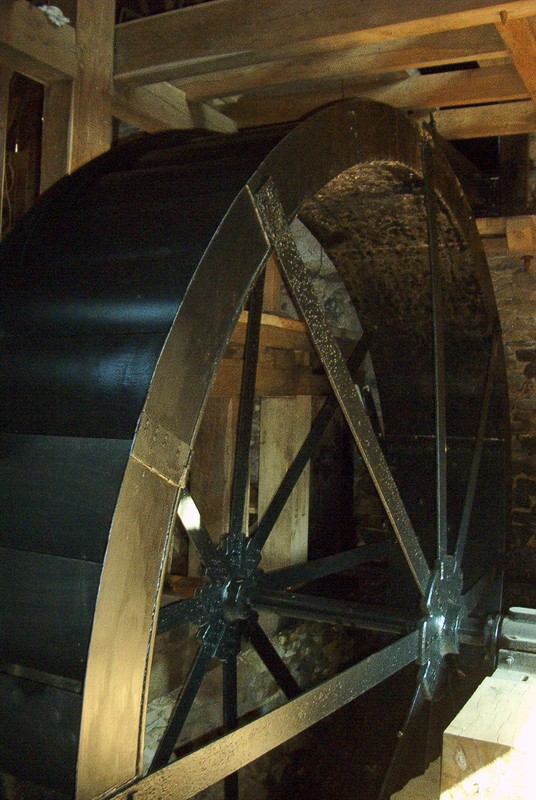 Backstory and Context
The land on which the Mill at Anselma now occupies was once owned by William Penn, until 1705, when he sold it to Joseph Pike. Pike, in 1725, sold 500 acres to Samuel Lightfoot, a surveyor by trade and Quaker by religion. The purchase made Lightfoot the largest land holder in Pikeland Township. Lightfoot quickly realized that there was some money to be made as the demand for milled grain grew as the population of the colonies grew. As a result, he decided to use Pickering Creek, which flowed through his property, to power a grist mill. The 2.5 story, rubble stone mill was built sometime around 1747 and it, along with his surveying fees, made Lightfoot the wealthiest man in the township according to tax records.
In 1767, Lightfoot divided the land equally between his two sons. Thomas received a saw mill along with his 250 acres, while William inherited the same amount of land along with the grist mill. As William aged, so too did the mill and both fell into disrepair by the time of his death in 1796. William's son, Samuel, operated the mill until 1812 when he sold it to James Benson and Lewis Rees of Reading. They operated the mill for 8 years, but did little to maintain it. In 1820, the mill was acquired by Rees Sheneman who took on the difficult task of renovating and upgrading the mill. Sheneman installed new elevators and conveyors which eliminated the need to transport grain from floor to floor by hand.
The next owner of the mill was Elias Oberholtzer, who purchased it in 1859. His son, John, operated the mill and married poet Sara Louisa Vickers who incorporated the mill into her poetry, especially in her poem, At the Old Mill. John Oberholtzer was injured in a mill accident in 1871 and turned over operations to outside help. During this period, a small town grew up around the mill as a result of the nearby Conestoga Turnpike and a Reading Railroad spur line which arrived in 1872. Known as Cambria, the town had its own post office, warehouse, train station and general store, co-owned by Oberholtzer. The town's name was changed to Anselma in 1886.
The mill then passed to Allen Simmers in 1886 who installed a steel water wheel and replaced its wooden sluiceway with an iron pipe. Simmers later sold the mill to its last private owner, Oliver Collins, in 1919. Collins, a jack-of-all-trades, also operated a saw mill, cider press, lawn mower repair and barber shop on the property. He continued to live on the property until his death in 1982 when it was purchased, restored and stabilized by the French and Pickering Creeks Conservation Trust. In 1998, a new administering organization, the Mill at Anselm Preservation and Educational Trust, took over the 22-acre site. They continued restoration efforts and again milled flour in 2004. They continue to do so and sell it along with stone-ground cornmeal.
Sources
"About the Mill." Mill at Anselma. Accessed February 7, 2019. http://anselmamill.org/about-the-mill-at-anselma/
Wells, Stuart and David Frens. "National Historic Landmark Nomination Form." United States Department of the Interior/National Park Service. September 12, 2003. Accessed February 7, 2019. https://npgallery.nps.gov/NRHP/GetAsset/NHLS/73001616_text
Quillman, Catherine. "The Mill at Anselma Celebrates its Colonial History." The Hunt Magazine. November 28, 2017. Accessed February 7, 2019. http://www.thehuntmagazine.com/feature/2017/11/mill-at-anselma/
Adams, Charles. "A day away at the Mill at Anselma." Reading Eagle. April 28, 2015. Accessed February 7, 2019. https://www.readingeagle.com/weekend/article/a-day-away-at-the-mill-at-anselma-in-chester-county
Additional Information