Buchanan County Courthouse
Introduction
The Buchanan County Courthouse was erected in 1873 and holds significance as the only cruciform, Renaissance Revival courthouse in the state. Listed on the National Register of Historic Places, it is also Missouri's second-largest courthouse, after the St. Louis Courthouse. The building features many artistic elements including a dome, large Corinthian columns, and porticos. The courthouse is also notable for being the site of the trial of Robert Ford, the man who killed infamous outlaw, Jesse James in April 1882 (see below for more details).
Images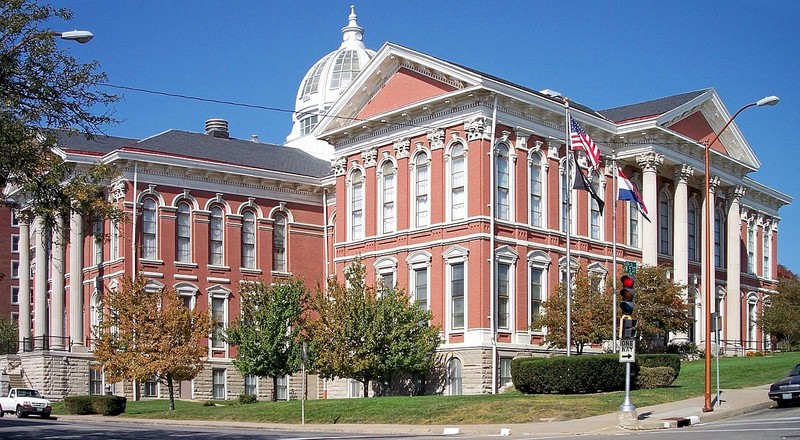 Backstory and Context
The courthouse is the third one to serve the county. The first, a simple log house, was built in 1841 in the town of Sparta. The second one, this time a brick structure, was built the next year in St. Joseph. It was used until 1871 when it was condemned, which prompted the construction of the current courthouse building. Unfortunately, it was severely damaged by a fire on March 28, 1885; only the exterior walls and dome survived. Insurance companies rejected requests to give the county full payment for the building (the county wanted to demolish what was left and build a new courthouse). Eventually, each side agreed to restore the building to what it was before the fire.

Robert Ford was a member of James' gang and hoped that by killing James, he would receive a reward and forgiveness for past crimes. After the murder, he and his brother, Charles, who was in on the scheme, contacted authorities who immediately arrested them. The next day, they were charged with first-degree murder and sentenced to death by hanging. However, a short time after the trial, the governor at the time, Thomas T. Crittenden, pardoned them. Robert was murdered at age 30 in Colorado.
Sources
Holmes, Patricia M. "Buchanan County Courthouse." National Park Service - National Register of Historic Places Nomination Form. August 2, 1978.
https://dnr.mo.gov/shpo/nps-nr/72001563.pdf.

Weiser, Kathy. "Robert Ford - Jesse James' Killer." Legends of America. Last updated December 2018. https://www.legendsofamerica.com/robert-ford.

Photo: Wikimedia Commons
https://en.wikipedia.org/wiki/Buchanan_County_Courthouse_(Missouri)#/media/File:Buchanan_County_Courthouse_St_Joseph_Missouri.jpg

Additional Information