Captain Nathan Hale Monument
Introduction
Erected in 1846, this monument honors Coventry native and Revolutionary War hero, Nathan Hale, who captured by the British in New York while on an intelligence-gathering mission on September 21, 1776, and hung the next day. British Army protocol stipulated that anyone caught spying would be hanged immediately, so the mission was very risky. Nevertheless, Hale volunteered for the mission. According to an accounts Hale stated, before the hanging, "I regret that I have but one life to lose for my country." This quote (and three others) is etched onto one of the sides of the monument, which reaches a height of 42 feet. It is significant for being one of the first memorials of its size and kind built in the country. It is located in the Nathan Hale Cemetery and is situated next to the road. War memorials and other large monuments were not common until after the Civil War.
Images
The Captain Nathan Hale Monument is one of the first memorials its kind built in the country.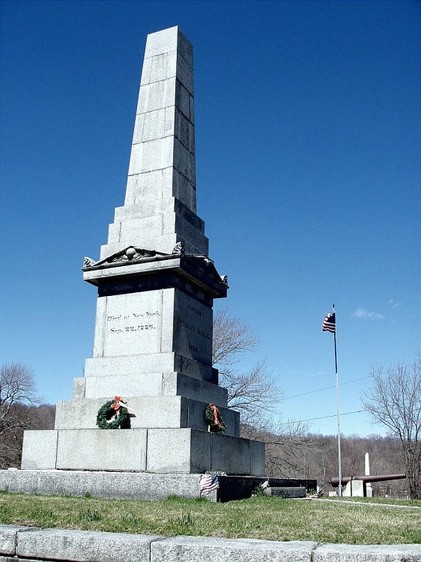 Backstory and Context
Hale was born in Coventry in 1755 and became a schoolteacher after graduating from Yale College. After the war broke out, he volunteered to join the army and rose to the rank of lieutenant and then captain. His unit was in stationed in New York and it was there that he volunteered to go behind enemy lines, disguised as a Dutch schoolteacher. According to one account (read more in the link below), Major Robert Rogers of the Queen's Rangers, saw Hale in a pub and recognized him despite the disguise. Rogers tricked him into revealing his identity and arrested him on the spot.
Sources
David F. Ransom & Mary M. Donohue. "Captain Nathan Hale Monument." National Parks Service - National Register of Historic Places Nomination Form. https://npgallery.nps.gov/NRHP/GetAsset/NRHP/01001531_text.

Hutson, James. "Nathan Hale Revisited: A Tory's Account of the Arrest of the First American Spy." Archive of Folk Culture, vol. 62, no. 7. Published July/August 2003. Retrieved from Information Bulletin - Library of Congress. https://www.loc.gov/loc/lcib/0307-8/hale.html.

Photo: Wikimedia Common
https://en.wikipedia.org/wiki/Captain_Nathan_Hale_Monument#/media/File:Nathan_Hale_Memorial,_Coventry_CT.jpg

Additional Information