Longstreet Farm
Introduction
Longstreet farm is located at 44 Longstreet Road in Holmdel. It is open most days of the week and offers many tours and activities for both children and adults. It is an accurate representation of farm life during the 1800s and is very informative.
Images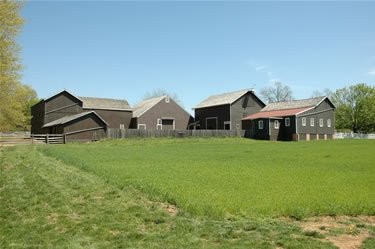 Backstory and Context
Longstreet Farm transports visitors to a bygone era, showing them what it was like to live and work on a farm during a time when our country was largely rural and agricultural. This farm's success during its time relied on its crop production as well as livestock. Today, that is still the case as they raise their live-stock and use them on the farms in similar ways that they were used in the past. The mules and horses help the farmers to plow their fields, the sheep provide meat and wool, the cows provide milk and the chickens and pigs provide food. When the animals are too old and can no longer serve their purpose to the farm, they are replaced with new ones that can.

The original property located at this site took up 495 acres when it was put together in 1806 by Hendrick Longstreet. Passed down through the generations, this farm was a successful and prosperous farm which depended on their cereal grain, livestock, and potatoes.
The farm eventually began to struggle through the changes brought by the industrial revolution, as it still relied heavily on the use of livestock for things like plowing. The newer upcoming farms turned to machinery and relied on gasoline and steam, which made them more productive than Longstreet. The farm was eventually purchased from the family by the Monmouth County Park System in 1967. The County opened Longstreet Farm to the public in 1972, and it is now open most days of the week.

When touring the farm there are many attractions that have appealed to the visitors. Some of those have been the Holmes- Hendrickson house, along with the tenant house and farmhouse. (The Holmes- Hendrickson house has its own Clio entry.) Living history events are a big draw; these events include Blacksmithing demonstrations, quilting demonstrations, wood working demonstrations, and sheep shearing. The farm even offers class trips and birthday party packages for children to better understand family life and roles during the late 1800s as well as the technology that was used. These trips include activities such as making cider, butter and ice cream.



Sources
Monmouth County Park System (n.d.) Historic Longstreet Farm: An 1890s Living History Farm. Retrieved from https://co.monmouth.nj.us/documents/130/HstrcLngstrt_aug10.pdf

Monmouth, C. O. (n.d.). Monmouth County Park System. Retrieved April 16, 2019, from https://www.monmouthcountyparks.com/page.aspx?id=2566

Zink, C. W. (2010). The Monmouth County park system: The first fifty years. Lincroft, Nj.