Molly Stark Statue
Introduction
One of Wilmington Vermont's most prominent landmarks is the statue of Molly Stark. Molly Stark converted her home into a hospital during the American Revolution, caring for soldiers including many who were led by her husband, General John Stark. She is also known for the statement he made in Vermont prior to defeating the British in the Battle of Bennington in 1777. To rally the troops and let them know that he would lead from the front and be victorious or suffer their same fate, he vowed that they woudl capture the British or Molly Stark would become a widow. Stark lived and thanks to reinforcements, the Americans won a pivotal battle that day.
Images
Molly Stark Statue, Wilmington, VT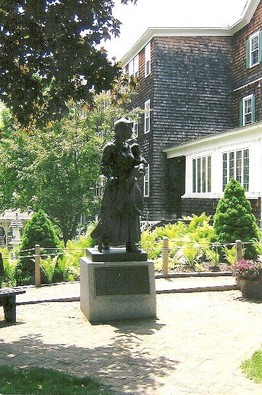 The inscription begins with Molly Stark's role as wife and mother before mentioning many of her individual achievements and characteristics.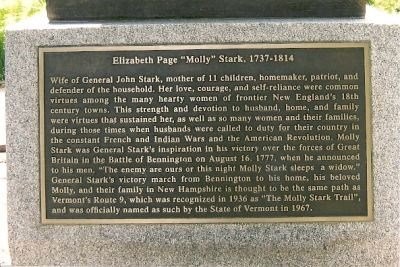 Backstory and Context
Elizabeth "Molly" Page was born February 16, 1737, in Haverhill Massachusetts. In 1755, she moved to New Hampshire to be with her father. Her future husband John Stark was born August 28, 1728, in Londonderry New Hampshire. JHis first military action took place during the French and Indian War where he was under the command of Major Robert Rogers or more famously known as Rogers Rangers. The unit was an attachment of militia men conducting special operations assigned to assist the British forces during the French and Indian War. During this time period of the French and Indian War John and Molly were married on August 20, 1758. After the war ended John retired from the army and the couple settled in New Hampshire.
Both Molly and John served the rebel cause int he Revolutionary War. On April 23, 1775, John Stark was appointed colonel of the New Hampshire militia and was later promoted to the rank of Brigadier General. Prior to the Battle of Bennington, Stark exclaimed "There are your enemies, the Redcoats the Tories. They are ours or this night Molly Stark sleeps a widow!"
The rallying call was an inspiration because the troops were well-acquainted with Molly Stark and her reputation. Like many colonial women, she was busy supporting the war effort on the homefront. Molly Stark turned her home into a hospital and cared for soldiers as well as civilians as a smallpox epidemic took hold of the colony. In her honor, a captured cannon was named "Old Molly" and is fired every year on the July 4th.
The monument reflects the time period when it was created by starting with a mention of Molly Stark's role as wife and mother, but also includes many of her own actions.
Sources
Molly Stark. History of American Women..Accessed March 10, 2019. http://www.womenhistoryblog.com/2009/05/elizabeth-page-molly-stark.html.

Molly Stark. Vermont Historical Society. Accessed March 10, 2019. https://vermonthistory.org/research/vermont-women-s-history/database/stark-molly.


Additional Information