Camp Prince Army Station (1950-1957)
Introduction
Camp Prince, the previous home of 1428th Engineer Treadway Bridge Company, was established on September 16, 1950. Locally known as "Army Camp," this landmark lies on the banks of the New River near McCreery, WV. In this particular section of the New River, the water flow direction changes from west, north, then east, all within one kilometer. This location was selected by the U.S. Army Corps of Engineers due to the ease of access by railway as well as the traitorous terrain that closely resembled that of Korea and control of water flow by the Bluestone Dam. Camp Prince was used as a testing and training site for equipment to be used by the Army during the Korean War, as well as training sites for West Virginia National Guard and units alike until late 1959. The camp has since been turned over to the National Park Service and is currently being used as a recreational spot in the New River Gorge National Park.
Images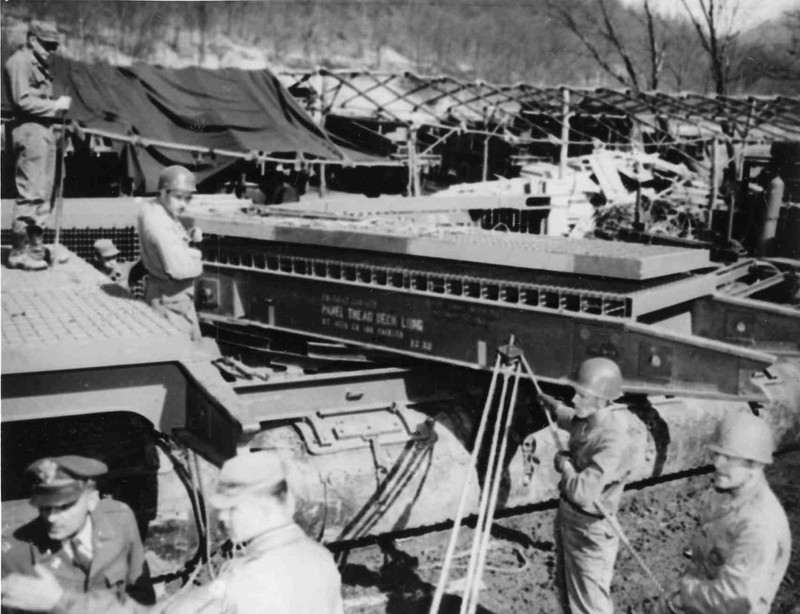 A group of men stand in front of one of the barracks at Camp Prince.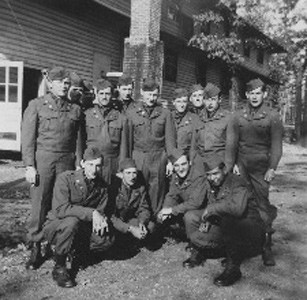 Soldiers preparing to assemble a bridge across the river.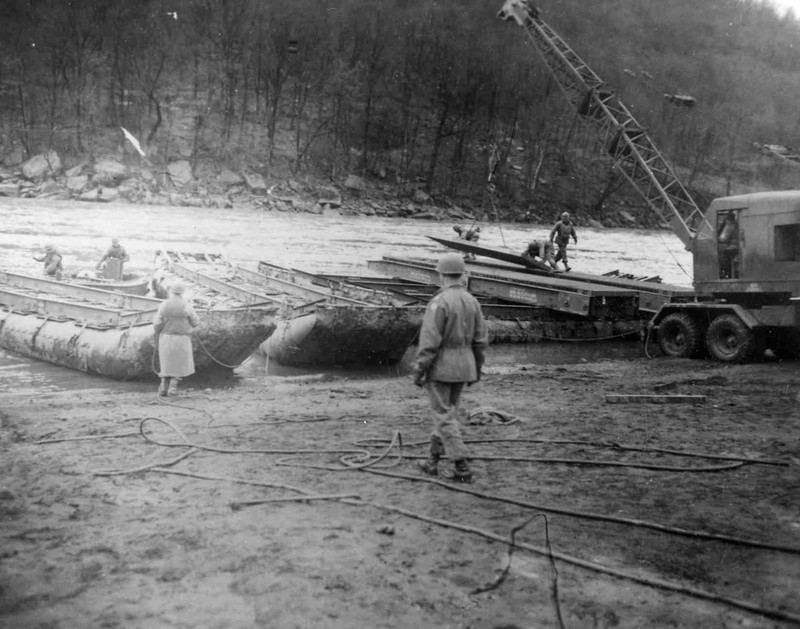 Troops of the 1428th are seen here conducting test operations in late 1954. Soldiers from various Army units and National Guard members used this camp as a proving ground for bridges and bridge components to be used in the Korean War.

An example of a completed bridge from 1952.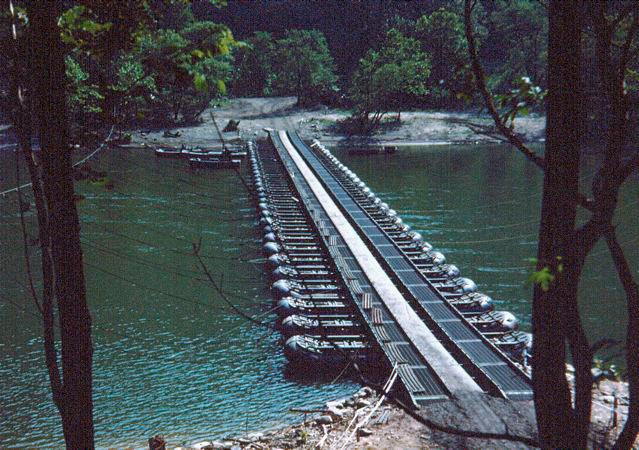 This topographical map illustrates how rugged the terrain is in the surrounding area as well as the many twist and curves of the New River.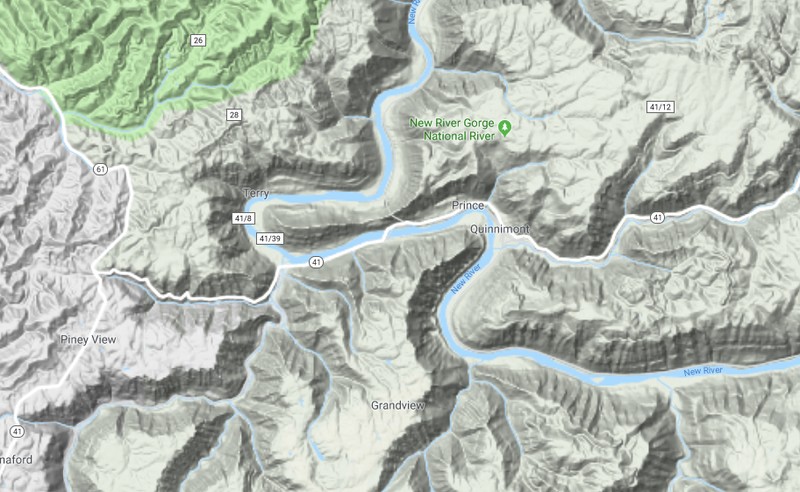 Backstory and Context
Camp Prince was established during the Korean War in order to test and improve civilian bridges and bridging equipment prior to purchase by the United States Army. The Army Corps of Engineers was tasked with locating an environment better suited for testing than the Engineer Research and Development Laboratories location at Fort Belvoir, Virginia. Summers County school superintendent, J.L. Perry had previously written a research paper, detailing the geography of Bluestone Dam, as well as near the New River. An Army officer involved in the research efforts discovered Perry's research piece and requested a copy stating, "We have been exploring various streams to locate a site for testing of floating bridges designed for the Army. It appears that a section of New River a few miles downstream from Hinton is the best available site in the United States." Construction began on June 10, 1951, and an advance party from 1428th Engineer Treadway Bridge Company consisting of ninety officers moved into the new camp.
Testing at this site was not only limited to bridges and their components. New types of barracks were also constructed and studied. These barracks ranged from prefabricated metal constructions to plywood huts. The soldiers stationed here disassembled these barracks, moved them across rugged terrain, and reconstructed them, noting the durability and ease of construction. Many engineering units nationwide used this camp as a training site as well. U.S. Army Reserve unit 396th Engineer Company and 998th Engineer company conducted their summer training here in the summer of 1955. The companies worked on their land navigation as well as demolition and field fortification.
The New River's unforgiving waters were a reminder to the soldiers stationed there how dangerous the river could be. On December 18, 1952, a soldier conducting testing operations slipped from a pontoon bridge that was being thrown across the river. The soldier was quickly swept away by the unpredictable currents. The Beckley fire department assisted in search and rescue efforts which proved unsuccessful. On February 28, 1953, over two months later, the soldier's body was found two miles downriver.  Again, on August 19, 1956, a 130-man detachment from Fort Belvoir arrived to conduct a sixty-day bridge testing project. They were instructed not to go near the river. Two of these soldiers decided to swim across the river to the Raleigh County side. Only one of the two made it to shore. Oak Hill Fire Department assisted in search efforts by dragging the river. The soldier's body was found three days later downstream.
Even though this camp was situated in Fayette County, the town of Beckley in Raleigh County was the closest populated town. The soldiers stationed at Camp Prince became notable honorary citizens of the Beckley community through such activities such as parades, sports activities, and acts of kindness. On Christmas of 1954, the parent unit of the 1428th — 79th Engineer Group at Fort Belvoir — donated $345, equivalent to nearly $3,000 today in order to purchase food for twenty needy families in Beckley. These soldiers also participated in local disaster efforts which involved building footbridges at Weber City and Johnstown in July 1954 to allow residents to be able to get out of their communities during severe flooding. Additionally, some thirty-five percent of men stationed at Camp Prince ended up marrying locals to the area.
On January 28, 1955, the 1428th was replaced with a Regular Army unit, the 100th Engineer Company (Float Bridge) under the command of Capt. Edward W. Lawler. Just two years later on June 26th, 1957, the Secretary of the Army, Wilber M. Brucker announced that the closure of Camp Prince was warranted and noted that the move would start mid-July.  This took a major toll on the local economy due to the amount of money spent by the soldiers at local shops as well as the hundreds of thousands of dollars spent locally to supply the camp. In April 1959, Maj. William F. Watts of the 101st Special Operations Detachment submitted a request to the Department of the Army stating that Camp Prince was ideal for the training his special operations unit required. The Special Forces unit's training had primarily consisted of indoor training such as lectures and close quarters training. Maj. Watts' request was denied, but the unit still utilized Camp Prince as a training ground anyway. The 101st Special Operations Detachment was the last armed forces associated group to utilize Camp Prince.
Camp Prince remained unused for several decades until the area was purchased by the National Park Service in June 1980, inclusive to the New River Gorge National River. The site of Camp Prince is now used as a campground, picnic area, and fishing spot. The original bridge and building foundations, concrete slabs, and water tank remain on the site. In 2020, the Raleigh County Historical Society commemorated Camp Prince with a state historical highway marker along State Route 41. The marker, which is just outside of Terry, West Virginia, was funded by a Beckley Area Foundation Community Grant. 
Sources
Army Camp. National Park Service. February 26, 2015. . https://www.nps.gov/neri/learn/historyculture/army-camp.htm. 
Cole, Merle T. Camp Prince Army Station, 1950-1957. April 26, 2016. https://www.researchgate.net/publication/301565700_Camp_Prince_Army_Station_1950-1957.
Historic marker commemorates Army engineering station Camp Prince, The Fayette Tribune. May 28th 2020. Accessed May 5th 2021. https://www.fayettetribune.com/community/historic-marker-commemorates-army-engineering-station-camp-prince/article_65f1ae88-a0f3-11ea-8fc1-275d467348a4.html.
Historical marker unveiled at Camp Prince Army Station, WVNSTV. July 17th 2020. Accessed May 5th 2021. https://www.wvnstv.com/community/historical-marker-unveiled-at-camp-prince-army-station/.
Image Sources
"Soldiers at Army Camp." National Park Service. Accessed May 5th 2021. https://www.nps.gov/media/photo/gallery-item.htm?pg=3733296&id=6ACCB8B0-155D-451F-6716973D0023BECC&gid=6A3E9316-155D-451F-67B1937195ED6F77.

"Men at Barracks." National Park Service. Accessed May 5th 2021. https://www.nps.gov/media/photo/gallery-item.htm?pg=3733296&id=6ADB5486-155D-451F-676EFF9E532F8FD4&gid=6A3E9316-155D-451F-67B1937195ED6F77.

"Army Camp." National Park Service. Accessed May 5th 2021. https://www.nps.gov/media/photo/gallery-item.htm?pg=3733296&id=6AA269ED-155D-451F-67727D45AC214E59&gid=6A3E9316-155D-451F-67B1937195ED6F77.

"Army Camp." National Park Service. Accessed May 5th 2021. https://www.nps.gov/media/photo/gallery-item.htm?pg=3733296&id=6A515317-155D-451F-67DEE85B1D239A09&gid=6A3E9316-155D-451F-67B1937195ED6F77.

"Bridge Across the New." 1952. National Park Service. Accessed May 5th 2021. https://www.nps.gov/media/photo/gallery-item.htm?pg=3733296&id=6AB7584F-155D-451F-6790CDD5FD3F69AB&gid=6A3E9316-155D-451F-67B1937195ED6F77.

Google Maps.