Statue of John Stark, Bennington
Introduction
This monument is dedicated to General John Stark and depicts the American Revolutionary War hero leading his troops to victory at the Battle of Bennington. Stark had previously fought under General George Washington and his leadership provided a crucial element that helped American troops win the Battle of Bennington against well-trained British soldiers. The statue is located in the shadow of the Battle of Bennington marker.
Images
Illustration of General John Stark, 1777.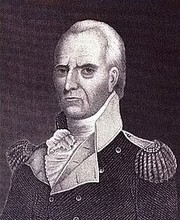 A painting of the Battle of Bennington, 1777. The battle actually took place in New York, about ten minutes from where the marker is located.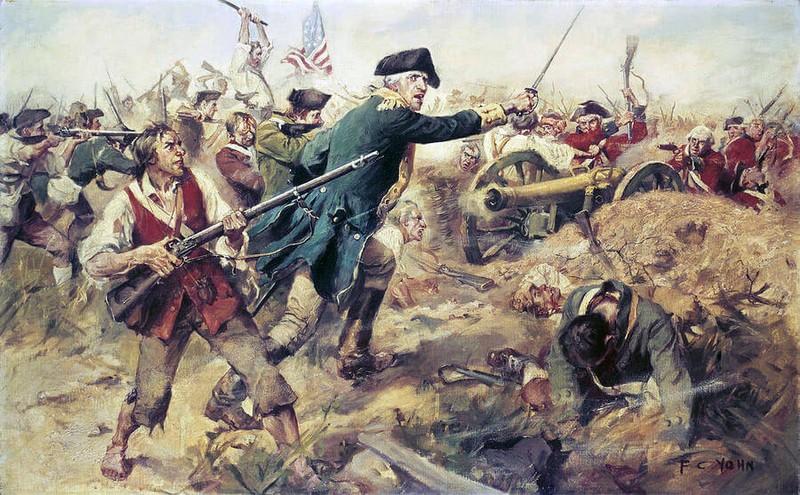 The John Stark Monument, located in Bennington, Vermont.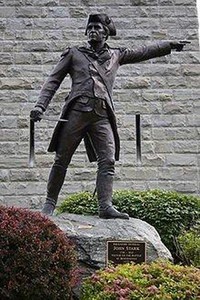 Backstory and Context
John Stark was born August 28, 1728, and lived until May 8, 1822. As a young man, he fought in the French and Indian War with Rogers' Rangers from 1754-1759. Thanks to his victory here at the Battle of Bennington, Stark became the best-known Revolutionary War soldier from New Hampshire and his famous words "Live free or die" are reflected in New Hampshire's state motto which was adopted at the end of World War II.
The Battle of Bennington was a turning point for American forces in New Hampshire and the surrounding colonies. After a couple of battles that saw American forces on the defensive, British troops moved into Vermont to acquire supplies. Vermont troops asked New Hampshire to join them and together, soldiers from the two colonies united under the leadership of John Stark.
Stark had fought under George Washington at Trenton and Princeton, but his army was made up of around two-thousand troops and the majority lacked combat experience or adequate training. The British troops were stalled in their movement by heavy rains which provided an opportunity for Stark to attack. John Stark's famous quote came from the preparation for this offensive when he exclaimed to his troops "There are the Red Coats; they will be ours or tonight Molly Stark sleeps a widow."
General Stark's offensive succeeded at first but his men were soon falling back after a counter-offensive and it appeared that Molly Stark might lose her husband along with many other New England women. At this moment, troops led by Colonel Seth Warner arrived and helped change the tides of the battle. A monument to Warner can be found on the other side of the Battle of Bennington Monument which commemorates the American victory that occrured here on October 17, 1777.
Sources
Who Was John Stark?. General Stark Byway. . Accessed February 17, 2019. http://generalstarkbyway.org/index.php?page=who-was-john-stark.


The Battle of Bennington. The Bennington Battle Monumnet. . Accessed February 17, 2019. https://www.benningtonbattlemonument.com/battle.html.

Britannica, The Editors of Encyclopaedia. "John Stark." Encyclopædia Britannica, Encyclopædia Britannica, Inc., 24 Aug. 2018, www.britannica.com/biography/John-Stark.


Additional Information