John Coburn House (Black Heritage Trail Site 7)
Introduction
The John Coburn House is the seventh site on the Black Heritage Trial that goes through Boston, Massachusetts. Coburn was a businessman and a community activist who made it his mission in life to help escaped slaves find freedom and safety from pursuing slave catchers. He was also involved in the desegregation movement and fighting for equal rights for African American citizens. Coburn is famously known for co-founding the Massasoit Guards and serving as the Treasurer of the New England Freedom Association.
Images
The house of John Coburn 2 Phillips Street, Boston, MA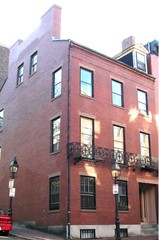 One of the many posters for escaped slaves.

Backstory and Context
John Coburn was born as a free African American man in Boston in 1811. He made a name for himself as a wealthy clothing storeowner and the operator of a gambling establishment. The house at 2 Phillips Street in the Beacon Hill neighborhood was designed specifically for Mr. Coburn by the well-known architect Asher Benjamin and constructed in 1844. Coburn was married to a woman from New Hampshire, named Emmeline Grey. They adopted a son, Wendell.
In 1845, Coburn became the Treasurer of the New England Freedom Association, which placed a heavy focus on helping people escape slavery. Coburn also worked passionately as a petitioner in the Boston desegregation campaign and a member of the Boston Vigilance Committee (an abolitionist organization).
One of the most daring things that Coburn accomplished in his life was to assist in the escape of the slave Shadrach Minkins (1851). Minkins had been a runaway slave looking for freedom in the North when he was captured by slave catchers that were enforcing the Fugitive Slave Act of 1850. Minkins was triumphant in his escape to Canada. He succeeded with the help of Coburn and several others and lived the rest of his life as a free man. Unfortunately, that wasn't the end for Coburn. John Coburn was arrested, tried, and eventually acquitted for his role in the whole ordeal with Minkins. After this incidence, Coburn took on new roles in his active life.
Next, Coburn helped to establish a group called the Massasoit Guards. The Massasoit Guards were a privately-funded Black militia in the Boston area. It was an early version of the 54th Regiment Massachusetts Volunteer Infantry. The group was named after Massasoit, a chief of the Wampanoag tribe situated in Southeastern Massachusetts and Rhode Island. Massasoit was friendly the English settlers that arrived in the region in the early seventeenth century. Besides being the co-founder of the Black military organization, he would also serve as its first captain.
A few years later, Coburn and his brother-in-law organized their latest business venture. They created a gambling club which catered to upper-class members of the community and ran it out of the home on Phillips Street.
John Coburn died in 1873 and left most of his estate to his adopted son, Wendell. The home is now assessed as a 4-unit condominium dwelling, all of which are privately owned. Therefore, the grand building is not open to the public for tours.
Sources
Category Archives: Boston. (n.d.). Retrieved October 13, 2014, from http://mass.historicbuildingsct.com/?cat=39&paged=2 Mass Moments: Shadrach Minkins Seized. (n.d.). Retrieved October 13, 2014, from http://www.massmoments.org/moment.cfm?mid=53
Museum of African American History Boston - Black Heritage Trail Site 7. (n.d.). Retrieved October 13, 2014, from http://www.afroammuseum.org/site7.htm

John Coburn House. National Park Service. Accessed March 07, 2017. https://www.nps.gov/boaf/learn/historyculture/john-coburn-house.htm.

Assessing On-Line. City of Boston. Accessed March 08, 2017. https://www.cityofboston.gov/assessing/search/?q=2+phillips.



Additional Information