St. Mark's Episcopal Church Jim Thorpe, Pennsylvania
Introduction
Designed by famed church architect, Richard Upjohn, St. Mark's Episcopal Church was consecrated at the end of 1869. The congregation first formed in Mauch Chunk, now Jim Thorpe, in 1829 and built their first church there in 1848. This church was demolished in 1867 to make way for St. Mark's. The Gothic Revival church, which is perched on a hillside, was built and improved upon through the generosity of coal and railroad magnate Asa Packer and the Packer family. It is open every Sunday for worship services and tours are available upon request. It has been listed on the National Register of Historic Places since 1977 and was designated a National Historic Landmark in 1987.
Images
View of St. Mark's from a nearby rooftop. It is difficult to get a panoramic shot of the church as it is situated along a narrow, one-way street on a hillside.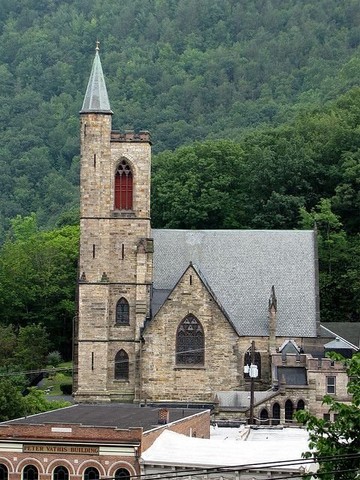 One of the lower level entrances into St. Mark's along Race Street.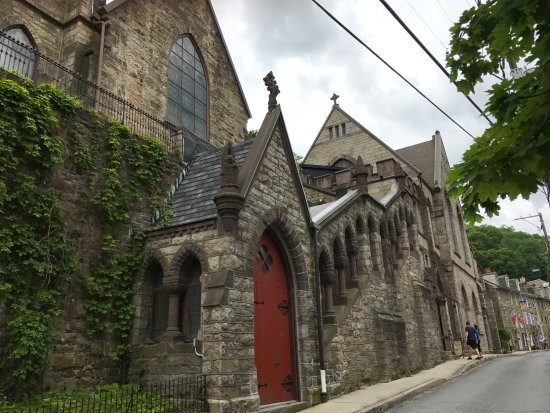 St. Mark's transept decorated for the holidays with the carved reredos in the background.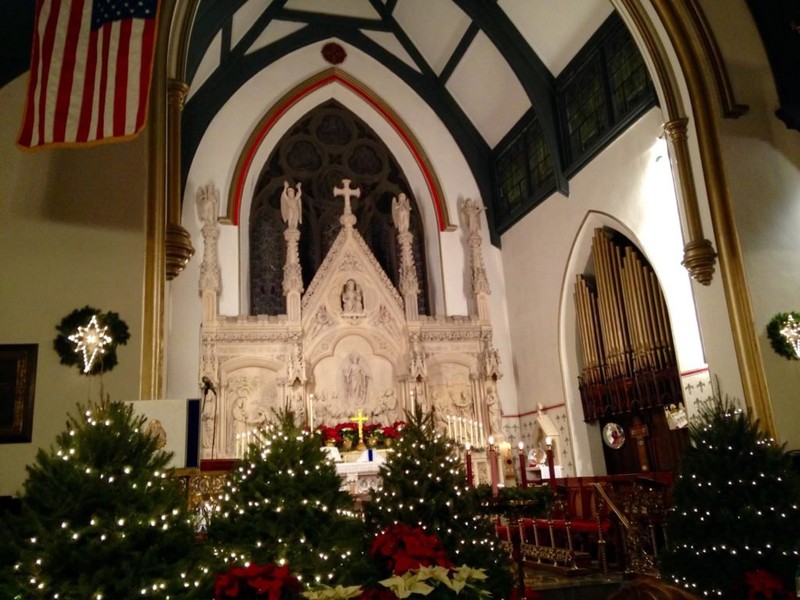 One of St. Mark's Tiffany windows entitled "Breadth of my Love" which was added in 1912.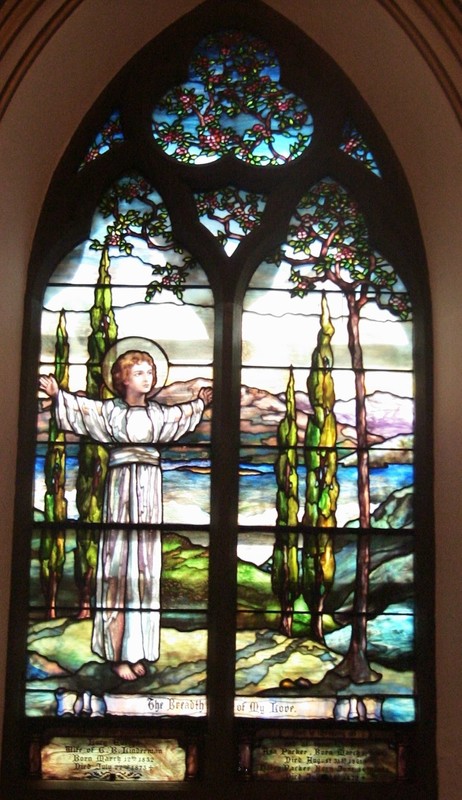 St. Mark's as seen from the front lawn of the Asa Packer Mansion, the man who donated both time and money to the church and congregation.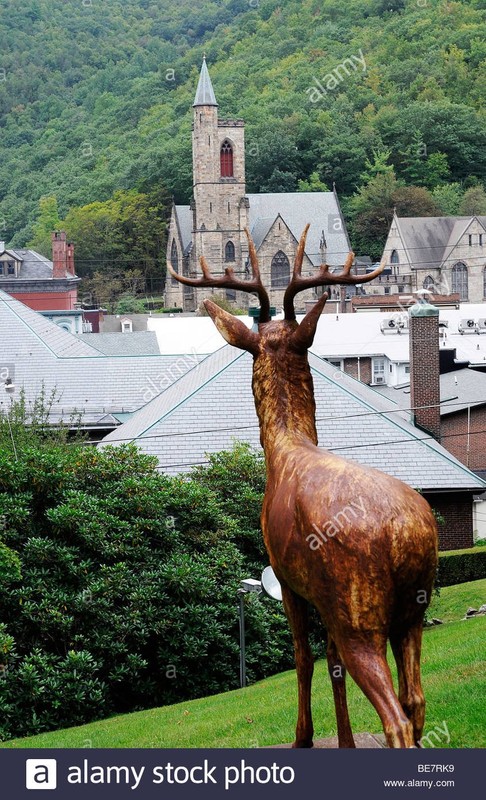 Backstory and Context
The congregation that would come to call St. Mark's Episcopal Church home first formed in 1829 in Mauch Chunk (Native American term for Bear Mountain or Sleeping Bear). The parishioners met in a schoolhouse until they built their first church in 1848 on a hillside plot previously owned by the Lehigh Canal and Navigation Company. The church was not consecrated until 1852. As the coal mining and transporting industry increased, so too did the town's population and, subsequently, the size of the congregation. As a result, the congregation soon outgrew the small church they built and by the mid-1860s its leaders were planning its replacement.
However, prior to building their new church, the congregation needed a wealthy benefactor and they found one in industrialist Asa Packer. Soon after arriving in Mauch Chunk, Packer sought to affiliate his Congregationalist family with a local church. The story goes that he first looked at a Presbyterian congregation, but balked when they asked him to take a pledge of temperance. At the same tine, he met Episcopalian leader, William Sayer, who was a toll-taker on the Lehigh Canal. Sayer invited him to join the Episcopalian church, sans temperance pledge, and Packer agreed. It is largely through Packer's donations that St. Mark's was built.
The parish secured the services of one of the best-known church architects, Richard Upjohn, to build a larger church on the grounds of the original. The old church was torn down in 1867 and the new church's cornerstone was laid the same year. Upjohn then proceeded to design a multi-tiered structure, due to its hillside location, comprised of local rusticated gray stone with red stone trim. His cruciform design also features a 135-foot square bell tower with an octagonal stair turret attached with a conical roof.
Inside, the church holds two small chapels on its lower floors in addition to its main sanctuary. The interior features English Minton tile, imported mahogany pews and trim, and brass fixtures all beneath its wood heaved and paneled ceiling which soars 58 feet overhead. Upjohn used single, double and triple lancet windows and added a great rose or wheel window with Czechoslovakian stained glass. Two Tiffany stained glass windows were added later; "The road to Erasmus" in 1895 and "The Breadth of my Love" in 1912. The reredoses (screens behind the alter) were added in 1880 and are exact replicas of those in St. George's Chapel located in Windsor Castle. St. Mark's parish merged with that of St. John's in 1980 due to declining membership in each.
Sources
Pitts, Carolyn. "National Register of Historic Places Nomination Form." United States Department of the Interior/National Park Service. 1987. Accessed February 20, 2019. https://npgallery.nps.gov/NRHP/GetAsset/NHLS/77001135_text
69 News Staff. "St. Mark's Episcopal Church: A coal town's Victorian gem." WFMZ. May 20, 2013. Accessed February 20, 2019. http://www.wfmz.com/features/historys-headlines/historys-headlines-st-marks-episcopal-church-a-coal-towns-victorian-gem/18919373
Porter, Kristine. "St. Marks and St. Johns Episcopal Church." Times News Online. September 24, 2016. Accessed February 21, 2019. https://www.tnonline.com/2016/sep/24/st-marks-and-st-johns-episcopal-church
McMurry, Sally. "National Register of Historic Places Nomination Form." United States Department of the Interior/National Park Service. July 5, 1974. Accessed February 21, 2019. http://www.dot7.state.pa.us/CRGIS_Attachments/SiteResource/H001309_02H.pdf
Additional Information