First Three U.S. Deaths in WWI Historical Marker
Introduction
Merle D. Hay, Thomas Enwright, and James Gresham are the first three men to die in France during the First World War. They were all part of the Expeditionary Revolution.
Images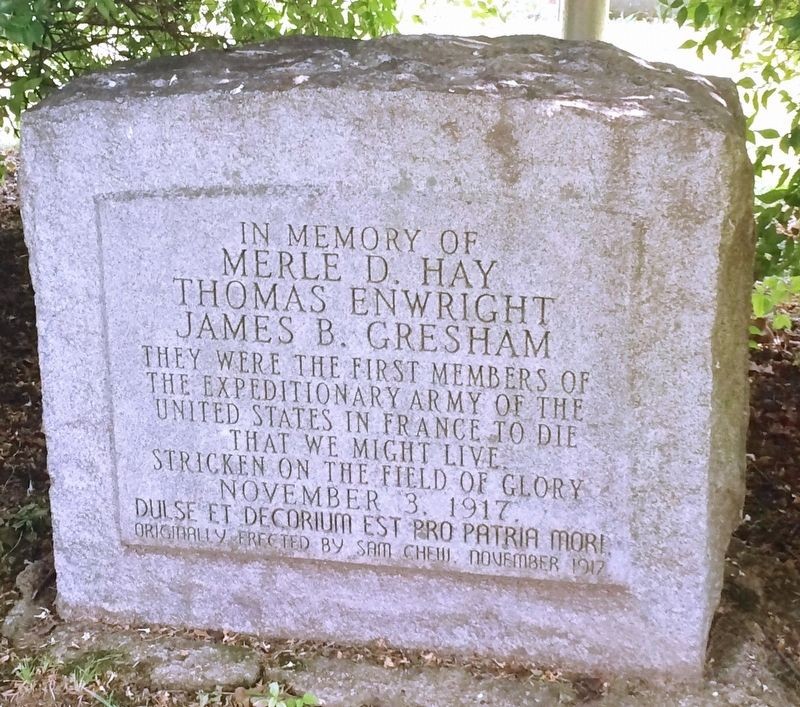 Backstory and Context
The inscription says, "In memory of Merle D. Hay, Thomas Enwright, James B. Gresham. They were the first members of the Expeditionary Army of the United States in France to die that we might live stricken on the field of glory, November 3, 1917. Dulse et decorium est pro patria mori. Originally erected by Sam Chew, November 1917."
The three men served in the Army Expeditionary Forces. The Expeditionary Forces occurred after the United States declared war on Germany. This would be the first time the United States would have to ship large numbers of people and supplies to another country defend foreign soil. They were an American force that could function without the other Allies. They collaborated with the French. They would spend times with a French division.
While at a French division, the Germans staged a raid on the French trenches. They killed three Americans, Merle D. Hay, Thomas F. Enwright, and James B. Gresham. They also captured 11 Americans. These three men are thought to be the first Americans to die in World War I.
Merle David Hay. He was born on July 20, 1896 in Carroll County, Iowa. As a child he helped work the family farm. He voluntarily enlisted in May of 1917. After infantry training, he was assigned to the 16th Infantry Regiment. This unit was sent to France.
Thomas Francis Enwright. He was born on May 8, 1887 in Bloomfield, Pennsylvania. The first of seven siblings born in the United States, he enlisted in the Army in 1909. He was serving the 16th Infantry Regiment since 1914.
James Bethel Gresham. He was born on August 23, 1893 in McLean County, Kentucky. When he was a child his family moved to Indiana. Here he worked in local furniture factories. He enlisted into the Army in April 1914. He went from Fort Bliss, Texas to France.
Sources
The U.S. Army in World War I, 1917–1918. American Military History. . . https://history.army.mil/books/AMH-V2/PDF/Chapter01.pdf.

The American Expeditionary Forces. Library of Congress. . . https://www.loc.gov/collections/stars-and-stripes/articles-and-essays/a-world-at-war/american-expeditionary-forces/.

The Historical Marker Database. First Three U.S. Deaths in WWI. . . https://www.hmdb.org/marker.asp?marker=96633.


Additional Information