Benjamin West Birthplace
Introduction
Located on the campus of Swarthmore College, the Benjamin West Birthplace now serves as both the Visitor's Information Center and Office of Public Safety. West was born in the stone, 2.5 story home in 1738 when the area was known as Springfield. West was, perhaps, the greatest American artist of his generation. He began his career as a portrait painter but quickly moved on to complex historical and religious works after he toured Italy and moved to London in 1763. His influence on American art is difficult to overstate as numerous artists traveled to London to learn from and work with him. His birthplace was designated a National Historic Landmark in 1965.
Images
Benjamin West's birthplace was built around 1724 and has been part of Swarthmore College for over a century.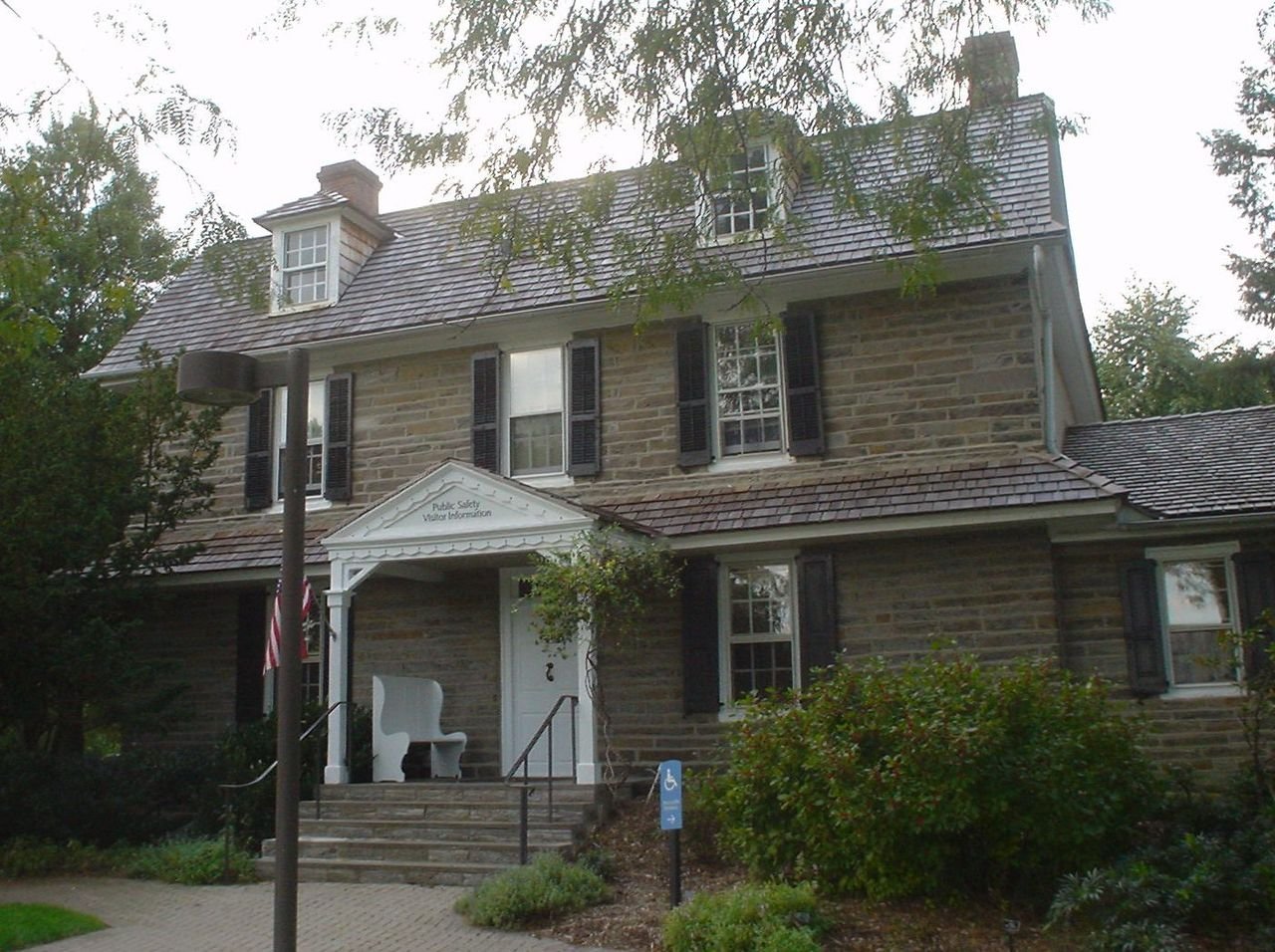 An image from the early 20th century of West's birthplace.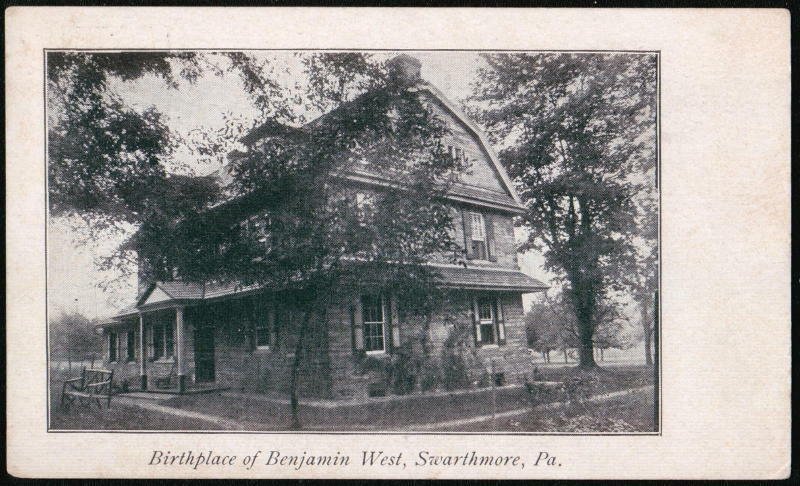 A self-portrait of West from 1819, a year before his death.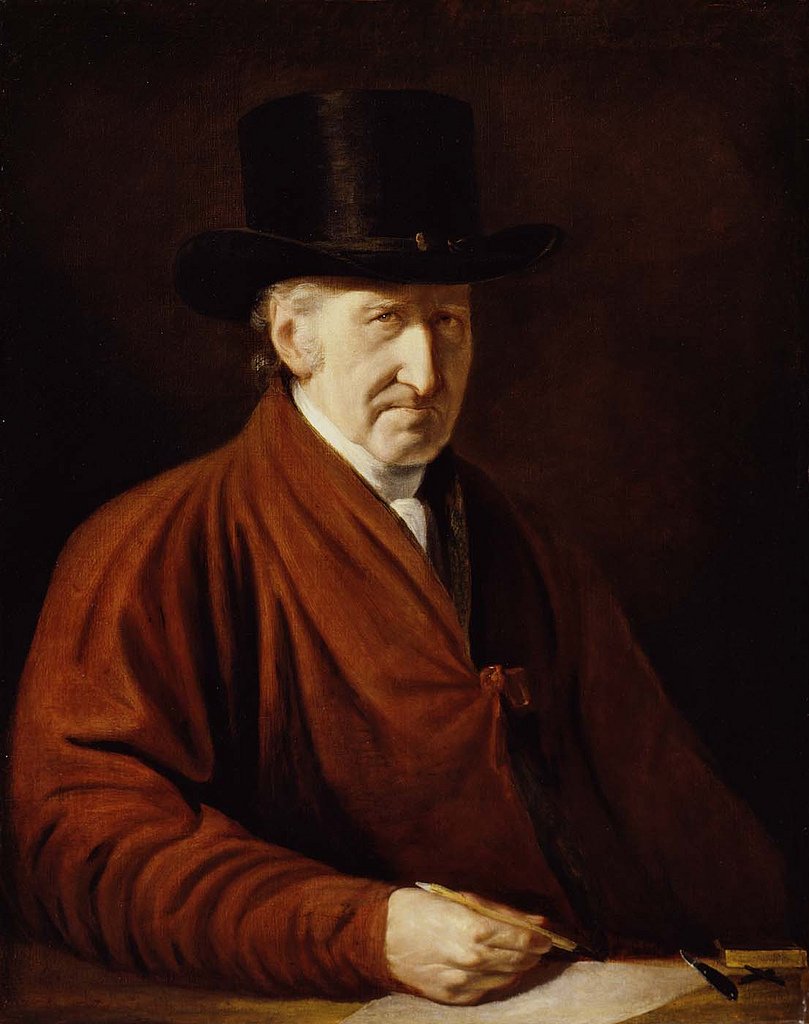 West's mythologized Death of General Wolfe.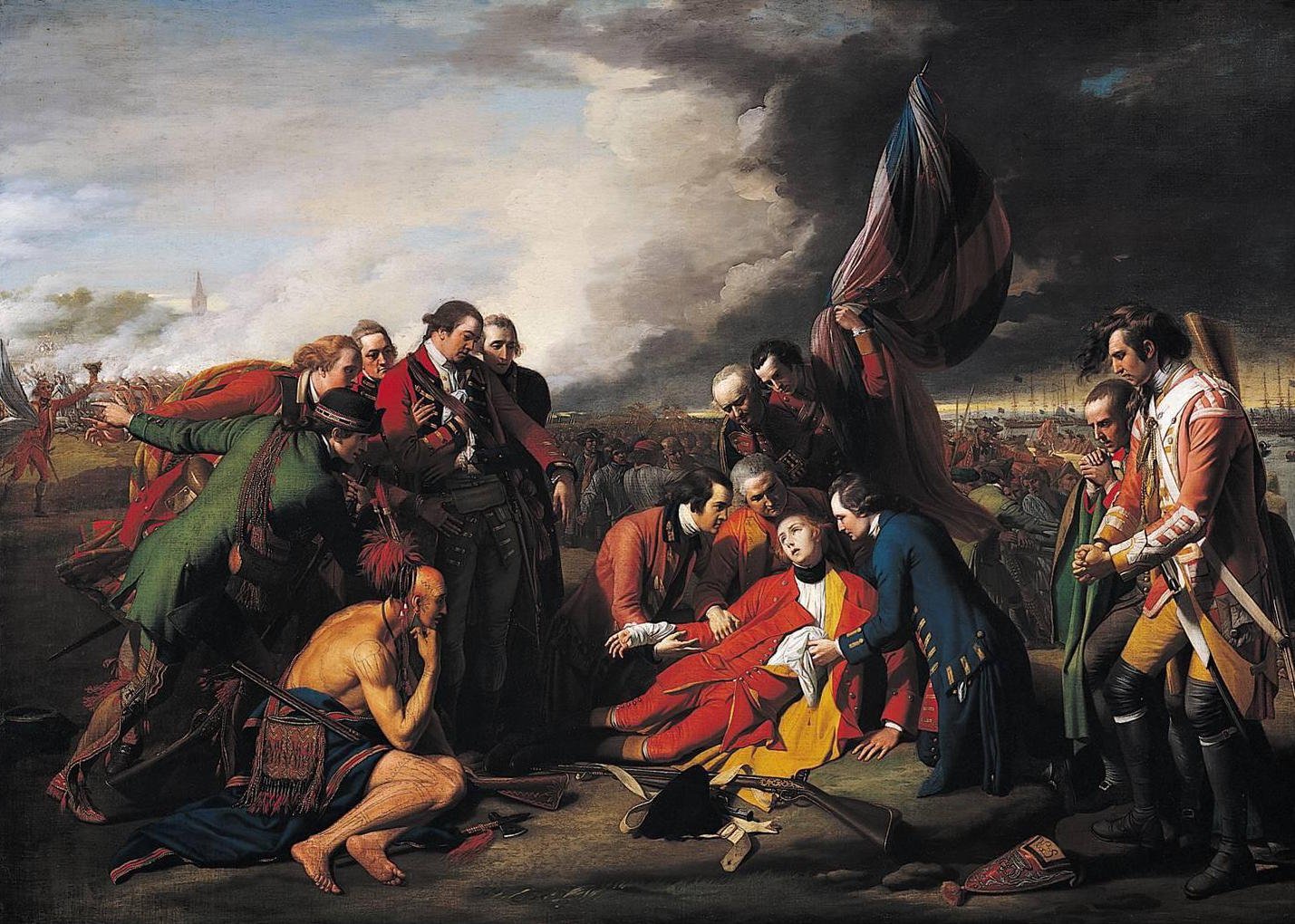 West's unfinished American Commissioners of the Preliminary Peace Negotiations with Great Britain which features John Jay, John Adams, Benjamin Franklin, Henry Laurens and William Temple Franklin. The British delegation refused to sit.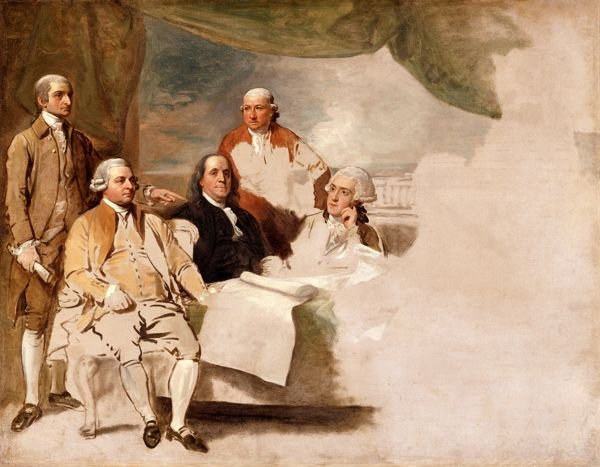 Backstory and Context
Benjamin West was born the youngest of ten children to Quaker parents in 1738. His artistic talents became readily apparent at a young age and his parents sent him to study in Philadelphia where he quickly became a well-known portrait artist. He spent some time painting in New York City prior to traveling to Italy in 1760 to further his learning. He spent the next three years in Rome, Florence and Venice studying the Renaissance masters prior to moving to London in 1763.
His stop in London was meant to be temporary. However, West never returned to America. Instead, he continued to paint portraits to earn money and became ever more interested in multi-figure historical works, even if he presented mythologized versions of actual events. In 1769 he was commissioned by King George III and his royal patronage continued until 1801. During that time, West painted some 60 works for the royal family. It was during this royal patronage that West painted his two best-known works: The Death of General Wolfe c.1770, and Penn's Treaty with the Indians c.1772. He also managed to help found England's Royal Academy in 1768 and served as its president from 1792-1805 and again from 1806 until his death in 1820.
During the late 18th and early 19th centuries, West's emphasis moved from historical works to those focused more on religion and he began to design stained glass windows such as those in St. George's Chapel in Windsor Castle. West is rightly credited with bringing new philosophies, compositions and techniques to the artistic world. His Death of General Wolfe is an early example of a contemporary event with figures in modern clothing rather than those of ancient Rome, making it an influential example of Realism. As his fame grew, American artists began to travel to London to study under his tutelage. The list of American artists he influenced include Matthew Pratt, Charles Wilson Peale, Gilbert Stuart, John Trumbull and Thomas Sully.
His Springfield birthplace was built sometime around 1724 and is a stone structure with a gabled roof and two gabled dormers on each side. It features a centered entrance with a gabled portico and has two internal chimneys at each end. After the interior was destroyed by fire in 1824, an addition was added. The residence was incorporated into the campus of Swarthmore College sometime after its foundation in 1864 in what was then called Westdale, after Benjamin West. The Borough of Swarthmore was incorporated in 1893. West's birthplace served as a faculty residence. It is now a visitor's center and houses the Office of Public Safety.
Sources
Greenwood, Richard. "National Register of Historic Places Nomination Form." United States Department of the Interior/National Park Service. September 25, 1974. Accessed February 26, 2019. https://npgallery.nps.gov/NRHP/GetAsset/NHLS/66000662_text
Barratt, Carrie. "Students of Benjamin West (1738-1820)." Metropolitan Museum of Art. October, 2004. Accessed February 26, 2019. https://www.metmuseum.org/toah/hd/bwst/hd_bwst.htm
Zygmont, Bryan. "Benjamin West, The Death of General Wolfe." Khan Academy. Accessed February 26, 2019. https://www.khanacademy.org/humanities/art-americas/british-colonies/colonial-period/a/benjamin-wests-the-death-of-general-wolfe
Grossman, Loyd. "Benjamin West: a very contemporary artist." Royal Academy. October 7, 2015. Accessed February 26, 2019. https://www.royalacademy.org.uk/article/a-very-contemporary-artist-benjamin-west
Additional Information