Waynesborough (Anthony Wayne House)
Introduction
Built in stages beginning in 1724, Waynesborough was the home of American Revolutionary War general Anthony Wayne for most of his life. The original section of the Georgian stone structure was built by Wayne's grandfather, also named Anthony, shortly after he and his family arrived from Ireland. The home and farm were expanded over the decades and seven generations of Waynes lived in the house until it was sold in 1965. The property was purchased by a local preservation group in 1980 and is now administered by the Philadelphia Society for the Preservation of Landmarks. this organization operates the property as a historical house museum that interprets Wayne's life, including his role in battles against Native American tribes. Waynesborough was designated a National Historic Landmark in 1972 and also serves as a venue for special events.
Images
Waynesborough's original section on the left dates to 1724, while its large center section was added in 1735.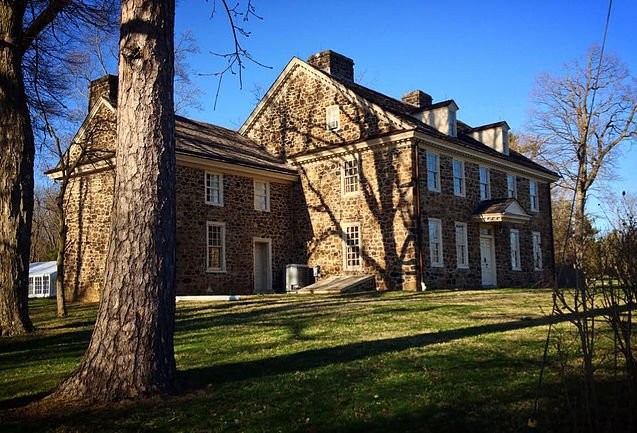 The rear of Waynesborough along with a pair of newlyweds.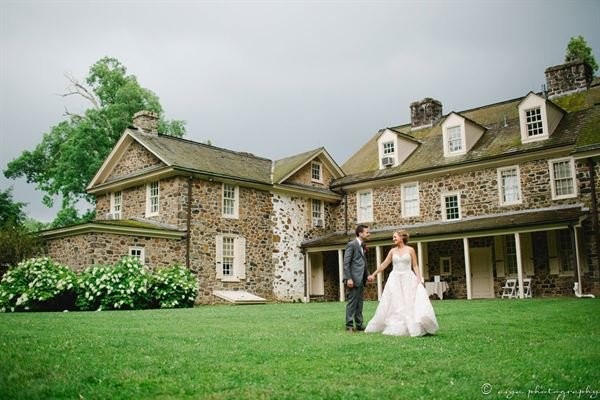 The central hall and stairway within Waynesborough.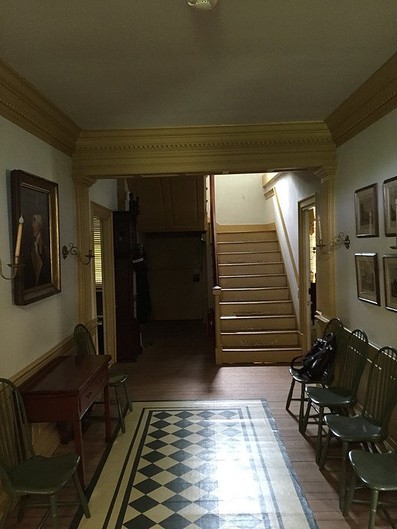 A portrait of "Mad" Anthony Wayne hangs above the fireplace mantle.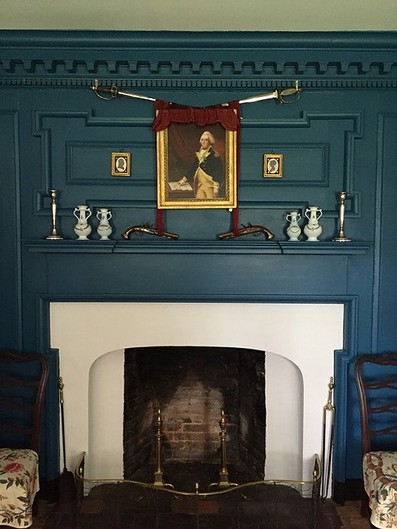 Waynesborough sits under a blanket of snow.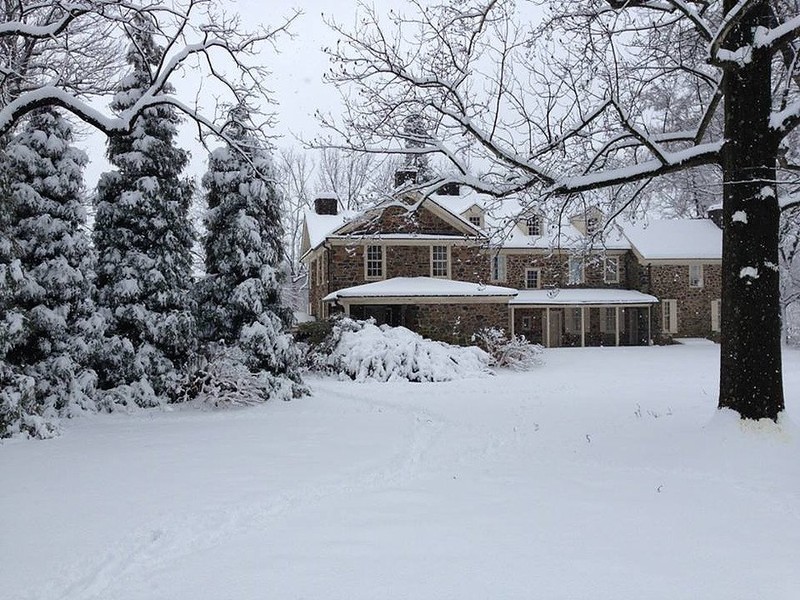 Backstory and Context
Upon arriving from Ireland in 1724, Anthony Wayne, who fought with William of Orange at the Battle of the Boyne, purchased over 300 acres just to the northwest of Philadelphia. Upon this land, Anthony Wayne constructed what would later come to be known as Waynesborough starting with a modest stone house with a gabled roof. The addition to the home, which now appears as its center, was later added in 1735. Upon Anthony Wayne's death in 1739, the farm passed to his son, Isaac, who served in the French and Indian War. In 1745, Isaac's wife, Elizabeth, gave birth to future Revolutionary War leader Anthony Wayne in the family home.
After attending private school and working as a surveyor for a time, Anthony married in 1766 and returned to the family farm to operate his father's tannery. Isaac Wayne died in 1774 and Anthony inherited the family estate. He served as the Chairman of the Chester County Committee of Safety in 1774 and was Chester County's representative in Pennsylvania's Provisional Assembly the next year. When war broke out with Britain, Wayne was commissioned as a colonel of the 4th Battalion of Pennsylvania.
Wayne was part of the failed invasion of Canada, later served as commander of Fort Ticonderoga and became a brigadier general in 1777. He then fought with General Washington at Brandywine and was almost court-martialed after his role in the Paoli Massacre. After his acquittal, he fought at Germantown and spent the winter of 1777-78 with Washington at Valley Forge. He went on to lead a successful surprise attack at Stony Point, New York and helped save West Point from the British. Wayne also took part in the successful Yorktown Campaign and assisted Nathanael Greene in South Carolina and Georgia. He retired from the Continental Army in November of 1783.
After the war, Wayne attempted to resume his political career as a representative to the Pennsylvania Assembly, the Pennsylvania Constitutional Convention and in the House of Representatives, although his seat was vacated after evidence of election fraud. As a result, he rejoined the military and defeated a Native American force at the Battle of Fallen Timbers near present-day Toledo, Ohio. He then successfully negotiated the Treaty of Greenville in 1795. Wayne died at Presque Isle, near Erie, Pennsylvania in 1796. His remains were returned to Chester County in 1809.
As for Waynesborough, it was expanded to its present size by 1902 and featured a central hallway with the first floor housing the blue and green parlors, dining room, music room, and library. Much of its wood paneling and flooring are original as are its exterior walls. It was renovated in the late 1960s after leaving the Wayne family and, prior to opening as a house museum, was furnished with 18th and 19th-century pieces.
Sources
Snell, Charles. "National Historic Landmark Nomination Form." United States Department of the Interior/National Park Service. March 2, 1972. Accessed February 28, 2019. https://npgallery.nps.gov/GetAsset/855eae56-eb5b-4eda-a562-61197e338e15
Dixon, Mark. "What Almost Bankrupted Gen. Anthony Wayne." Main Line Today. June, 2015. Accessed February 28, 2019. http://www.mainlinetoday.com/Main-Line-Today/June-2015/History-Gen-Anthony-Wayne-Waynesborough/
Cooper, Helen. "The restoration of Waynesborough." Tredyffrin Easttown Historical Society. Winter, 1973. Accessed February 28, 2019. https://tehistory.org/hqda/html/v16/v16n4p067.html
"General Anthony Wayne." U.S. History. Accessed February 28, 2019. http://www.ushistory.org/valleyforge/served/wayne.html
Additional Information