Not-So-Gentle Tamer Monument
Introduction
This monument was created to celebrate Arizona's centennial. It honors white female settlers' grit. It depicts pioneer women as feisty characters who tamed the American West and western men.
Images
Deb Gessner after Bob Boze Bell, Not-So-Gentle Tamer. Photograph by Cynthia Prescott.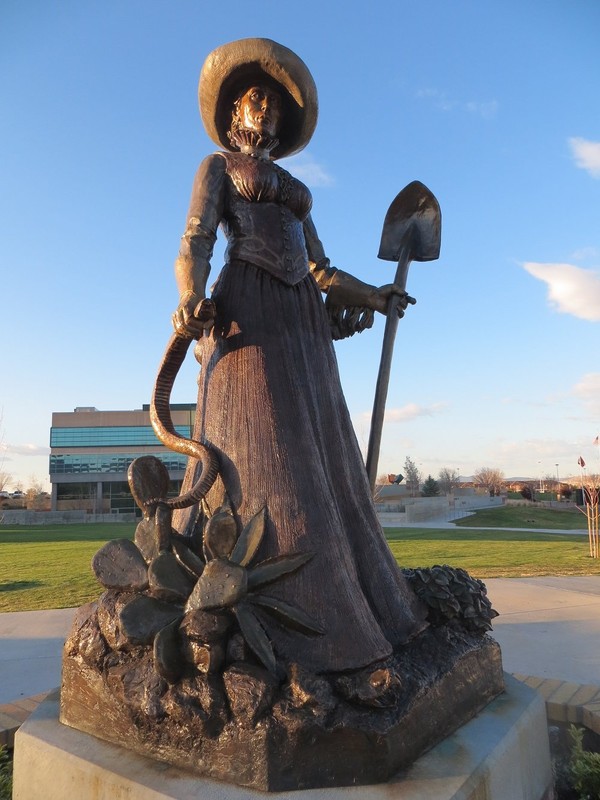 Backstory and Context
Throughout the twentieth century, American communities put up monuments to pioneer women that depicted them as gentle tamers of the Wild West. Most showed either young women carrying their children and Christian civilization westward. Others showed seated elderly women resting from their labors. At the turn of the 21st century, however, a few cities put up statues of feisty pioneer women. Although monuments like this one in Prescott Valley, Arizona, depict women in more active roles, they ultimately still cast women settlers as civilizers.
Prescott Valley councilwoman Lora Lee Nye commissioned artist and executive editor of True West Magazine Bob Boze Bell to paint a watercolor to raffle off at the town's Centennial Gala in 2012. Bell offered a somewhat updated version of the nearly century-old pioneer mother imagery in a painting to honor Prescott Valley's centennial. Bell said that
Whether they were wrangling ornery kids or dispatching hogs, chickens, scorpions and rattlesnakes, the women who lived in the Arizona Territory had to be tough.1
He remembered his grandmothers slaughtering chickens and killing rattlesnakes with a hoe.
Bell's painting showed a frontier woman standing in her garden dressed in her finest clothing. She has killed one of those rattlesnakes with a shovel. As he explained in his True West Magazine blog, Bell embraced the traditional image of those women as civilizers.
That was the point of the whole deal, to honor the brave and tenacious women of Arizona who tamed the West AND the men.2
The title and image directly challenged early-twentieth-century depictions of western women as passive nurturers. Its creator was gently challenging the "gentle" label, but not the bigger message that women did indeed "tame" the West and its supposedly wild men.
So eagerly did Prescott Valley residents embrace Bell's image that they commissioned a bronze monument based on it to mark the centennial. Sculptor Deb Gessner created a 22-inch statue based on the painting. Under Bell's supervision she digitally enlarged that piece to create a 10-foot-tall bronze monument. The resulting monumental bronze was placed in front of the Prescott Valley Civic Center to honor their white foremothers' grit.3 It provides a historical counterpoint to the modern buildings around it. Bob Boze Bell unveiled the statue on July 27, 2013.
Deb Gessner's Not-So-Gentle Tamer "pays tribute to the brave pioneer women who helped tame and settle the west."4 This pioneer woman holds a rattlesnake whose head she has just removed with a shovel. She presents a more active female role than had been typical of pioneer woman monuments erected a century earlier. Vicky O'Hara, president of the local League of Women Voters, said that American women

have fought for equal rights and women's issues throughout our history. The statue exemplifies this spirit … The women who built the West were fighting for a better life for their families and equal rights and an equal voice.5
Some Arizonans have complained about the Not-So-Gentle Tamer's attack on local wildlife. But most appear to embrace Bell and Gessner's depiction of the white pioneer women's tenacity.
Sources
[1] Sandy Moss, "'Not-So-Gentle-Tamer' Commemorates Arizona's 100 Years of Statehood," Prescott Woman, November 2010.

[2] Bob Boze Bell, "BBB's Blog," True West Magazine Blog (blog), accessed July 18, 2013, http://blog.truewestmagazine.com/2013/05/not-so-gentle-comments.html.
[3] Philip Haldiman, "Prescott Valley Statue a Tribute to Pioneer Women," Arizona Republic, July 28, 2013.
[4] "Yavapai County Installing a 10-Foot Tall Bronze Sculpture -- 'Not So Gentle Tamer,'" Business Pages, September 7, 2012.
[5] Karen Despain, "The Story Behind 'Not-So-Gentle Tamer' Statue Coming to Prescott Valley," Daily Courier, November 3, 2012.
Prescott, Cynthia Culver. Pioneer Mother Monuments: Constructing Cultural Memory. Norman: University of Oklahoma Press, 2019.
Additional Information