Wakestone (Josephus Daniels House)
Introduction
Josephus Daniels (born in 1862) was a journalist and politician who lived in this house from 1920 until his death in 1948. The home was named "Wakestone" by Daniels's wife Addie. Daniels owned and edited several newspapers in North Carolina, including the Raleigh News and Observer. His power over the press made him essential in the presidential campaigns of his friends Woodrow Wilson and Franklin D. Roosevelt. In return, Daniels was given positions as the Secretary of the Navy and ambassador to Mexico during his career. Daniels retired to Wakestone to take care of his ailing wife in 1941. He survived another five years after Addie's death in 1943. Wakestone was then purchased and renovated by the Masonic Temple of Raleigh in 1950.
Images
The Josephus Daniels House. The German deck gun in front of the house commemorates Daniels's time as Secretary of the Navy.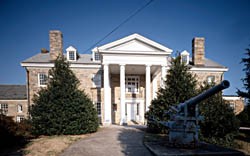 Josephus Daniels. The phrase "cup of Joe" was coined after Daniels banned alcohol aboard Navy ships, leaving only coffee for sailors to indulge in.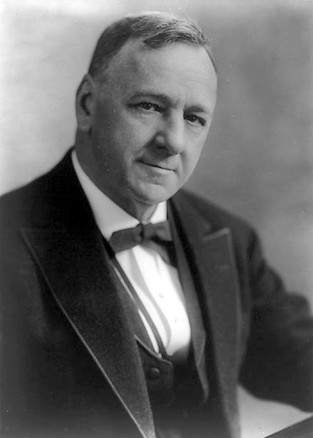 Backstory and Context
Josephus Daniels was born in Washington, North Carolina on May 18, 1862. His father, Unionist Josephus Daniels, Sr., was killed by Confederate fire on a steamship when the junior Daniels was only three years old. His mother, Mary Seabrook Daniels, then moved the family to Wilson, North Carolina. While in school at the Wilson Collegiate Institute, a private boarding school, Daniels became interested in journalism.
After graduating in 1880, Daniels found work as an editor of the local Wilson Advance paper. Daniels bought the paper just two years later, adding the Kinston Free Press to his belt in 1885. He also invested in the Rocky Mount Paper and became president of the North Carolina Press Association that same year. Later, he became part-owner of The State Chronicle, a Raleigh weekly paper that failed after Daniels attempted to turn it into a daily publication. To fill the new hole in the market, Daniels created the North Carolinian. Around this time, he married Addie W. Bagley, the granddaughter of former North Carolina Governor Jonathon Worth. The couple would later have four sons.
Politically, Daniels's beliefs fell somewhere between Democrat and Populist, though he identified as a Democrat. He entered national politics in 1892 when he received an appointment in the Department of the Interior. Two years later, he returned to North Carolina, where he had just purchased the Raleigh News and Observer. Upon arriving, he found that Republican Daniel L. Russell had been elected governor. Daniels worked hard to replace Russell with Democrat Charles B. Aycock. Aycock ran on a Reconstructionist platform, aiming to disenfranchise African American voters, which Daniels approved of. In 1900, Russell won the election as North Carolina's governor.
In the early years of the twentieth century, Daniels became friends with President Woodrow Wilson. Wilson hired Daniels to be his publicity chief for the 1912 presidential campaign and later instituted him as Secretary of the Navy. During his time as secretary, Daniels worked to establish shipboard schools for enlisted sailors and approved the enlistment of women. He also banned alcohol onboard. In turn, sailors referred to their remaining vice, coffee, as a "cup of Joe," short for Josephus.
Throughout the 1920s, Daniels worked primarily with his newspapers and government and the state and local levels. In 1932, Daniels was called on to assist with the presidential campaign of his former Assistant Secretary of the Navy, Franklin D. Roosevelt. After his election, FDR appointed Daniels as the ambassador to Mexico. Daniels served in this position until 1941 when his wife's health forced him to retire. Addie died in 1943. In his final years, Daniels wrote multiple memoirs and apologized for his previous stance on race. After his death from pneumonia on January 15, 1948, Daniels was buried in the Oakview Cemetery in Raleigh.
Sources
Josephus Daniels House. National Park Service: Raleigh: A Capital City. Accessed March 04, 2019. https://www.nps.gov/nr/travel/raleigh/dan.htm. Information and photo source.

JOSEPHUS DANIELS 1862-1948. North Carolina Highway Historical Marker Program. Accessed March 04, 2019. http://www.ncmarkers.com/Markers.aspx?MarkerId=H-39.

Death of Editor Josephus Daniels. NC Department of Natural and Cultural Resources. Accessed March 04, 2019. https://www.ncdcr.gov/blog/2013/01/03/death-of-editor-josephus-daniels.


Additional Information