Baltusrol Golf Club
Introduction
Founded in 1895, the A.W. Tillinghast designed Baltusrol Golf Club has hosted 15 USGA championships, to include seven U.S. Opens, at the time of this writing. Comprised of two 18-hole courses, designated the Upper and Lower Courses, Baltusrol began as a simple nine-hole course at the end of the 19th century. Since that time, it has evolved as the game has and that is as Tillinghast intended. Known for its ramp approaches to its greens, angled fairways and greenside bunkers, Baltusrol also features a clubhouse that is as historic as its courses. It was designated a National Historic Landmark in 2014.
Images
Baltusrol's clubhouse overlooks its Lower Course.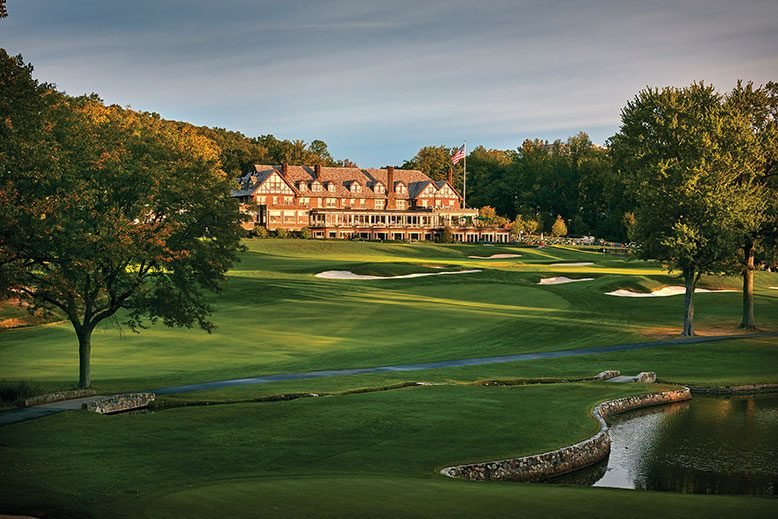 An aerial view of Baltusrol's Upper and Lower Courses.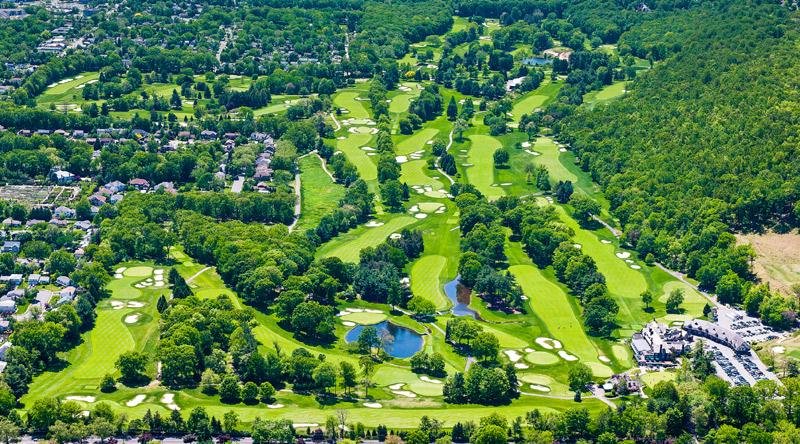 This plaque commemorates Jack Nicklaus' miraculous one-iron shot that helped secure his win in the 1967 U.S. Open.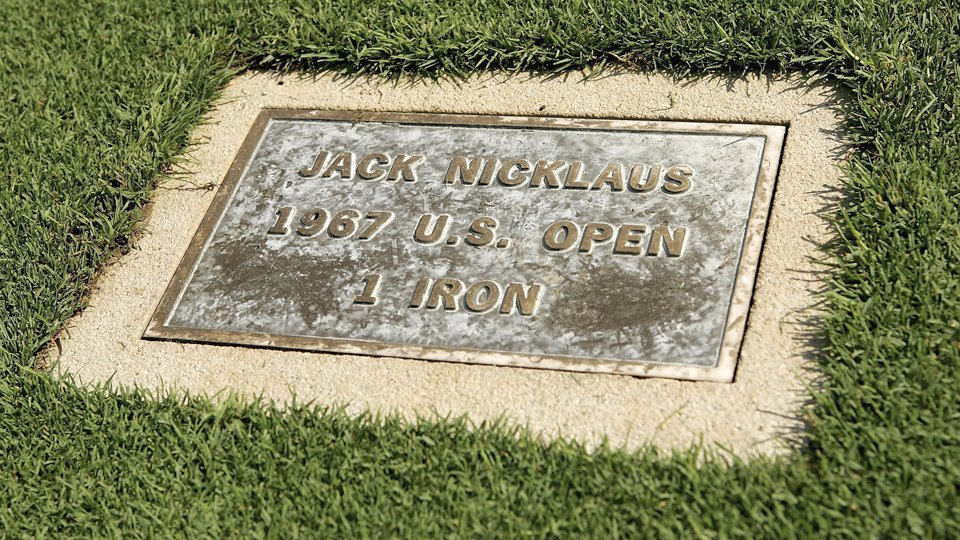 A closer look at one of Baltusrol's bunker and water protected green.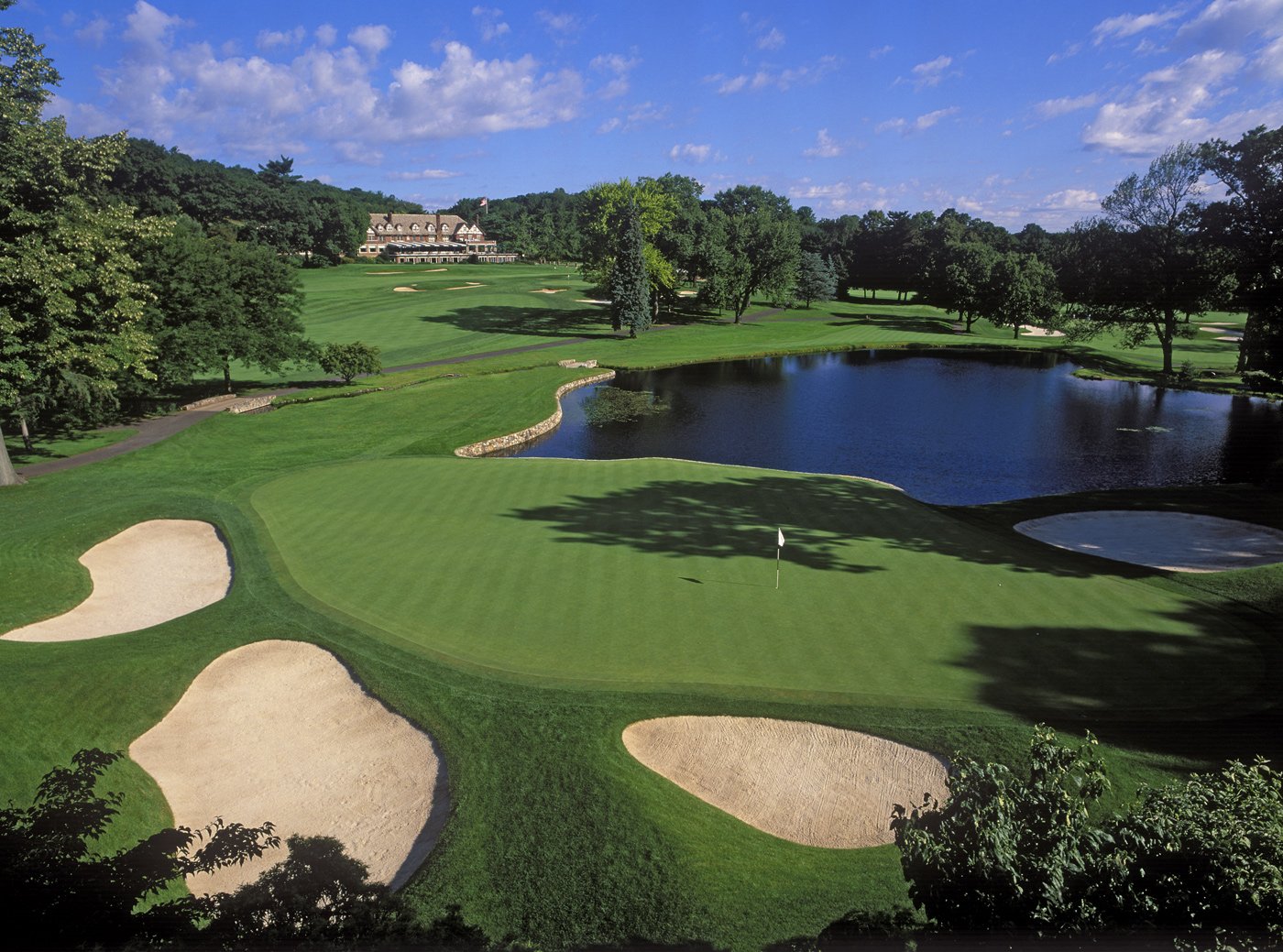 A peek inside Baltusrol's clubhouse.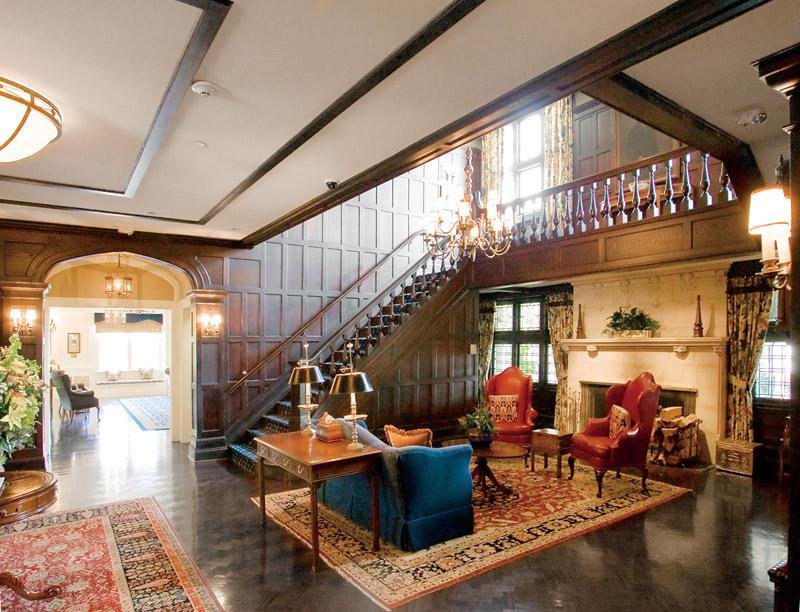 Backstory and Context
Publisher of the New York Social Register, Louis Keller, purchased farmland owned by the Roll family and created a country retreat for well-to-do New York City residents who appeared in his Register. Named after Baltus Roll, the family patriarch who was murdered on his farm in 1931, Baltusrol included a nine-hole golf course that was expanded to 18 in 1898. This course, now known as the Old Course, hosted five national championships from the 1901 Women's Amateur to the 1915 U.S. Open which was won by Jerry Travers.
Despite its national recognition, in 1918 the club decided to "renovate" the Old Course and hired local golf architect, A.W. Tillinghast, to re-design the course. However, Tillinghast proposed a radical idea to his employers. He recommended that the Old Course be razed and two new courses be built from its ashes. This "Dual Course" project was approved by the club and Tillinghast set to work, completing both courses in 1922. What he created caused Golf Illustrated to refer to Tillinghast as the "dean of American-born golf course architects."
"Tillie" who had travelled to Scotland to study and photograph courses there, designed two courses that are graceful and deceptively difficult. Tillinghast utilized few water hazards, instead relying on strategically placed fairway and greenside bunkers as well as sloped fairways and greens to challenge golfers. He also understood that space should be set aside to lengthen and adjust the course as the players and equipment changed. For example, the Lower Course has been adjusted, once by Robert Trent Jones in 1948, and lengthened by 900 yards since its construction with no routing changes or movement of greens.
The Lower Course hosted the 1926 U.S. Amateur Championship and when George von Elm out-dueled Bobby Jones, the golf world became fully aware of Baltusrol. Its 1954 U.S. Open was the first to be televised and Jack Nicklaus won two of his four U.S. Opens at Baltusrol (1967 and 1980). There is a plaque located in the Lower Course's 18th fairway to commemorate Nicklaus' 238-yard one iron that helped secure his victory over Arnold Palmer. The 2016 PGA Championship was the most recent held at Baltusrol and it is scheduled to host the 2023 Women's PGA Championship and the PGA Championship in 2029.
The original clubhouse at Baltusrol was a converted farmhouse that burned to the ground in 1909. Plans for its replacement began immediately and member Chester Kirk was retained as its architect. Kirk designed a large, Tudor revival brick structure that features stone trim, decorative stucco and half-timber accents. It was completed less than a year after the original burned down. Additions were completed in 1914 and 1927 and numerous renovations and remodels have occurred since its completion.
Sources
Watson, Penelope. "National Register of Historic Places Registration Form." United States Department of the Interior/National Park Service. July 7, 2004. Accessed March 5, 2019. https://npgallery.nps.gov/NRHP/GetAsset/NRHP/05000374_text
"A Brief History of Baltusrol Golf Club." Baltusrol Golf Club. Accessed March 5, 2019. https://www.baltusrol.org/web/pages/brief-history-of-baltusrol-gc
Cyrgalis, Brett. "How one bold move let Baltusrol carve its place in golf lore." NY Post. July 25, 2016. Accessed March 5, 2019. https://nypost.com/2016/07/25/how-one-bold-move-let-baltusrol-carve-its-place-in-golf-lore/
Jones, Rees. "Tillinghast's design elasticity on display at Baltusrol Golf Club." Golf Course Architecture. July 15, 2016. Accessed March 5, 2019. http://www.golfcoursearchitecture.net/content/tillinghasts-design-elasticity-on-display-at-baltusrol-golf-club
Additional Information