Goodspeed Opera House
Introduction
Situated next to the Connecticut River, the Goodspeed Opera House is a historic theater built in 1877 by its namesake and prominent local businessman, William Godspeed (1814-1882). Architect Jabez Comstock designed the building in the Victorian style. Listed on the National Register of Historic Places, it is the tallest wooden structure on the river and is unique in that the theater itself occupies the top two floors. The theater is also notable for being the birthplace of Broadway musical hits such as "Annie" and "Man of La Mancha."
Images
Goodspeed Opera House was built in 1877 and is listed on the National Register of Historic Places. It has been the home of Goodspeed Musicals since 1863.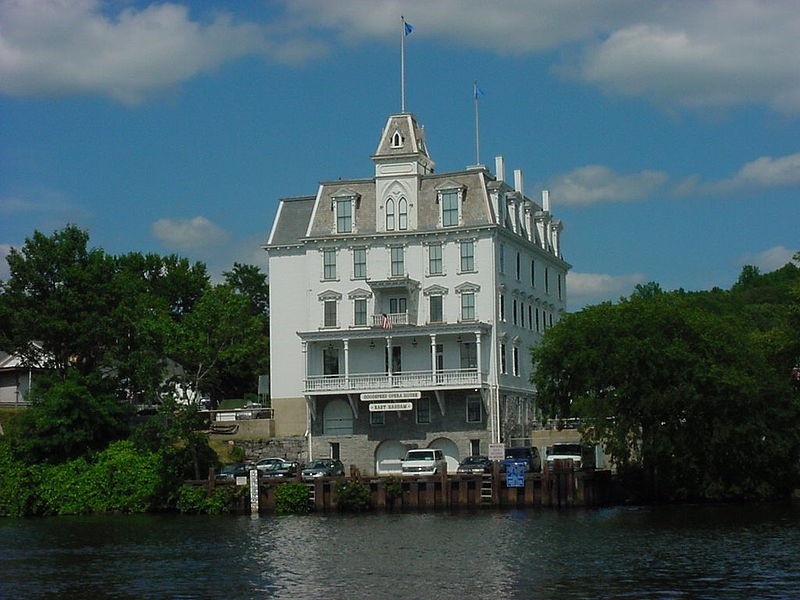 Backstory and Context
William Goodspeed became a successful shipbuilder, merchant, railroad tycoon, banker. His father was also a businessman who operated a store where the theater now stands. When his father died, William and his brother took over the business. They soon began a shipbuilding business and William invested in a steamboat company. William acquired much of his wealth with these two enterprises.

The brothers decided to tear the building down in order to construct a bigger one to house their growing business. The result was a multi-purpose building; it had offices, a steamboat passenger terminal, a general store, and, of course, the theater. William loved theater and considered it necessary for a thriving community.

After William died, the theater continued to host performances until 1920. However, it was not as thriving as it once was under William's leadership. The offices and the store continued to be used for another decade or so before the building started to be used for storage by the State Highway Department in 1943. The building was threatened with demolition in the early 1950s (it was condemned unsafe), which prompted efforts to save and revive it.

Goodspeed Musicals was established in 1959 and spent the next four years renovating the building. Work was finished in 1963 and the building was dedicated on June 3rd. Nineteen productions created at the Goodspeed went on to Broadway and the theater has received two Tony Awards. In 1984, Goodspeed opened another venue called the Norma Terris Theater in Chester.
Sources
Darbee, Herbert. "Goodspeed Opera House." National Parks Service - National Register of Historic Places Nomination Form. July 30, 1971. https://npgallery.nps.gov/GetAsset/e253281c-0fb5-42cb-9d4b-237301340eec.

Levy, Todd. "Looking back: Goodspeed and his opera house." Shoreline Times. March 12, 2013. http://www.shorelinetimes.com/opinion/looking-back-goodspeed-and-his-opera-house/article_d17a5291-c434-5bda-a4f5-fbd561875f31.html.

"Our Facilities." Goodspeed Musicals. Accessed March 10, 2019. https://www.goodspeed.org/about/our-facilities.

Photo: Wikimedia Commons
Additional Information