Barter Theatre
Introduction
The Barter Theatre is one of Southwest Virginia's most iconic venues. Located in Abingdon along West Main Street, the theatre has been in operation since 1933. Established by local actor Robert Porterfield during the height of the Great Depression, the theatre was designed to offer local residents a means of entertainment despite not having money to pay for theatre tickets. During that time tickets were 40 cents each, and theatre goers could barter an equivalent amount of goods and other foodstuffs for the price of admission. The Barter Theatre soon became a highly sought-after theatre and was designated Virginia's official state theatre in 1946. Porterfield served as director until his death in 1971. During its lifetime, many famous actors have performed on the Barter's stage, such as Gregory Peck, Patricia Neal, Ned Beatty, John Glover, and Larry Linville. The Barter Theatre was designated a Virginia Landmark on December 2, 1969 and added to the National Register of Historic Places on February 26, 1970.
Images
Barter Theatre's mains stage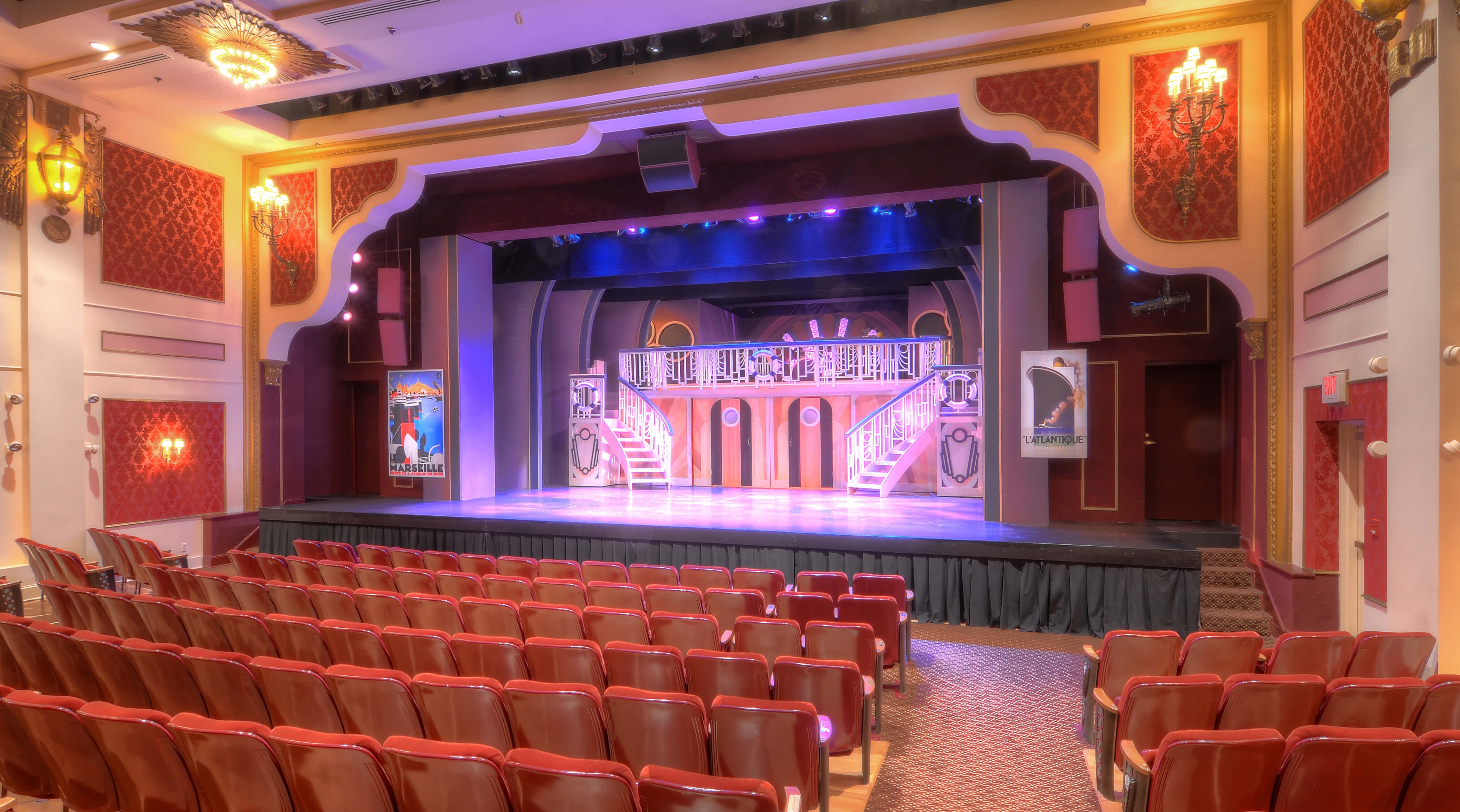 Robert Porterfield and a theatre patron demonstrating a bartering exchange.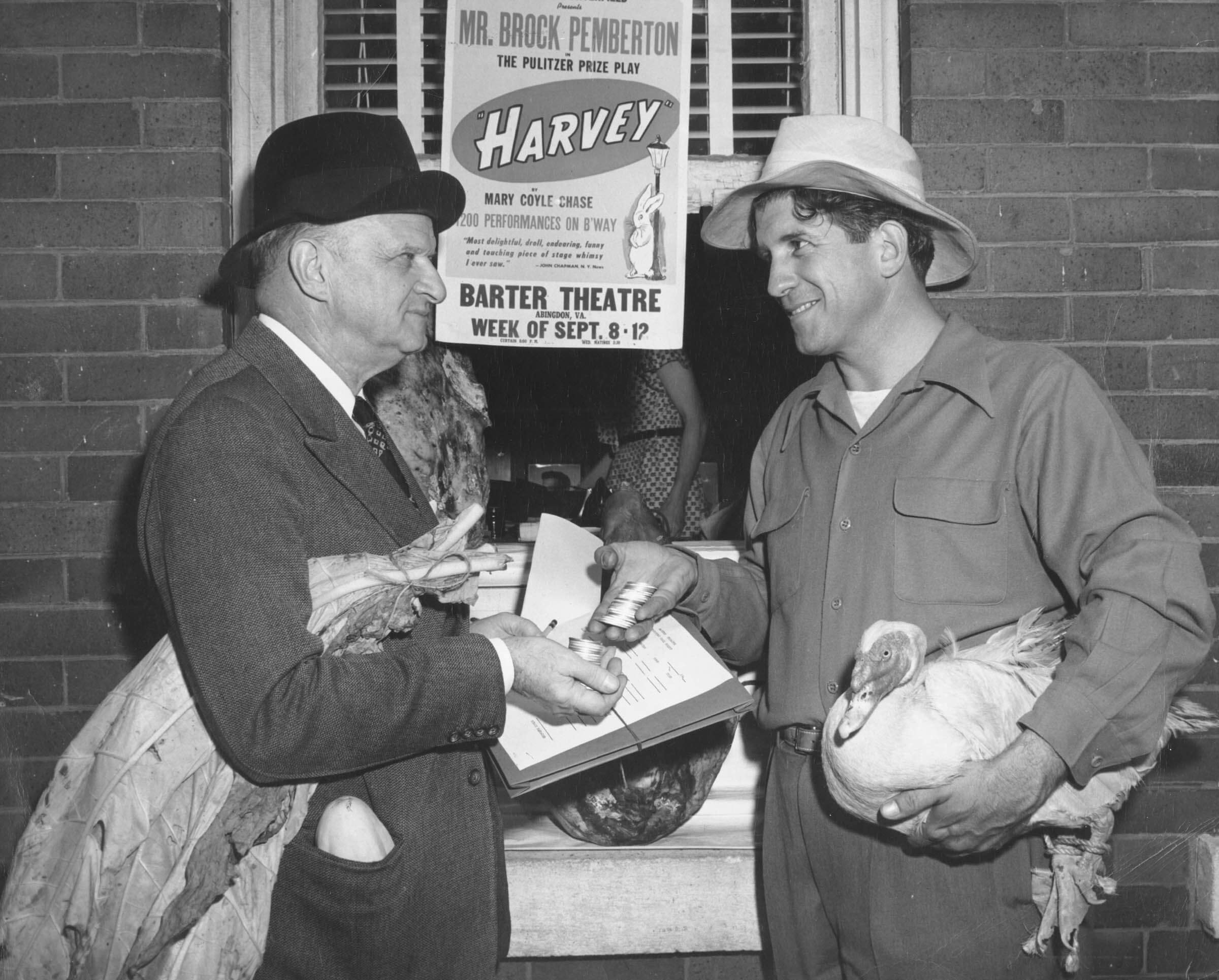 Robert Porterfield and Eleanor Roosevelt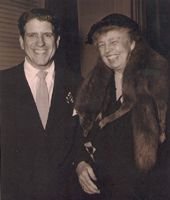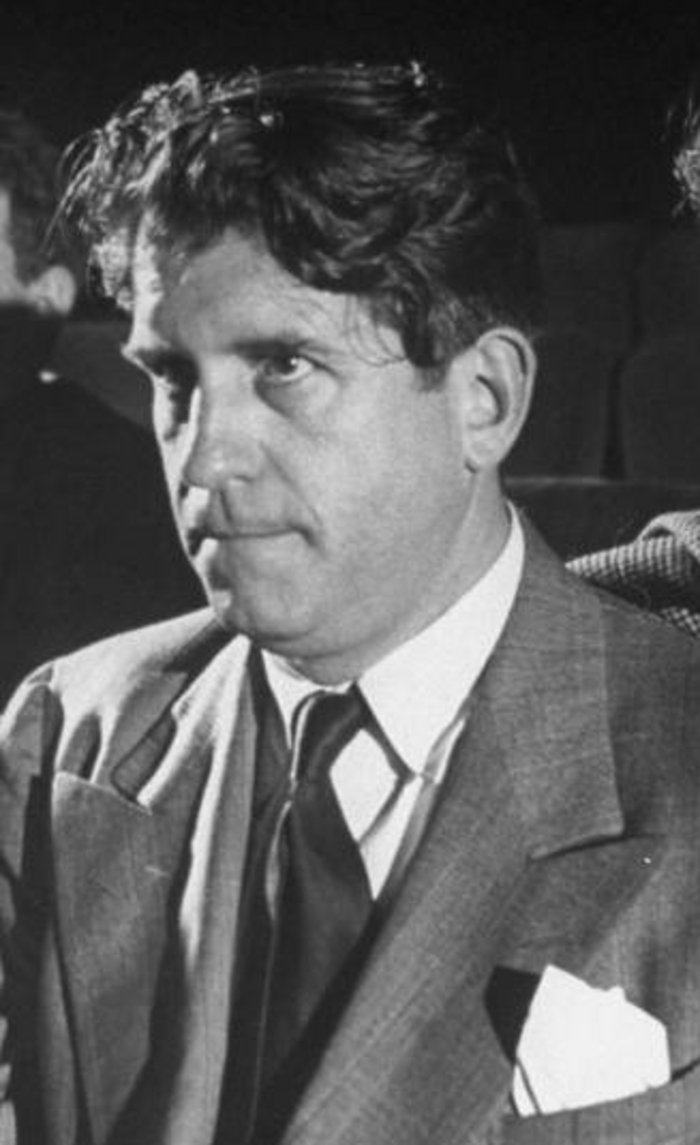 Barter Theatre historical marker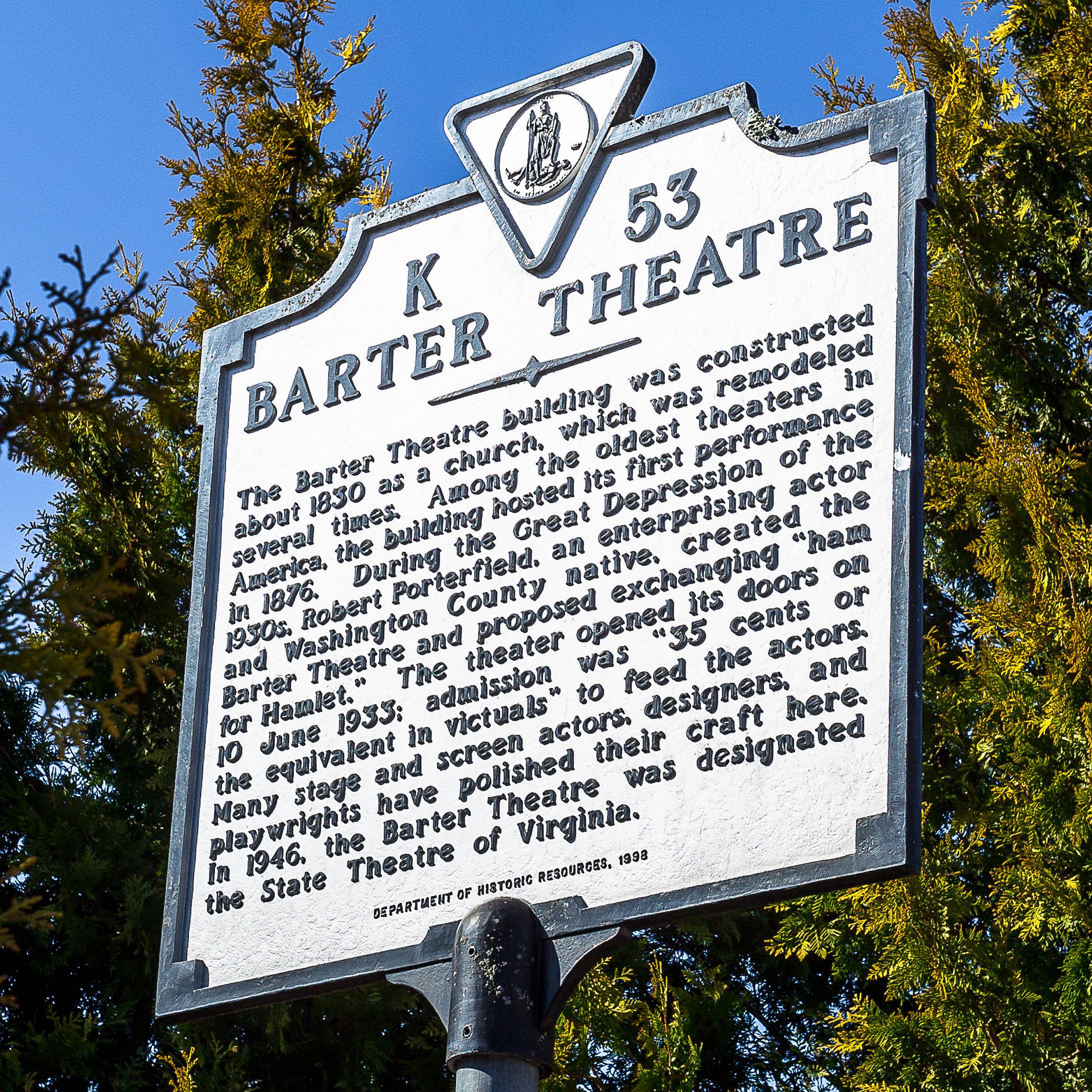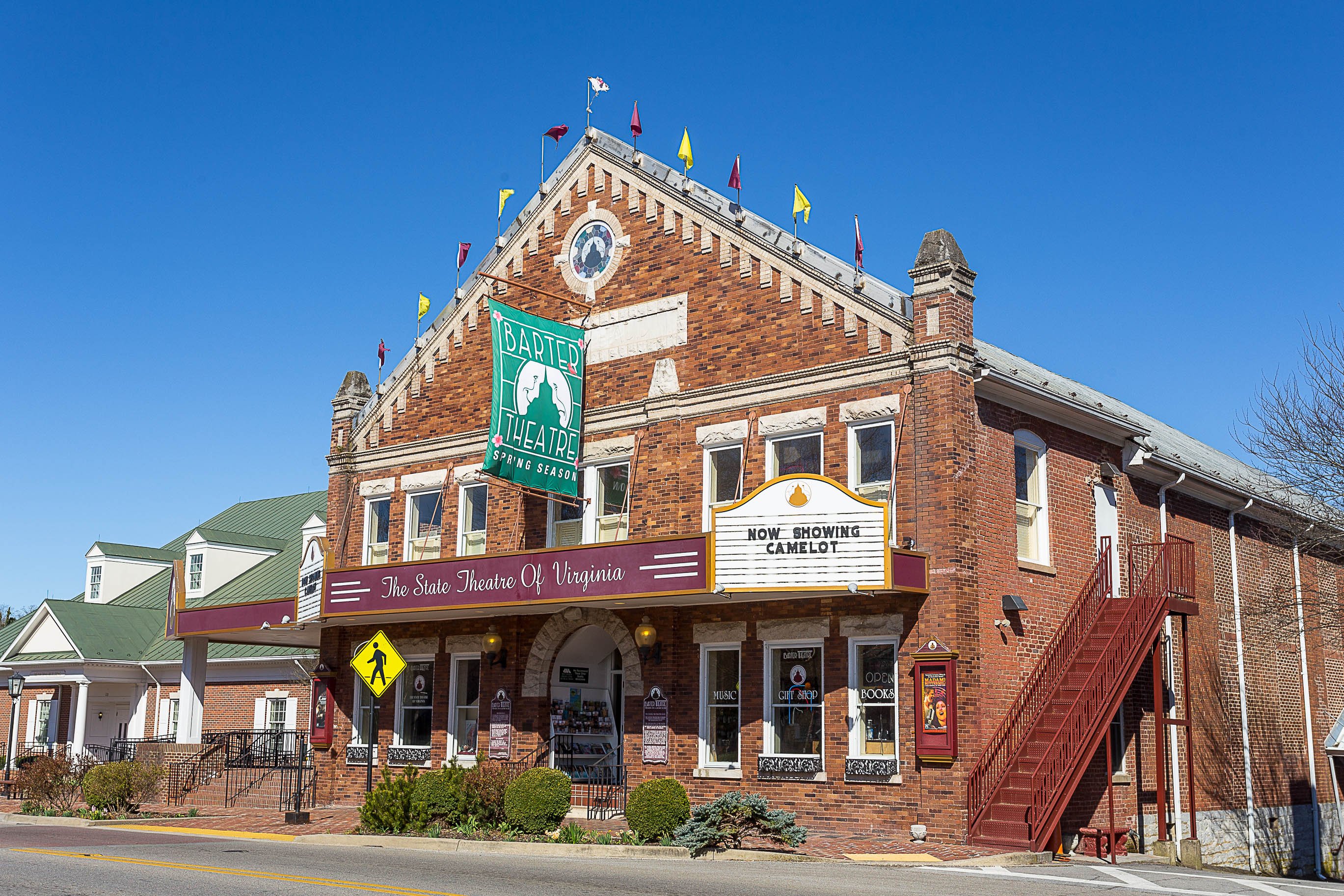 Backstory and Context
On December 21, 1905, Robert Huffard Porterfield was born the third of six children to Daisy Huffard and William Breckenridge Porterfield. In 1909, William took a position as a farm overseer in Saltville, so he moved his family into a large house about one mile south of the town. By age seven, Robert was already staging plays in his family's barn, and at age ten he decided that he was to be an actor. Throughout the rest of his adolescence, he entertained a great interest in literature and performance. When he graduated from Saltville High School, Robert enrolled at Hampden-Sydney College in Farmville, Virginia. There, he joined the school's acting company. After two years, he sent an application to the American Academy of Dramatic Arts in New York City. Without receiving notice of his application, Robert decided to drop out of school in 1926 and move to New York City to pursue his acting career. He was ultimately accepted into the academy and spent the next two years studying theatrical performance.
Robert returned to Southwest Virginia in 1932 for a number of reasons: high unemployment in New York City, the death of his father, and his inheritance of the family farm in Glade Spring. He did not leave his love of theatre in New York City, in fact, it and 22 other struggling actors came back South with him. Seeing the struggles of his neighbors during the Great Depression and still yearning for a life of theatre, Robert devised a plan that would change his life forever: a theatre for bartering. The theatre would operate on the bartering system: theatre patrons who could not afford the 40-cent ticket could barter the same amount of goods and other foodstuffs for admission. While the actors would make little-to-no income from performing, they would at least be fed. The Barter Theatre, as it came to be known, was housed in the circa 1832 Sinking Springs Presbyterian Church building on West Main Street, formerly used by the Sons of Temperance.
On June 10, 1933, the Barter Theatre officially opened to a packed house with the three-act drama After Tomorrow by John Golden and Hugh S. Stange. Advertised as "with vegetables you cannot sell, you can buy a good laugh," the theatre thrived during the Great Depression, due in most part to its universal accessibility through bartering and its reputation for providing work during the era. The theatre's concept, jokingly referred to as "ham for Hamlet," became something of a novelty and word spread quickly, burgeoning actors from all corners of the country sought employment at the Barter. Surviving the Great Depression and World War II, and experiencing so much success while doing so, the Barter Theatre received the designation of Virginia's official state theatre in 1946. It was during this time that the theatre began shifting away from its casual, bartering arrangement to a more formal system.
The post-WWII boom also meant that the Barter experienced an influx of business and interest. By the mid-1950s, the Barter Theatre needed interior improvements and updating. Robert Porterfield managed to salvage from New York City's now-demolished Empire Theatre $75,000 worth of seating, paintings, carpeting, wall painting, and a lighting system designed by Thomas Edison. These features were then installed in the theatre. Demand for the Barter increased so much that, it became apparent that a second venue must be utilized. Across the street from the Barter sat the circa 1823 Methodist Church building, once used by the former Stonewall Jackson Institute for Women and the Martha Washington College. This building, known as the Barter II, was converted into a smaller theatre and opened in 1961. It is a well-liked venue for both actors and audiences due to its more intimate setting.
Robert Porterfield passed away on October 28, 1971, leaving behind a tremendous legacy in Southwest Virginia. Rex Partington, another Broadway actor, took over Porterfield's role as chief administrator and face of the theatre. Partington retired in 1992 and the torch was passed onto the current administrator, Richard Rose. With Rose at the helm, the theatre's annual attendance increased from 42,000 to 140,000. Today, the Barter Theatre remains one of Virginia's most sought-after entertainment venues and a cornerstone of Abingdon's unique history. In addition to receiving the honor of Virginia's state theatre, the Barter has since received a Tony Award in 1948 for Regional Theater, the first Virginia Governor's Award for Excellence in Art in 1979, and several other notable award. The Barter Theatre is also a founding member of both the League of Resident Theatres and the Theatre Communications Group, and is a prominent figure in the American National Theatre Association.
The Barter Theatre was designated a Virginia Landmark on December 2, 1969 and added to the National Register of Historic Places on February 26, 1970.
Sources
Moody, JR., James W. National Register of Historic Places Inventory - Nomination Form. Virginia Department of Historic Resources. February 26, 1970. March 18, 2019. https://www.dhr.virginia.gov/VLR_to_transfer/PDFNoms/140-0037_Abingdon_Historic_District_1970_Final_Nomination.pdf.

Our History. Barter Theatre. March 18, 2019. https://bartertheatre.com/about/history.

O'Brien, Carolyn. Barter Theatre. Encyclopedia Virginia. February 25, 2016. March 18, 2019. https://www.encyclopediavirginia.org/Barter_Theatre#start_entry.

Tennis, Joe. The Show Goes On. Virginia Living. November 5, 2012. March 18, 2019. http://www.virginialiving.com/culture/the-show-goes-on/.

Robert H. Porterfield, Founder Of Barter Theater, Dead at 66. The New York Times. October 29, 1971. March 18, 2019. https://www.nytimes.com/1971/10/29/archives/robert-h-porterield-founder-o-barter-theater-dead-at-66-he-directed.html.


Additional Information