Dillon Memorial
Introduction
Situated at the eastern edge of LeClaire Park, the Dillon Memorial is a monument dedicated to lawyer and judge John Forrest Dillon (1831-1914), who, for a time, lived in Davenport and served on state and federal courts. Notable posts include serving on the Iowa Supreme Court and being appointed Judge of the U.S. Circuit Court for the Eight District by President Ulysses S. Grant. The memorial was built in 1918 and consists of a column topped by a bronze lantern, a basin at the bottom which functions as a water fountain, and bas-relief panels depicting lion heads and John Dillon. In his will, he requested that the memorial be built at this location. As such, it complements the Civil War Soldiers Monument located twelve blocks to the north. It was added to the National Register of Historic Places in 1983.
Images
The Dillon Memorial was erected in 1918 in honor of prominent judge and lawyer John Dillon, who served as Judge of the Eight Circuit Court from 1869-1879.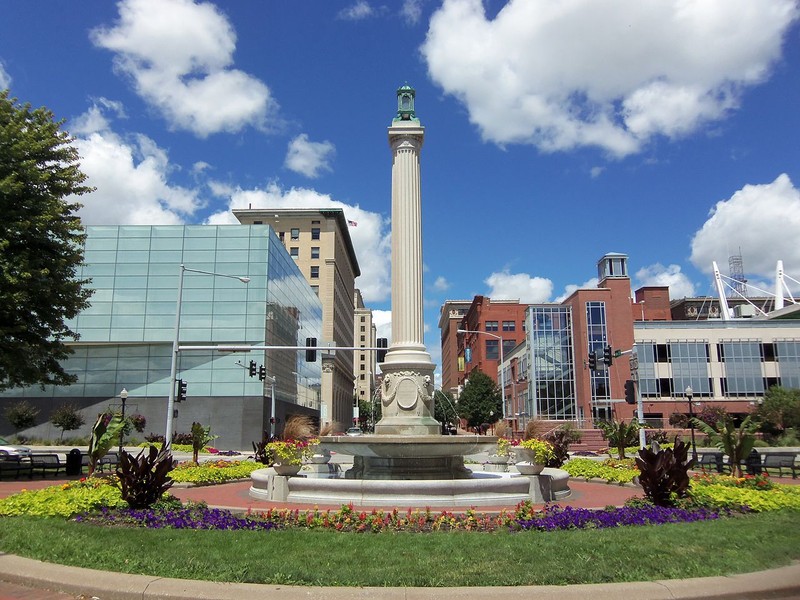 Backstory and Context
As Judge of the Eighth Circuit, Dillion became well known around the country. He issued a ruling—the Dillon Decision—that outlined the limits of local government authority. This ruling has been the basis for federal court cases ever since. He served in this position until 1879 and moved to New York City where he became legal counsel to Western Union, Union Pacific Railway, and other large companies. During these years he also taught classes at Columbia Law School and then later at Yale Law School until 1892. In his last years he operated a private practice in New York City.
Sources
Bowers, Martha. "Dillon Memorial." Architectural/Historical Survey - Davenport Development Department, Iowa Division of Historic Preservation. 1983. https://npgallery.nps.gov/NRHP/GetAsset/NRHP/83002421_text.

"How much did it cost to build Dillon Fountain?" River Action. Accessed March 19, 2019. http://www.riveraction.org/node/N144.

Photo: Wikimedia Commons
https://en.wikipedia.org/wiki/Dillon_Memorial#/media/File:Dillon_Memorial_Davenport,_Iowa.JPG

Additional Information