Mary Eleanor Brackenridge Student Union
Introduction
Located on the corner of North Bell Avenue and Administration Drive, the Brackenridge Student Union has offered students many amenities over the years, such as dining services and the campus bookstore. Before there was a student union there was also a dormitory called Brackenridge Hall. Both buildings are named after Mary Eleanor Brackenridge, who helped pioneer the University. Brackenridge Hall was also the site of one of the oldest cold cases in Texas.
Images
Mary Eleanor Brackenridge Student Union: Picture taken in 1973-1974.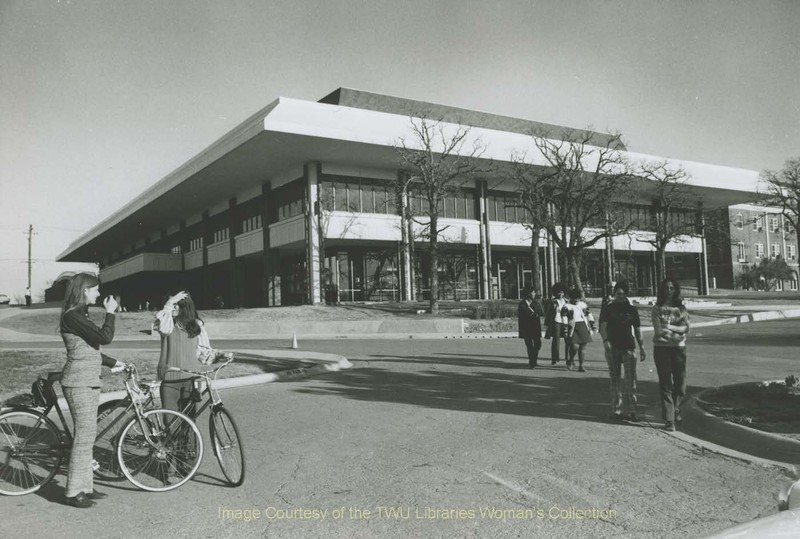 Brackenridge Hall: Picture taken after 1935 due to the additional 4th floor in the photograph.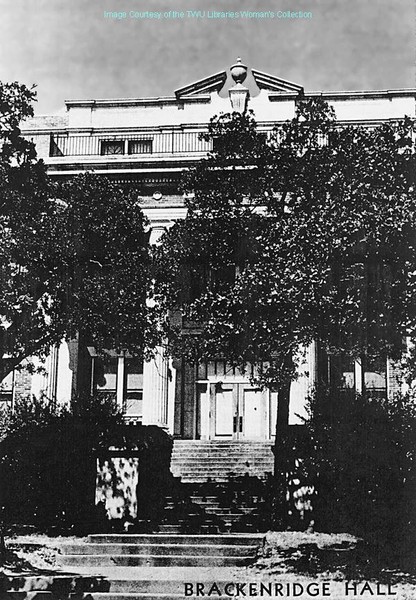 Mary Eleanor Brackenridge: The student union's namesake, and a pioneer for women's rights.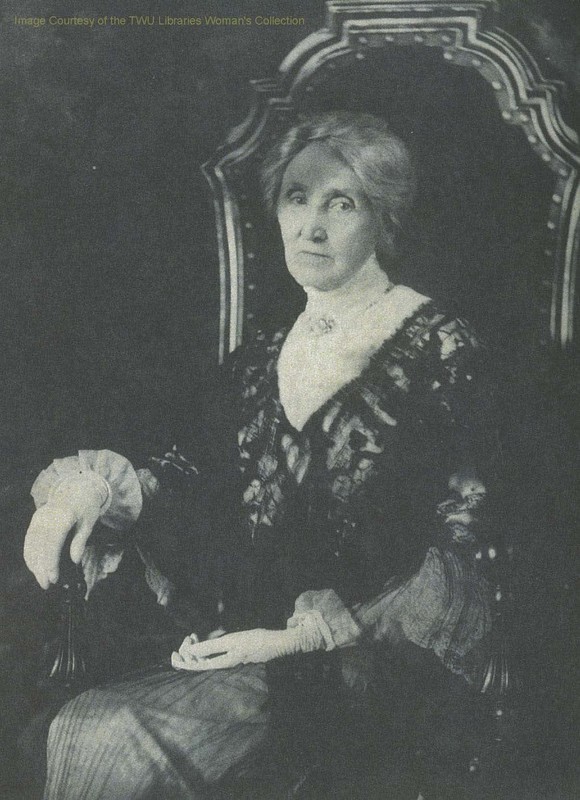 Mary Virginia "Jimmie" Carpenter: Disappeared in 1948, and last seen outside of Brackenridge Hall.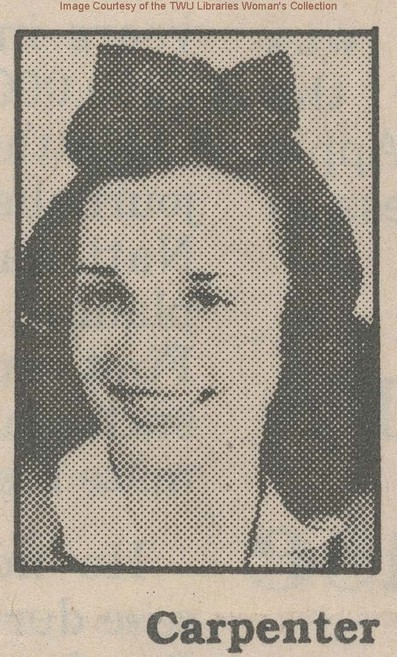 Backstory and Context
The Mary Eleanor Brackenridge Student Union is in many ways the beating heart of campus life at Texas Woman's University. Constructed in 1967 after the demolition of Brackenridge Hall, a dormitory built in 1916, the Student Union has offered students several amenities over the years and hosted multiple campus sponsored events. Originally it just had a snack bar, a post office, a bookstore, a lounge area, and a series of meeting rooms, but over time this has changed. In its years of operation, the post office has been moved to the Administration Conference Tower. Computer labs and copy machines have been added for student use, and a game room is available in the lower level of the building, fittingly titled The Underground. This is also where students with meal plans may eat, but there are also dining options on the third floor, also known as the Garden Room. This is where many events, such as live music performances and even poetry readings, are held. One of the more notable events held at the Student Union is Boo at the U, an annual event started in 1999 that is essentially a large Halloween carnival. Around 3,000 people attend each year, and attendees are encouraged to donate canned goods to the TWU Food Pantry.
Prior to the student union, the site was a hub of activity since it held the dormitory known as Brackenridge Hall. Construction of Brackenridge Hall finished in 1916, and it could house 175 students. While it was not the first dormitory on campus it provided much needed living space. It also provided dining services to students and guests, and featured a roof garden that could accommodate up to 1,400 people. This roof garden could possibly be where the Garden Room in the student union gets its name. The roof garden was removed in 1935 when a fourth floor was added to the building, providing more living space for the students.

The building's namesake, Mary Eleanor Brackenridge, was appointed to the first board of regents in 1902, a post she would hold until her death in 1924. She held her own against the Texas legislature, urging them to give the college adequate support, and she also assisted students in financial need. This was on top of her supporting Prohibition and the Texas Woman Suffrage Association, an organization where she served as president from 1913 to 1914. When suffrage was finally granted in 1918, she was the first woman in Bexar County who registered to vote. It is no wonder then that this woman was chosen to be the namesake for one of the central buildings of the University.
Another woman is associated with Brackenridge Hall. Mary Virginia "Jimmie" Carpenter was a 21-year-old woman from Texarkana. She was to attend summer classes on campus in 1948, planning to train as a laboratory technician, but after arriving on campus outside of Brackenridge Hall on June 1 she was never seen again. The cab driver who took her to campus, Edgar Ray "Jack" Zachary, said he dropped her off outside the dormitory at about 9:00 p.m. and that she gave him a ticket for her trunk and paid him to get it for her at the train station the next day. He then stated Carpenter went over to two young men standing by a yellow, or possibly cream-colored, convertible. She seemed to know them and as they spoke Zachary drove away. That was the last time anyone saw her. She never checked into Brackenridge Hall, and has never been heard from since. She was finally declared legally dead in 1955, and the case remains unsolved, making it one of the oldest cold cases in Texas.

The growth of the student population has created a demand for a new, more efficient student union, and construction plans have been in the works since 2012. Construction is ongoing on this modern student union, and is expected to be concluded in 2020. It is unclear what will become of the Brackenridge Student Union.

Sources
"Dormitory System: Back-to-School Edition" Flier from the TSCW News Bureau,
Texas Woman's University Archives, 1948.
Frank, Janie Leigh. "TWU Converts dorms for conferences." Denton Record Chronicle (Denton,TX), May 11, 1980.
Headley, Johnna. "TWU to host annual Boo at the U."
TWU Lasso
. October 21, 2015. Accessed April 18, 2019. https://www.twulasso.com/twu-to-host-annual-boo-at-the-u/.
Keith, Carrie. "Back in Business." The Lasso (Denton, TX), October 07, 2004.
"Mary Virginia Carpenter". The Charley Project. Accessed February 10, 2019. http://charleyproject.org/case/mary-virginia-carpenter.

"Mary Eleanor Brackenridge Student Union." Texas Woman's University. Accessed February 09, 2019. http://catalog.twu.edu/graduate/services-available-students/mary-eleanor-brackenridge-student-union/.

Nicholas, Richard. "Student Union Referendum." Email, Texas Woman's University Archives, 2012.
Taylor, Elizabeth. "BRACKENRIDGE, MARY ELEANOR."
Handbook of Texas Online
. Accessed February 09, 2019. https://tshaonline.org/handbook/online/articles/fbr04.
Thompson, Joyce. Marking a Trail: A History of the Texas Woman's University. Denton, TX: Texas Woman's University Press, 1982.
White, E. V.
Historical Sketch of the Texas State College for Women: The First Thirty-Three Years
. Denton, TX: Texas Woman's University Press, 1936.
Wineinger, Bethany. "TWU Contemplates building new Student Union."
The Lasso
(Denton, TX), March 15, 2012.
Additional Information