Lynn Middleton Sibley Historical Marker: City of Florence Walk of Honor
Introduction
The Lynn Middleton Sibley Historical Marker was erected in 2012 by the City of Florence. Lynn Middleton Sibley has been highly dedicated to reducing mortality among newborn babies and their mothers throughout the 21st century. She has largely focused on low resource countries that lack decent healthcare. She also helped to develop the Home-Based Lifesaving Skills program, which educates at home birth attendants in these low resource countries about basic ways to care for newborns and mothers properly and inexpensively. This program has greatly increased the quality of care given to mother's and their newborn babies, decreasing the mortality rate among them. The marker is accessible to the public and is found in River Heritage Park.
Images
Lynn Middleton Sibley is awoman recognized for her contributions to the improvement of newborn and maternal survival rate in underdeveloped countries. She grew up in Florence, Alabama, and later became a nurse midwife. She was first inspir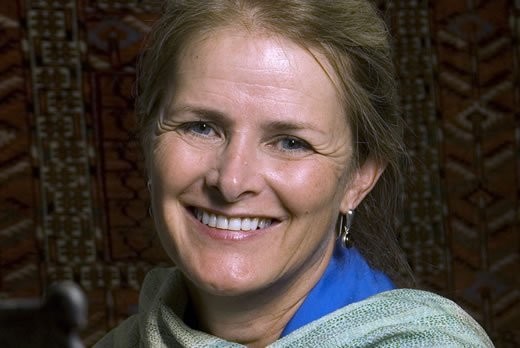 The Lynn Middleton Sibley historical marker can be found in Florence, Alabama, the same city in which Sibley grew up. It is a part of the Florence Walk of Honor, which is a row of historical markers honorin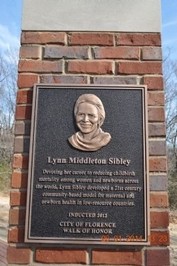 Backstory and Context
Lynn Middleton Sibley grew up Florence, Alabama. She was raised in a medical family, with her father Jim Middleton being a pediatrician. Sibley would go on house calls with her father as a child, where she over time acquired her passion for the medical field. This led her to go to college to become a certified nurse midwife, and she later became a professor in the School of Nursing at Emory University, a private institution in Atlanta, Georgia. From here, she began working on her project that she is known for today—increasing the survival rate of newborns and mothers.

Sibley over time created courses that helped to educate midwives in underdeveloped countries. The courses were a part of her project called Home-Based Lifesaving Skills Program. These courses taught proper medical care for babies before and after they were born, along with proper care for mothers during and after pregnancy. The goal of these courses was to drop the mortality rate among these babies and mothers. Many of the countries that Sibley focused on had poor medical treatment, unsanitary facilities, and lack of technology and education. With Sibley's help, the midwives in these countries were given instruction on how to better care for their patients with what they had and in an affordable manner. Expecting mothers were also given tips on how to better take care of themselves and their baby before and after birth.
Once Sibley's idea became more publicized, it gained much support. For instance, the Bill and Melinda Gates Foundation contributed 8.1 million dollars to Emory University to go towards Sibley's Home-Based Lifesaving Skills Program. This helped to fully put the idea into action, eventually spreading it to the underdeveloped countries that Sibley strived to help. Some of these countries included Ethiopia, India, Belize, and Bangladesh.
Eventually, Sibley was given an award for her efforts and success. Emory University, her employer, awarded her with their Marion V. Creekmore Award for Internationalization. This award is given to faculty members that advance the school's international contribution. She won the award in 2011, six years before her retirement as a professor in 2017. Sibley has also been recognized for her contributions to many peer reviewed journals along with her research that has been presented to 25 audiences, both national and international.
Lynn Middleton Sibley has greatly contributed to the advancement of education about newborn and mother survival rate. Her work is believed to have increased knowledge of proper practice and care, therefore helping many mothers and babies in underdeveloped countries to survive childbirth. Her studies and work also helped to increase awareness about poor medical care in some other countries, hopefully influencing and driving more people to work on improving the issue. She is still living today and is still involved in her Home-Based Lifesaving Skills Program.
Sources
Creekmore Award for Internationalization. Emory University Office of Global Strategy and Initiatives. . April 10, 2019. https://global.emory.edu/support/international-awards/creekmore-award.html. Explains the Marion v. Creekmore Award that Sibley received

Maternal and newborn health pioneer Lynn Sibley to retire from School of Nursing. Emory News Center. July 26, 2017. April 8, 2019. https://news.emory.edu/stories/2017/07/lynn_sibley_retires/index.html. An announcement of Lynn's retirement and discussion of her accomplishments.

Palmer, Robert. 4 inducted into Walk of Honor. Times Daily. June 18, 2013. April 9, 2019. https://www.timesdaily.com/news/local/inducted-into-walk-of-honor/article_72089648-d7cc-11e2-a9e9-10604b9f6eda.html. Discusses Lynn's induction into the walk of honor along with a brief reminder of her accomplishments and backstory