U.S. Monument
Introduction
On October 7, 1909, in front of a crowd of 8,000 and the governors of Virginia, North Carolina, South Carolina, Tennessee, Georgia the only federal monument on the battleground was dedicated.
Images
Postcard of U.S. Monument from 1910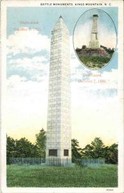 1930s Postcard of U.S. Monument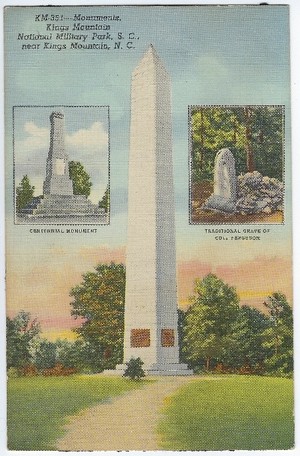 Picture of the U.S. Monument under construction. Notice the plaques are not yet on the monument. They were not placed on the monument until January of 1910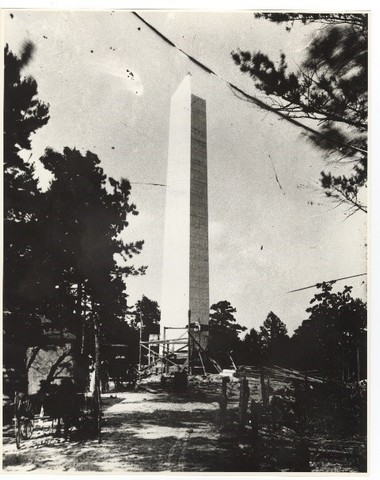 An early picture of the monument with a fence surrounding it to keep vandals from harming it. The plaques are now added.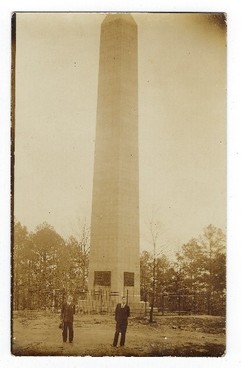 Backstory and Context
The Kings Mountain Chapter of the Daughters of the American Revolution took control of the battlefield from Kings Mountain Centennial Association on 1898. The DAR began working toward federal recognition of the battlefield with North Carolina congressmen E. Yates Webb and South Carolina Congressmen David E. Finley, who successfully petitioned Congress for $30,00 for a federal monument for Kings Mountain after a rousing speech before Congress in which he proclaimed, "when honored and decrepit age shall lean against the base of this monument and troops of ingenious youth shall be gathered around it, and when the one shall speak to the other of its objects and purposes of its construction, and the great and glorious event with which it is connected, there shall rise from every youthful breast… Thank God, I also am an American!"[1]

The 83-foot obelisk monument considered the "handsomest south of Gettysburg" was designed by the New York architectural firm McKim, Mead & White, which also designed Madison Square Garden in New York and the White City at the 1893 Chicago's World's Fair.
The obelisk is derived from ancient Egypt and was the symbol of the sun-god. It remained constant in memorial imagery throughout ancient Rome, and later in France and Great Britain.
The location of the monument was chosen to reflect where the battle ended.
Question: What makes something worthy of memorializing?
Sources
[1] Edwin Yates Sr, Speech before Congress

Robert W. Blythe, Maureen A. Carroll, Steven H. Moffson, Kings Mountain National Military Park: Historic Resource Study, (Washington DC: Cultural Resources Planning Division, National Park Service, 1995), 58-60,64-65.

"U.S. Monument Postcard," Kings Mountain Historical Archive

"Kings Mountain Monuments Postcard" Kings Mountain Historical Archive

"Picture of U.S. Monument" Kings Mountain Historical Archive

"Picture of U.S. Monument with plaques", Kings Mountain Historical Archive