Major Patrick Ferguson Monument
Introduction
Of all the monuments on the trail, the most storied is to a fallen enemy. Major Patrick Ferguson, the leader of the loyalist troops, was shot and killed during the battle. Private James C Powell who witnessed the burial said, "seven rifle balls had passed through his body, both his arms were broken, and his hat and clothing were literally shot to pieces." After the battle the Patriots allowed the Loyalists to dress his body for burial at the bottom of the ravine with his companion Virginia Sal, who was killed by crossfire.
Images
Sign on Ferguson's grave during the 1880 Centennial Celebration.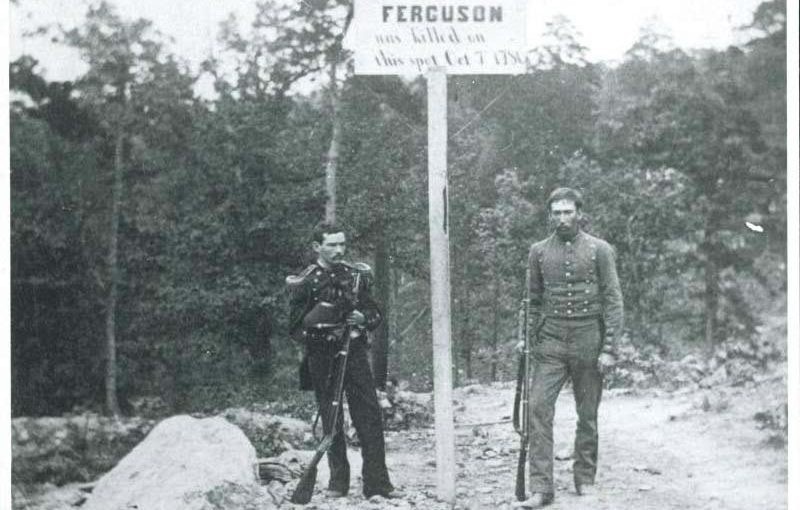 Postcard of Ferguson's grave in the 1910s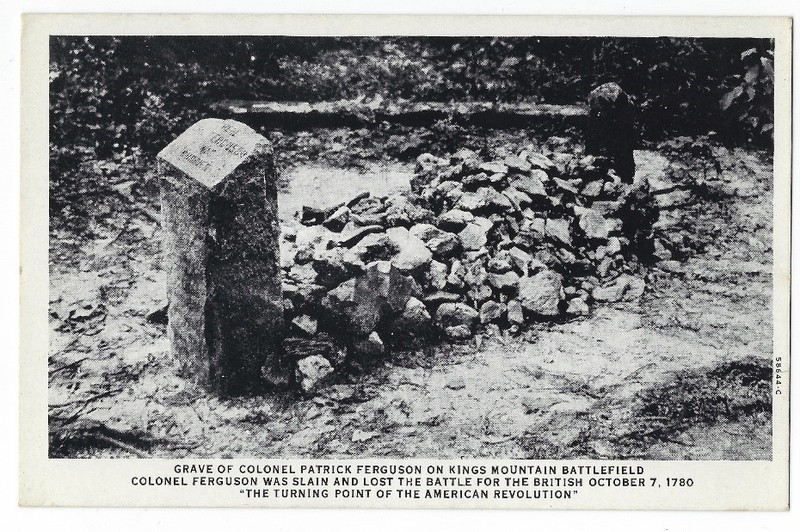 Postcard of Ferguson's grave in the 1920s, notice how much the rock pile has grown.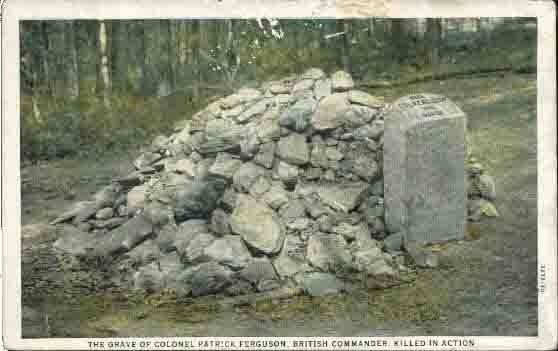 Backstory and Context
Their bodies sat undisturbed until 1845 when local doctor, Tracy Wright exhumed the bodies to verify they were, in fact, there. After he had used his medical training to confirm a man and woman laid there, he reburied the bodies.
In 1880, during the Centennial Celebration, a sign on a pole was placed to designate the location of the grave. 
In 1909, Major A.H. White of South Carolina created the first permanent monument for Ferguson, a stone pillar at his gravesite. Local lore has it that he cast the first stone of the Carin. If you walk to the back of the Carin, you can still see the original marker.  
After that, it became a local custom to throw a rock on it every time you passed, to keep Ferguson in his grave.   
In 1930, during the Sesquicentennial (150th) Celebration, the purpose of this monument shifted from remembering the dead to honoring the living. A new stone marker paid for by the citizens of Charlotte, NC, was a symbol of the growing friendship between America and Great Britain. A member of the British Embassy was in attendance for the dedication.
Ferguson, who was once so hated by Patriot forces that they traveled two hundred miles just to defeat him, now stood as a monument to the friendship between the two countries.   
After the 1930 dedication, the rock cairn began to grow. Many of the thousands gathered for the 1930 celebration left their mark by throwing a rock on Ferguson's Grave. Since then the pile has grown as visitors cast their rock to honor Ferguson, as a tradition, or to keep him from roaming the ridgeline. 
In 2000, ground penetrating radar confirmed the presence of two anomalies present beneath the cairn.
Sources
Robert Dunkerly, Kings Mountain Walking Tour Guide, (Pittsburg PA: Dorrance Publishing Company, 2003), 25. 
F.R. Summers, "Early History of Kings Mountain Most Interesting," Kings Mountain Herald, Kings Mountain NC, 1939.
Robert W. Blythe, Maureen A. Carroll, Steven H. Moffson, Kings Mountain National Military Park: Historic Resource Study, (Washington DC: Cultural Resources Planning Division, National Park Service, 1995), 64-66.
John E. Cornelison, Jr Victory, and Retribution, An Archeological Survey at Kings Mountain National Military Park, South Carolina, Southeast Archeological Center2006 11
"Picture of soldiers" Digital Kings Mountain http://ckm.digitalkm.org/2016/08/30/colonel-fergusons-death-location/
"Ferguson Grave Postcard," Kings Mountain Historical Archive
"Ferguson Carin Postcard," Kings Mountain Historical Archive