Dr. Increase Mathews House
Introduction
The Dr. Increase Mathews House, in the Putnam Historic District of Zanesville, is the area's oldest building. Dr. Increase Mathews, an early medical doctor in Zanesville, purchased land across the Muskingum River from Zanesville in 1801. The land purchase was made possible by financial help from his uncle, General Rufus Putnam and his cousin, Levi Whipple.
Images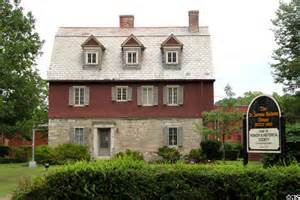 Backstory and Context
In 1801, in partnership with his uncle, General Rufus Putnam, and cousin Levi Whipple, Mathews purchased the land across the Muskingum River from Zanesville. In 1805, Zanesville's first medical doctor built a single story sandstone house on his land at what is now the corner of Washington Street and Woodlawn Avenue. The kitchen, with its large double fireplace, was in the basement.
Dr. Mathews lived in the stone cottage for 51 years. In 1884, two stories were to the original sandstone cottage. The house stayed in the Mathews family for many years. In 1937 William Adams, a local contractor bought and renovated the house. Mr. Adams lived there for about 10 years before selling the property to Mrs. F.F. (Dorthea Guthrie) Frazier who bequeathed the property to the Pioneer and Historical Society in 1970.
Visitors can see historic room settings, exhibits about local military history, a new archaeology room, and displays of antique quilts, local glass, and pottery.
Sources
http://www.zanesville.com/zhs/
Additional Information