Edward C. Coleman House - 800 East French Avenue
Introduction
The Coleman House is a residential two-story structure that was constructed circa 1881. The original portion of the wood-framed structure is of a typical New England "I-house" design, which is characteristic of the time period. The home is associated with Edward & Ida (Eleby) Coleman, who were prominent members of the community. The Coleman family is most notable for their contributions to the education of Orange City's youth. Edward Coleman was among the 54 qualified voters who voted Orange City's incorporation and served as a Trustee for Public Board of Education for Orange City's' first Colored School. Upon their passing, the home was left to Herman, one of the Coleman's twelve children. Herman met Miss Marion L. Young and married her in Orange City. Marion was a beloved educator and eventually served as Principal of the Orange City Colored School at 200 E. Blue Springs Avenue. Later the school was renamed in her honor as the Marion L. Coleman School.
Images
c.1980 before renovation by Nash-Stisser family. Photo courtesy Marilyn Stisser.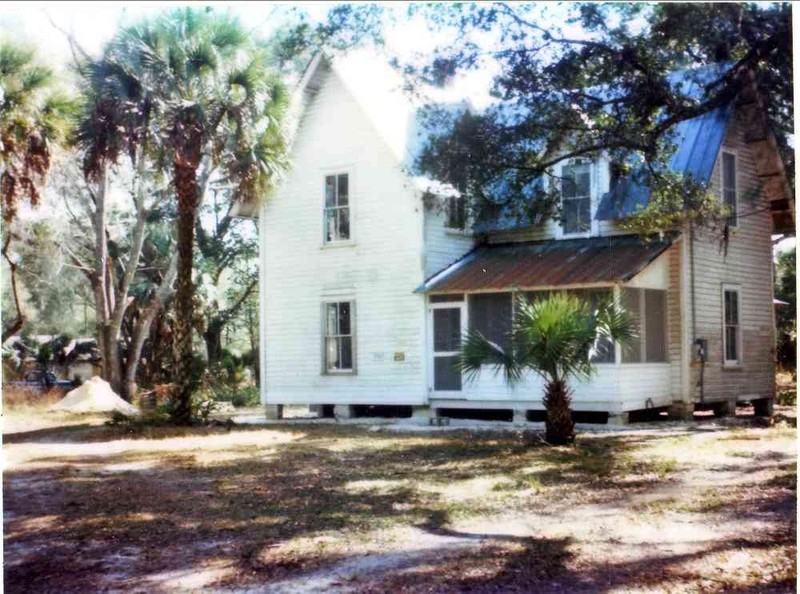 Backstory and Context
Born in Honeybrook PA, Edward C. Coleman enlisted to serve in the Union Civil War army in 1863 at the age of 19. His time of service in Company B, Third Regiment, of the US Colored Infantry brought Edward from Lancaster County, PA to Jacksonville, FL, where he mustered out after 3 years of service. It is unclear where Edward met and married his first wife, Marinda. However, she bore his first son, Nicholas while in Gainesville, FL. Around 1879, Coleman and his new family moved to Orange City. Shortly after their arrival, Marinda sadly passed away leaving Edward to care for their 10 year old son alone. Marinda was one of three people of color permitted to be interred at the Orange City's Holly Wood Cemetery for whites before the grounds were segregated.
Edward then married Miss Ida Mae Eleby of Orange City on March 23, 1881. Between 1882 and 1905, Ida gave Edward eleven more children. In need of more space, the Colemans bought the former home of George Scammell on E. French Avenue. Though Scammell was a reputable builder, his former home had fallen into disrepair by 1906. According to an account in the local paper, "the house stood at an angle of about forty-five degrees and looked as though it was about to tumble down". With the aid of Mr. Ben Thursby and Henry Giles, Edward successfully rehabilitated the dwelling "into a pretty place".
Edward, like most pioneers of Orange City, was a farmer. He was recognized in a Wisconsin newspaper for growing the town's largest oranges. In 1882, Edward was one of the 54 qualified voters to incorporate Orange City. When the Volusia County Board of Public Education established Orange City's first public school for students of color in 1884, Edward Coleman was appointed to the Board of Trustees, where he served until resigning 1890. Edward died in 1922 at the age of 76. Ida Mae died at the age of 94.
Their middle son Herman remained in the home at 800 E. French Avenue, and was very involved in Orange City business. Herman was contracted to supply and install rock and straw on City roads including cleaning up trees and properties that were neglected. The women of the Village Improvement Association hired Herman to fill kerosene street lamps along the main road. In 1948 Herman petitioned the city for Electricity in the black neighborhoods. He argued the residents were paying taxes for the service, but had not received electricity. Herman also petitioned the city for drinking fountain or "bubbler" for colored use to be located on E. Graves Avenue because they were not permitted to use the white's only water fountain located in the median.
Herman married an young educator named Marion Lee Young, originally from, Jacksonville, FL. Marion and her family moved to Orange City in 1922 after applying for a teaching position at the William A King's Vocational School for black students. Marion played the piano and taught third and fourth grades. It was a little three room building on the southwest corner of South Volusia Avenue and West Blue Springs Avenue. In 1927, a new building for the education Orange City's colored students was constructed on East Blue Springs Avenue, which known as Orange City Elementary School. Mrs. Coleman was promoted to principal after many years of teaching. In 1960, the school was renamed the Marion L Coleman Elementary School. Mrs. Coleman retired in 1964. The community grieved her death in 1973 and her husband Herman's passing in 1978.
Sources
2019, Village Improvement Association, Inc., Orange City Woman's Club. "Our Story of Orange City, Florida, 5th ed.
2019 Interview of Marilyn Stisser by Donna Cobb.