Laverne Apartments - 238 East Graves Avenue
Introduction
This historic multi-family apartment complex was built in 1926 by John W. Camac, a popular real estate developer. It is an example of wood-framed Masonry Vernacular. The apartment building loosely demonstrates Mediterranean revival influence. This structure contains 10 two-room apartments. It is located next to the historic Erwin Hotel, also built by Mr. Camac. The apartments have also been named the Nassau Apartments and more recently, the Townhouse Apartments.
Images
Laverne Apartments, 1940s.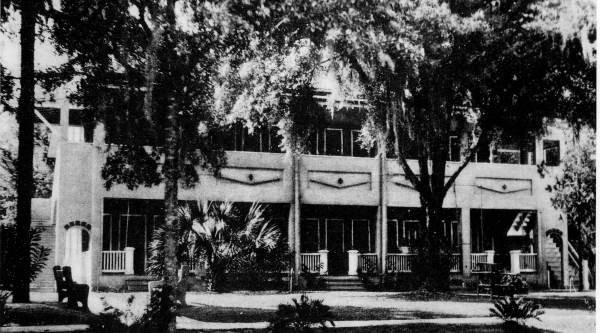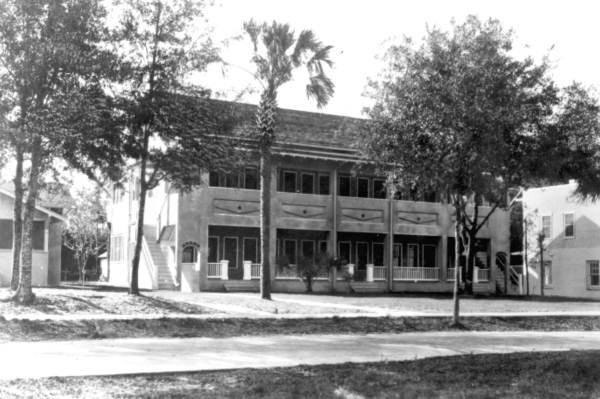 Photo taken by Donna Cobb, 2019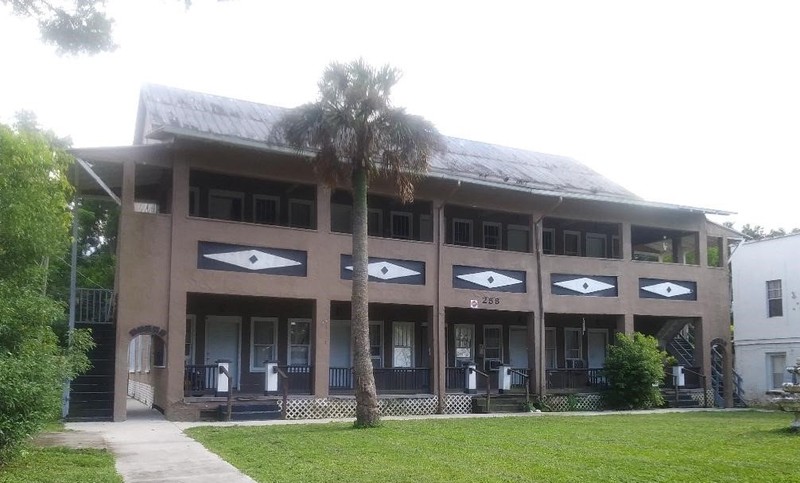 Backstory and Context
John Camac, a native of New Jersey, had a real estate office in Philadelphia for 38 years before he ventured to Florida's burgeoning land boom in1919. He opened a real estate office in Daytona Beach, while maintaining his office in Philadelphia. In Daytona Beach he developed the Fernwood Hotel and several business block on the peninsula's Main Street and financed the construction of the Florida Theater.
In 1926, Camac moved his office to Orange City where he built the Laverne Apartments from the then vacated Hall and Library. The apartment design was influenced by popular building techniques used in the Mediterranean Revival style, which began late in the nineteenth century peaking in the 1920's and 1930's. The characteristics of the Mediterranean Revival architecture is similar to Spanish Revival architecture with low pitched roofs with broad over hanging eaves and covered with red clay brick tile while the walls of the structures are usually always finished with stucco. Camac employed a stucco finish over the original wooden clapboard with decorative diamond emblems on the second floor balcony.
The building consists of two floors with ten apartments at the LaVerne each apartment had two rooms with a front and rear porch. Camac acquired the cities water company to insure fresh water to his hotel guests and apartment tenants this helped to expand the infrastructure of the water company.
J.P. Prettyman drafted the plans and supervised all the construction on Camac commercial buildings He also built six dwellings and did a renovation in Orange City for Camac. The house at 401 East Graves, the former home of John Camac is the house Prettyman renovated.
Sources
LaFleur, J.(Ed.). (2000). Our Story of Orange City, Florida. Florida: Village Improvement Association, Inc.
United States Department of the Interior National Park Service (2004).
National Register of Historic Places Continuation Sheet Orange City Historic District Orange City, Volusia County, Florida
Additional Information