Site of the National Women's Conference November 18 - 21, 1977 - Historical Marker
Introduction
This marker commemorates the National Women's Conference on November 18-21, 1977, which was held here in the Hobby Center for the Performing Arts (then called the Sam Houston Coliseum). The conference was the first large-scale political gathering of women since the Women's Rights Convention in Seneca Falls, New York in 1848. Around 2,000 delegates from all fifty states and six territories participated, and between 15,000-20,000 others were present as observers. Generally speaking, the purpose of the conference was to address the discrimination against women. Participants assessed the role of women in American society by examining several issues including reproductive rights, sexual orientation, national healthcare, education reform, and the Equal Rights Amendment—the proposed amendment to the Constitution that would guarantee equal rights for all Americans regardless of gender. The conference produced a pamphlet called the National Plan of Action that listed 26 demands to improve women's lives. The conference contributed significantly to the women's rights movement and also to Houston's social and cultural development.
Images
The marker is affixed to a pillar near the entrance to the Hobby Center for the Performing Arts.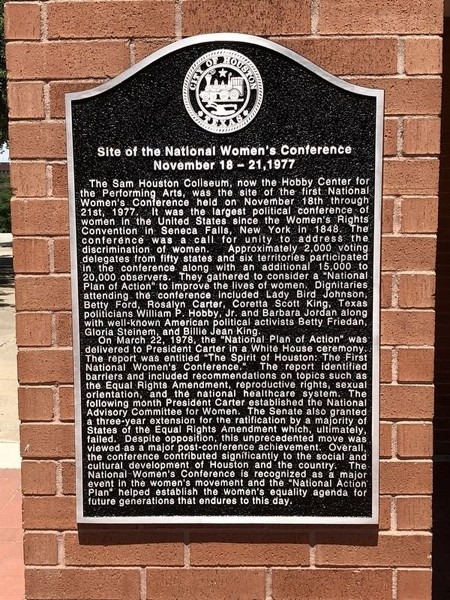 The marker is located on the left.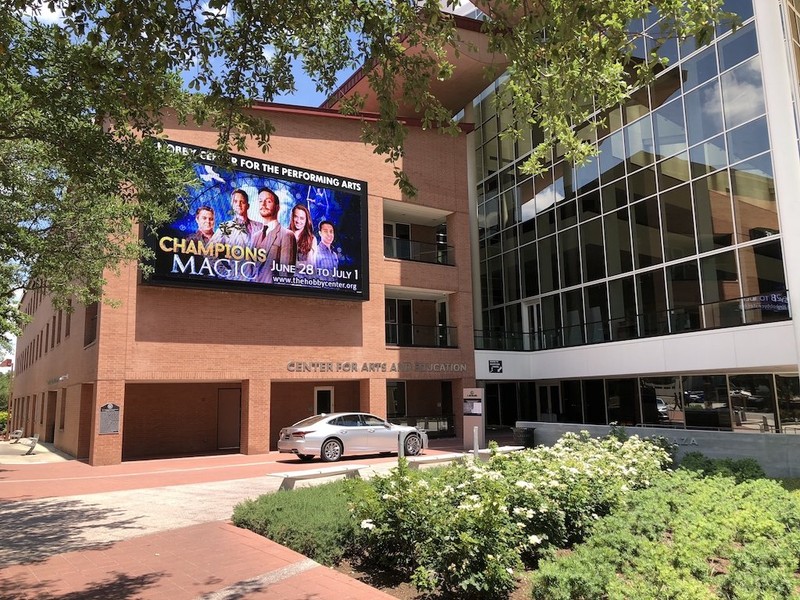 Backstory and Context
In 1972, the United Nations declared that 1975 would the International Women's Year and the U.N. conference was held in Mexico City that year. To further the goals of that conference in U.S., in January 1975 President Ford issued an executive order that created a National Commission on the Observance of International Women's Year, whose goal was to promote gender equality. Congress then authorized tax-payer funds for state conferences, during which delegates were elected to go to the national conference in Houston.

Over the course of four-day gathering, participants debated the 26 resolutions. Among the speakers who attended were Betty Ford, Lady Bird Johnson, Maya Angelou, and Coretta Scott King. The conference was chaired by Bella Abzug.

There was also a counter-conference of conservative women led by Phyllis Schlafly. It was held at a different location and attracted around 15,000 participants. Its purpose was to promote traditional, pro-family values and as such was anti-feminist. Participants opposed lesbian rights, legal abortion, and the Equal Rights Amendment.

As stated above, the conference produced the National Plan of Action which was delivered to Congress in March 1978. President Carter soon established the National Advisory Committee for Women and the Senate passed a three-year extension for ratification of the Equal Rights Amendment (35 states ratified it up to that point, three short of the required 38). This extension was considered a significant achievement (the amendment ultimately failed in 1982). Thus, despite the counter-conference and the heated debates that ensued, the conference was an important milestone in the women's movement.
Sources
Cottrell, Debbie M. "National Women's Conference." Handbook of Texas Online. Accessed April 20, 2019. https://tshaonline.org/handbook/online/articles/pwngq.

"Site of the National Women's Conference November 18 - 21, 1977." The Historical Marker Database. Accessed April 20, 2019. https://www.hmdb.org/marker.asp?marker=117295.

Photos: The Historical Marker Database
Additional Information