Original Whataburger and Location
Introduction
The location of the Original Whataburger is widely known for the unparalleled start up of the Whataburger franchise. Even though the original building is long gone, the history and tradition is still in tact. The original Whataburger served thousands of families, friends, and baseball teams all across the state of Texas. The original location set the standard for every Whataburger we know and love today. The legacy created at this location will forever be remembered as a place to eat fresh burgers, and feel right at home.
Images
The very first Whataburger restaurant ever built. This restaurant was actually mobile and able to relocate if needed.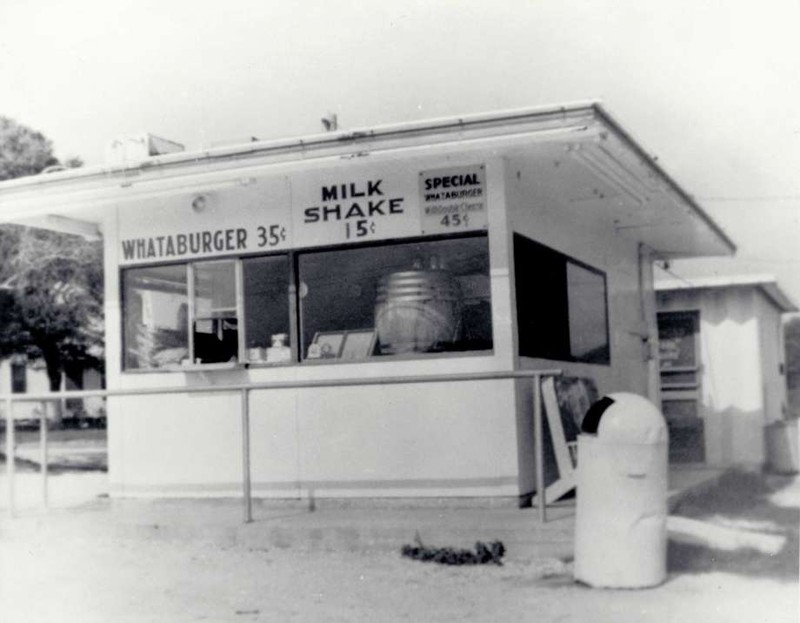 The first Whataburger ever with A-Frame architecture, and white and orange striped roof.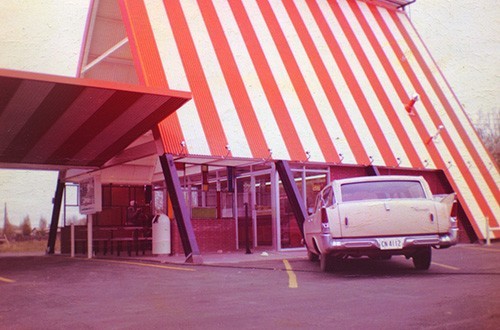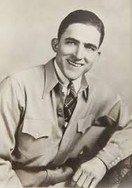 Grace "Lady Grace" Dobson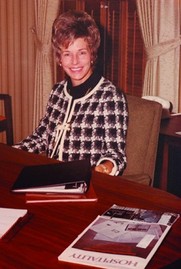 Tom, Lynne, and Hugh Dobson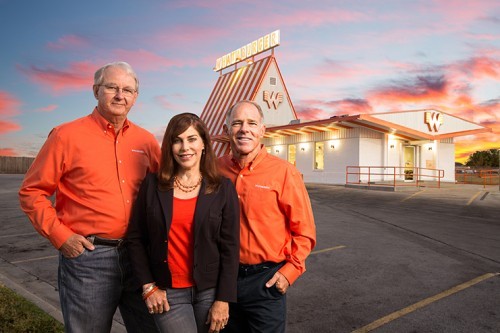 Backstory and Context
Harmon Dobson, a "jack-of-all-trades" so to speak, worked as a Pilot, Diamond Trader, Oil Driller and just about every job imaginable. Harmon Dobson then found Paul Burton and decided to finance him in a small burger joint in Texas. Finally, Dobson found his success as franchise owner and creator of the nationally renowned Whataburger "Harmon Dobson and Paul Burton were looking around the city to open a hamburger joint. It was, according to Greg Wooldridge's 'Whataburger: A Tale of a Texas Icon', Mr. Dobson's goal to "make a better burger that took two hands to hold and tasted so good that when you took a bite you would say 'What a burger!'. Harmon Dobson received the "Whataburger" trademark through the Texas Secretary of State office on June 23, 1950. Their first Whataburger location was opened later that year on August 8, 1950 at 2609 Ayers Street across from Del Mar College, in Corpus Christi Texas."
According to Texas State Historical Association, the original price of the Whataburger burger was 25 cents. That may sound cheap, but in 1950, 25 cents was a little higher in price for a burger. Although Dobson and Burton had a more costly burger at the time, they made up the difference in size, fresh ingredients, and created exactly to the customers request. Whataburger also offered their customers chips and a drink, but what really separated Whataburger from its competitors, was the size of their burgers. Dobson and Burton made a burger that was a quarter pound of beef on a five-inch bun. The usual size for a burger in 1950, was about two ounces of beef on a 2 ½ inch bun. Because their burgers were so large, they had to find a company to specially hand-make the pans big enough to create the five-inch bun. Harmon Dobson would promote his business by flying his plane dragging a Whataburger banner behind it, as well as dropping coupons for free whataburger. While flying around the Corpus Christi area, Dobson realized the importance of eye catching architecture and signage. He wanted his business to be spotted from the air, so the A-frame building and orange and white colored roofs made its first debut with the 24th Whataburger location in Odessa Texas in 1961.
According to Whataburger, the original Whataburger restaurant made a total of $50 dollars on their first day of business. Within three days, the business made roughly $191 dollars total. Finally on the fourth day, Whataburger made a total of $141.80 and sold around 551 burgers. It was evident the word had spread about Whataburger, and business boomed. Texas State Historical Association says that in 1951, the partnership between Dobson and Burton ended over disagreements to raise the prices of the hamburger. Paul Burton and Harmon Dobson both agreed that Burton would have all the franchise rights to all the Whataburgers in the San Antonio area. By 1967, Dobson had over 40 Whataburger restaurants across Texas, Tennessee, Florida and Arizona. In the year 1967, he also commissioned the company logo as "The Flying W". On April 11, 1967, Dobson was involved in a tragic plane crash that ended his life. He was buried in Batesville, Arkansas next to his parents.
Harmon Dobson expressed to his wife Grace that if something were ever to happen to him, he wished for the business to stay within the family. Whataburger continued to persevere even after the tragic death of Harmon Dobson. By 1980, Whataburger had opened its 300th location. In 1993, the successors running the business had come to a standstill with franchise and corporate. This led to election of a new company president and chief executive officer of Whataburger. On December 15, 1993 Harmon Dobson's' son Tom, was unanimously voted to head up the family business. Tom Dobson finally got the corporate and franchising teams working together again and in 1995 whataburger opened its 500th location and was ranked No. 1 on the Nations Restaurant News. Grace Dobson, known as "Lady Grace", passed away in 2005 and now rests with Tom Dobson in Batesville, Arkansas. Fast Forward to 2007, Whataburger had over 650 operating restaurants in over 10 states, and approaching $1 billion dollars in revenue.
On April 9, 2001 Whataburger was finally given the credit it deserved for over 50 years of loving service. The Seventy-seventh Texas Legislature recognized Whataburger as a "State Treasure". Whataburger has changed the face of the the burger industry. According to Whataburger, it currently has over 800 restaurants in 10 states. To this day, it is still family owned and operated by Tom, Lynne and Hugh Dobson.
Sources
Jones, Cindy. Whataburger. Texas State Historical Association. June 15, 2010. Accessed April 10, 2019. https://tshaonline.org/handbook/online/articles/dgw02.

The History Of Whataburger. Whataburger. . Accessed April 14, 2019. https://stories.whataburger.com/since-1950.

Moore, Nolan. Whatahistory for Whataburger. The Facts. May 07, 2017. Accessed April 14, 2019. http://thefacts.com/article_877b0090-baa4-5e32-be2a-d141eec3c79b.html.

The Whataburger Story. Whataburger. . Accessed April 16, 2019. https://whataburger.com/company.

Hillary, Jeff. Texas Secretary of State Congratulates Whataburger on Whataname. Texas Secretary Of State. June 23, 2014. Accessed April 17, 2019. https://www.sos.state.tx.us/about/newsreleases/2014/062314.shtml.