Market Square Park - Historical Marker
Introduction
Bounded by Congress Avenue and Milam, Travis, and Preston Streets, Market Square Park is Houston's original city center. It was platted as "Congress Square" by Houston's founders Augustus C. and John K. Allen and was meant to be the site of the permanent capitol building of the newly independent Republic of Texas. The park is located near Allen's Landing Park, which is officially recognized as the official birthplace of Houston, where the city's first boat dock was located. Today, the park features sculptures, a small Greek restaurant, a memorial garden, a lawn area, a plaza, and a dog play area. The park also hosts a variety of events during the year including movie showings, musical performances, exercise classes, and games.
Images
The marker is located along Congress Avenue.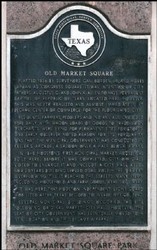 Backstory and Context
Borden Jr. and Allen were New York real estate developers who, in August 1836—which was soon after Texas won its independence from Mexico—bought thousands of acres here along Buffalo Bayou to found the city. They named it after Sam Houston, one of the leaders of the Texas Revolution who led the Texian force that defeated the Mexican Army at the Battle of San Jacinto (April 21, 1836).

In 1854, Allen donated the property to the city and it became the site of an open-air produce market, where it got its name. The first city hall was built around this time as well. Unfortunately, it burned down in 1976. The next two city hall buildings burned down as well, in 1901 and 1960, respectively. It was converted into a parking lot and was surrounded by nightclubs and restaurants.

However, its revival began in the mid-1970s when the Junior League of Houston led efforts to turn the square back into green space. Then, a non-profit organization renovated it further, installing works of local artists. The city redeveloped the square in 2010, transforming it into what it is now.
Sources
"History." Market Square Park. Accessed April 21, 2019. https://www.marketsquarepark.com/history.

Kleiner, Diana J. "Allen's Landing, TX." Handbook of Texas Online. Accessed April 21, 2019. https://tshaonline.org/handbook/online/articles/hvabg.
Additional Information