Spring Lake Park History
Introduction
Spring Lake Park is a historical place where families can go to make memories from all different aspects such as sports (baseball, softball, and disc gold/frisbee), fishing, birthdays, cookouts, feeding ducks, and recently cooling off at the new splash pad. The park has trails where one can ride their bikes or walk and has a variety of play grounds for the kids to play. Spring Lake Park includes many natural features, all around the natural spring that formed the small lake from which the park gets its name. But the main thing people do not know is that Spring Lake Park is the park where a series of unsolved murders and other violent crimes had been committed in the Spring of 1946.
Images
Spring Lake Park Texarkana, Texas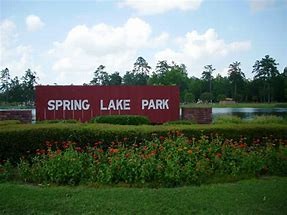 Overview of Spring Lake Park Texarkana, Texas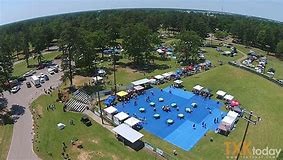 Home of the Texas A&M University- Texarkana Eagles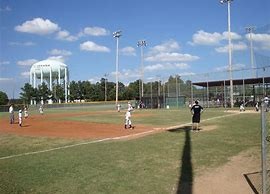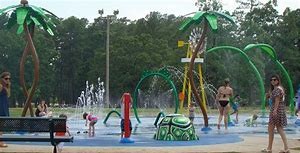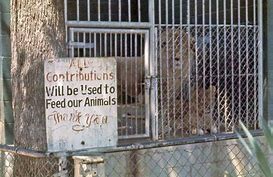 Texarkana Gazette Headline of the Phantom Killers first murder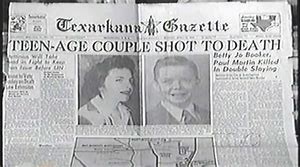 More Texarkana Gazette Headlines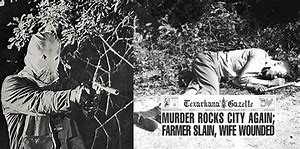 Phantom Killer creates terror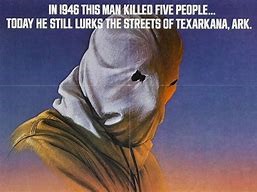 The Town that Dreaded Sundown Clip Art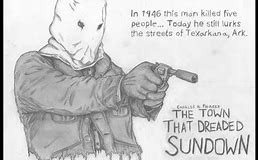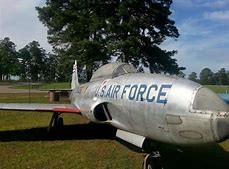 Backstory and Context
Spring Lake Park in Texarkana, Texas has been a historical landmark since it was founded in 1916. Most all residents from Texarkana and even the surrounding area have memories from Spring Lake Park, from birthday parties, to cook-outs or feeding ducks, to fishing or maybe even getting water from the spring well house that for many years ran open. 100 years is a long time, but way before the property was opened as a park, history tells us that famed explorer Hernando De Soto himself drank from the well that feeds the lake central to the park in the year 1541. Spring Lake Park has many natural features, all around the natural spring that formed the small lake from which the park gets its name. There have been changes through the years, the "Texarkana Horse Track" was once located in the park back in the 1940s, the "Four States Fair" originated at Spring Lake Park in 1945, along with the Four States Rodeo, which featured the famous Loretta Lynn Rodeo Company back in its earliest days. Then in 1960 the Texarkana Zoo was formed. There have been many changes over the years with the addition of baseball and softball fields, the Splash Pad, the Frisbee golf course, three different playground areas, the walking trail, and the pavilions for gatherings including the new Learning Pavilion. With all the changes that come and gone, Spring Lake Park continues to draw people, groups, families, school
and church groups, and as a place to enjoy some recreation and relaxation.

Did you know that Spring Lake Park was also once the regional airfield? It's true, and there is a fascinating history to "the plane" that has been a landmark in the park for all my life. Surely someone has given you directions before saying "we are by the plane". Texarkana Regional Airport is named for Harold Webb, Mr. Webb had a history with aviation that began long before Webb Field. There is not much backstory of the plane located in the middle of Spring Lake Park. I came upon a story that one had written of Mr. Webb that gives a little insight to the history of this plane.
"Howard Webb, "Mr. Aviation" in Texarkana, recently retired as manager of the Texarkana Airport, 43 years after lifting his first airplane off the ground at Spring Lake Park. Webb, who has been manager of the airport over 40 years, has logged 18,000 hours flying time. To most people 18,000 hours doesn't seem like much, but a person would have to fly 24 hours a day, seven days a week, for two years and 20 days to record that much time. Webb's interest in airplanes came while he was in junior high school. "One day we heard that some airplanes landed outside the city between Tennessee Road and the Genoa Road. We played hookey and went out. I'll never forget that day, there were four World War I "Jennies" there. After that I just couldn't get airplanes off my mind", he said. He took his first airplane ride in 1923 when a "barn stormer" came through town and was selling rides from a field on South State Line, across from the Sunshine Dairy. "A girl and I went up. It cost me $15 for seven minutes. I was 16 years old", he said. In the spring of 1926 Webb made his first solo flight from Spring Lake Park. "I made my first solo flight off the grounds at the old race track on the fairgrounds. That was where all the planes landed at that time…. At that time those who could fly, would land and take off at the fairgrounds. Webb was about the only one in the city who owned an airplane and could fly. In 1928 the airport was moved to its present location. It had two sod runways, one 3,500 long and the other 3,000 feet. Both were 500 feet wide. If a stranger wanted to land at night, lanterns were put on both sides of the runway. If one of the Texarkana boys wanted to set down in the dark, he just lined up and landed without lights. "I understand that Charles Lindbergh landed once at Spring Lake Park. I saw "Wrong Way" Corrigan land here shortly before he made his flight to Europe. He was flying the same aircraft he made the flight in", Webb said." (Easterling, 1970)
But what really puts Spring Lake Park on the map as an historical landmark is the murders that took place in 1946. During this time four brutal crimes occurred in less than three months in Texarkana. Three were violent attacks on young people parked on lovers' lanes on the Texas side of town; the fourth was the shooting of a middle-aged couple in their rural farmhouse on the Arkansas side. At the end of the spree, three people had been seriously wounded and five had been shot dead. The traumatized survivors gave the police little to go on. Fear paralyzed the town. Women of means packed up their clothes and children and checked into downtown's Hotel Grim when their husbands were away on business. Others rigged Rube Goldbergesque security systems, attaching pots and pans to wire that was strung around their property. People who had never owned guns slept with loaded pistols on both sides of the bed and made pallets on the floor so their children could sleep beside them. Lawmen from Arkansas and Texas and members of the national press overwhelmed the town in pursuit of the assailant, who was dubbed the Phantom Killer by the Texarkana Gazette. Unfortunately, no one was ever convicted for these crimes. There was so much attention that a handful of books of wildly varying quality have been written about the case. The Town That Dreaded Sundown, a largely fictionalized movie, was released in 1976. A remake of the same name came out this past October. The famous "Hookman" urban legend—the one that begins with a young couple parked on a lover' lane and ends with their discovering a bloody hook on the car's door handle—is said to have been inspired by the Texarkana murders. (Though there's no evidence that the Texarkana killer had a hook.)
Parks are a place where families can go to make memories that will last a lifetime. All the way from cookouts, to sports such as baseball, running, and fishing, to spending a day at the splash pad. Spring Lake Park is no exception, for over 100 years families in and around the Ark-La-Tex has come to make memories that they would remember forever. Even knowing what took place back in 1946. The Phantom killer may have caused families to stay clear of Spring Lake park in the past, but that is no longer the case. This park has created so many memories for decades and will continue to help make more for hopefully another couple of decades.
Sources
Easterling, Jeff. "Mystery on the History of the Plane at Spring Lake Park." Mystery on the History of the Plane at Spring Lake Park, 1 Jan. 1970.
Easterling, Jeff. "Texarkana's Spring Lake Park Celebrates 100 Years." Texarkana FYI, 16 May 2016.
Grey, Orrin. "Phantom Killer: The Unsolved Mystery of the Texarkana Murders." The Lineup, 20 Dec. 2018.
Hendricks, Nancy. "Texarkana Moonlight Murders." Texarkana Moonlight Murders - Encyclopedia of Arkansas, 13 May 2016.
Walsh. "Phantom Killer Brings Terror to Texarkana 70 Years Ago Tonight." Texarkana Today, 14 Apr. 2016.
Additional Information