Thomas R. Carskadon House
Introduction
Built for the family of local politician Thomas R. Carskadon in 1866, the Carskadon House is one of two surviving homes from this prominent Mineral County family. Thomas Carskadon went on to become an advocate for West Virginia statehood later became a prominent supporter of temperance and was nominated as the vice presidential candidate on the national Prohibition Party ticket. He also ran as the Prohibition Party candidate in the West Virginia gubernatorial elections of 1884 and 1886. The home was added to the National Register of Historic Places in 2002.
Images
Thomas R. Carskadon House was constructed one year after the end of the Civil War and was added to the National Register of Historic Places in 2002.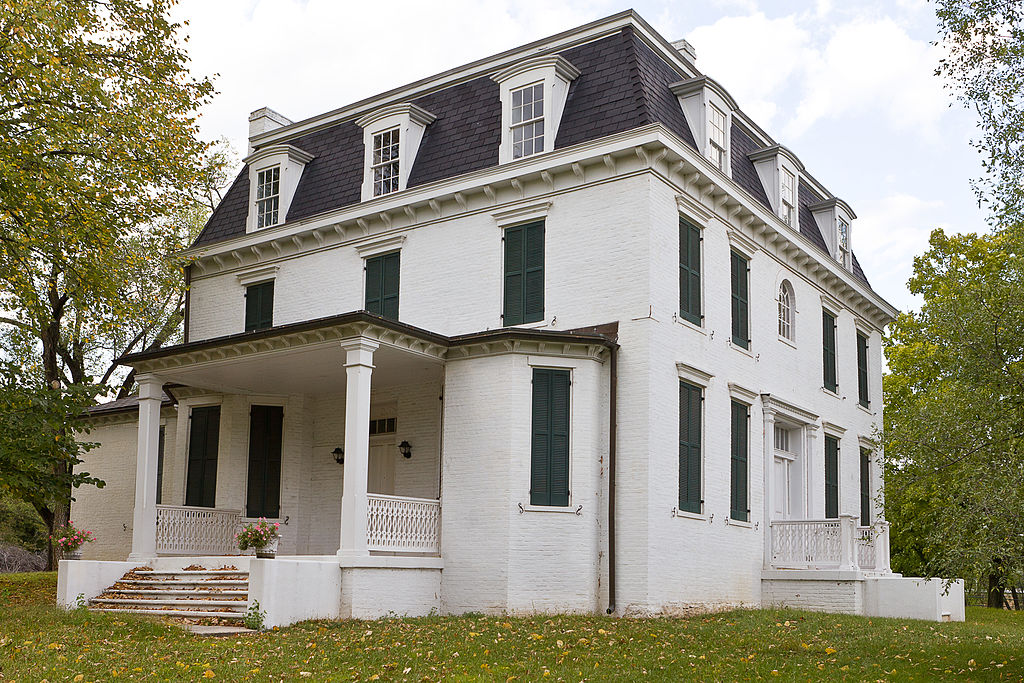 Backstory and Context
This historic home was constructed in 1866 for Carskadon and features elements of Italianate and French Second Empire architectural styles. The Carskadon House is constructed of fieldstone and brick, both of which are now painted. Though not verified, the bricks for the home were supposedly made on the property. Before relocating to this home, Carskadon and his family had lived in a Federal-style home just outside of nearby Burlington. This property in Keyser was a farm and held a dairy building, silo, and barn - the remains of each are still visible. 
Carskadon's father, Thomas H. Carskadon, was a Scotch-Irish immigrant and served several terms in the Virginia State legislature. He also served as Just of the Peace after being elected in 1837. During his time as a member of Virginia's General Assembly, the elder Carskadon spoke out against the violence of slavery, despite being a slave owner himself. As a gesture to his commitment to the abolitionist cause, he freed his slaves before his death in 1855. 
His son, Thomas R. Carskadon, was born on the Burlington property in 1837. The younger Carskadon would go on to be a political figure as a Whig party member and later a Republican. When Carskadon became a Republican party member in 1860, he became so intensely unpopular among his neighbors that his home and other properties were often vandalized. Carskadon even received threatening letters. Two years after this decision, Carskadon became an advocate for West Virginia Statehood and traveled to Wheeling to draft plans for the new local government. Presidents Lincoln and Johnson both gave him appointments in assessor roles for the newly formed state. As Carskadon became more and more radical, he was removed from his position. 
Despite losing his position as an assessor, Carskadon was successful within the Republican Party and was elected to multiple high-ranking positions within the party. Later in his life, Carskadon became a strong advocate for Prohibition. He was such a prominent figure among prohibitionists that he was nearly put forward as a presidential candidate and briefly ran as a vice-presidential candidate in 1896. Just ten years after this unsuccessful bid for office Carskadon died on this property. His descendants continued to be involved with political leaders, and several became state officials. 
Sources
Henry, Geoffrey B. Thomas R. Carskadon House National Register of Historic Places Nomination Form. National Parks Service. Accessed May 02, 2019. https://npgallery.nps.gov/GetAsset/34b41459-3687-421e-8faf-d6a5fdf0b8c3. 
Pauley, Michael J. Thomas R. Carskadon House National Register of Historic Places Nomination Form. WV Department of Arts, Culture, and History. Accessed May 02, 2019. http://www.wvculture.org/shpo/nr/pdf/mineral/87000487.pdf. 
Biographical Encyclopedia of the United States. American Biographical Publishing Company, 1901. 
Additional Information