Sanborn Field
Introduction
Sanborn Field is an agricultural experiment field located on the Missouri University campus. It is significant for being the first agricultural testing facility in the country to study crop erosion, the effect of fertilizers, and crop rotation. Former College of Agriculture, Food and Natural Resources dean J.W. Sanborn established it in 1888 to investigate why fields would gradually become less and less productive. Seven acres in size, the research conducted here has had a tremendous impact on agricultural practices. As a result of his research, Sanborn developed effective crop rotation techniques.
Images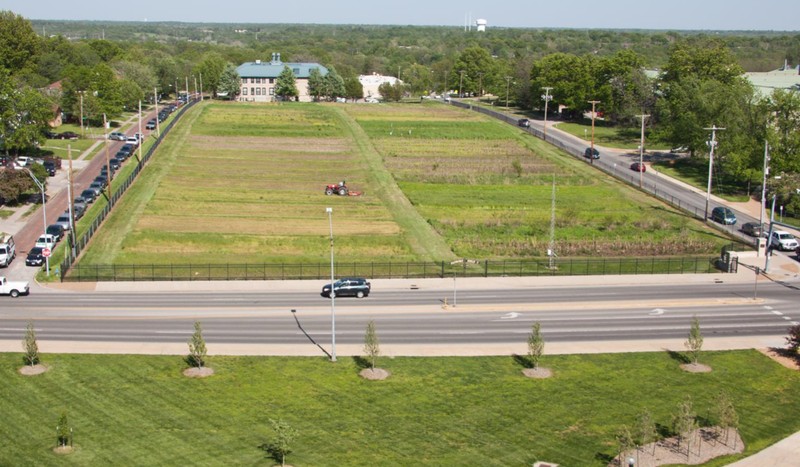 Backstory and Context
Researchers utilizing Sanborn Field discovered that manure or chemical fertilizers could significantly increase grain production. Another major contribution was the development of the antibiotic aureomycin, which is used to treat a variety of infections (a soil sample containing aureomycin from Sanborn Field was is located at the Smithsonian Institution). It was declared a National Historic Landmark in 1964.
Sources
Dosch, Donald F. "Sanborn Field and Erosion Plots." National Park Service - National Register of Historic Places Nomination Form. October 15, 1966. https://dnr.mo.gov/shpo/nps-nr/66000413.pdf.

Dumas, Breck. "Sanborn Field." Columbia Business Times. August 29, 2017. https://columbiabusinesstimes.com/2017/08/29/sanborn-field.

Nelson, Sam. "'Where giants walk:' Sanborn Field Marks 130 years of breakthroughs." June 25, 2018. https://www.columbiamissourian.com/news/higher_education/where-giants-walk-sanborn-field-marks-years-of-breakthroughs/article_f810c7e4-8f85-11e8-9eb3-a78448205164.html.

Photo: Wikimedia Commons
https://en.wikipedia.org/wiki/Sanborn_Field#/media/File:SanbornField.png

Additional Information